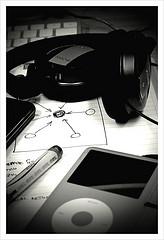 Image by the tartanpodcast via Flickr
Today is the "dawn of a new era" where we experience an incredibly global technology in its maximum level. This is why to learn language during these times has never been easier today—now that we have social networking sites that include our "cyber-social" life.
Facebook, Twitter, Youtube, and even Wikipedia are just few of the various social media sites that really help us in "almost" all our daily living. We express our thoughts, communicate our long-time-no-see friends and relatives, and search for our assignments or favorite music and videos on the mentioned social media sites. By this, according to Laura Gomez, "numerous ways [are known so] you can start your social language learning and keep it up while making new friends."
"The landscape of social media offers a wealth of resources and information where people can discuss and expand on hobbies, interests and passions – while creating connections with others who feel the same way. Learning a language is no different," added Gomez.
That is why the social media today offer new ways of aiding learners to learn language and connect with native speakers. Therefore, the following community websites have features that allow subscribers to chat with native speakers.
Livmocha
Livemocha is a social site whose advantage is strong in terms of having various languages, including languages like English, French, Spanish, German, Portuguese, Icelandic, Italian, Hindi, Japanese, Korean, Mandarin and Russian. This community utilizes a point system to keep track of how many actions are completed by the user. For a student and a teacher, this site is significant in terms of interactions of language learning as learners write the letters and hear the accent of their target language. Livermocha is one social media site that makes learners practice and improve a learner's language skills.
SharedTalk
This is a learning site owned by Rosetta Stone. Learners can have complete access to this site if they need "a place" to practice a learner's learned language. SharedTalk has audio, and group and private chat rooms available in 30 different languages.
xLingo
Are you fond of blogs? Well, your passion in blogging can be integrated with language learning since xLingo allows their users to create blogs and flashcards to be used as a quiz or evaluation test among other language learners who log in to this site. Likewise, learners can also exchange forums and chats since it features forum and chat rooms.
Have you heard of these language websites before? Well, if you want to try their effectiveness and credibility, then try these for yourself. It's nice to be in a community where you mingle with people having the same interests as you have, so why not give it a try.
This is currently the power of social media nowadays. How far could they go after the next years to come?