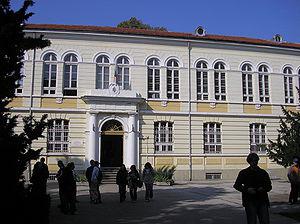 Image via Wikipedia
The opportunity to learn English language is really a privilege. From the time you began to go to school to your current state as a young professional, you will really need English language. That is why you need to sharpen your skills with this universal idiom; and one thing I could really recommend you to do is by learning English in England.
When you prefer language schools in England as your primary option, you will be learning English that benefits the following profession enlisted below:
English for Business
Language schools in England have particular language courses exclusive for businessmen and women who wants to extend their knowledge in English related to business. Basically, they will be taught with common terms and phrases that the business world is using. Moreover, it also tackles business letter writing, business presentations and public speaking, negotiations and meetings, writing of resumes and covering letters, and even the fundamentals of handling monetary funds.
English for Medicine
Basing this according to context, English for Medicine is a course available in language schools in England provided for doctors, medical students and other medical professionals who need to communicate with patients and medical colleagues. The basic thing that this course is focusing is the doctor-patient communication, educating them how to convey medical terms and situations to their patients in the language and understanding they could comprehend.
English for Law
We all know that this profession requires great knowledge in English language. Therefore, a language school in England is particular to aid learners who want to expand their English in the field of law. This course is designed give students the experience and the written and spoken English skills necessary to communicate effectively with clients and professionals in a legal environment.
English language learning is incredible, isn't it? The language has become so significant that it was customized to fit for a particular need–needs like the three mentioned professions above.
So you are greatly recommended to learn English at language school. You will be assured that you will be taught with the necessary skills based on your own profession.