Breakfast doesn't have to be hard to make! You can make yourself a delicious, filling breakfast with just a few ingredients and a few minutes. Check out the list below for some easy breakfast sandwich ideas you can make any day of the week.
1. Classic Breakfast Sandwich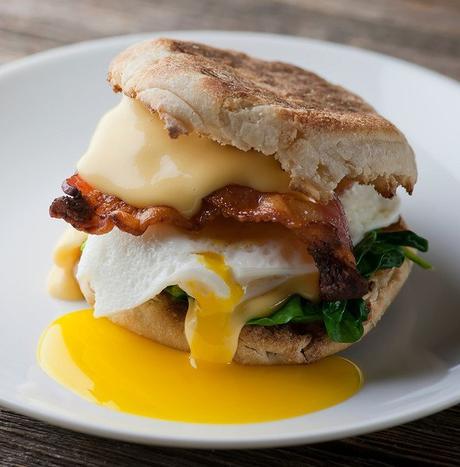 Image Source: www.buzzfeed.com
Don't spend time in line at the fast food restaurant when you can easily make one of these at home! First, invest in a breakfast sandwich maker. It cooks all parts of your sandwich at once and pops out a fully-assembled breakfast in no time. For a classic sandwich, use an English muffin, cheddar cheese, egg, and bacon.
2. Pancake Breakfast Sandwich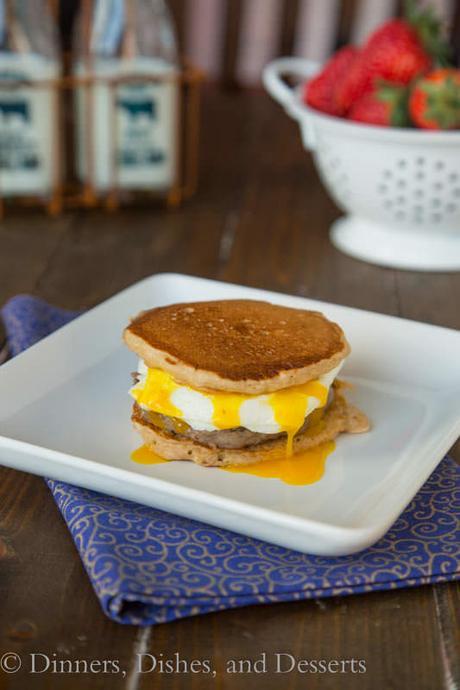 Image Source: www.dinnersdishesanddesserts.com
Another great way to use that breakfast sandwich maker is a pancake breakfast sandwich. Pop some leftover pancakes into the bread spots, then use scrambled eggs and a pre-cooked sausage patty for a sweet and savory take on breakfast on the go.
3. Chicken and Waffle Sandwich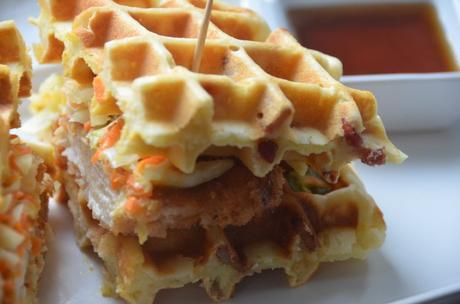 Image Source: www.prettygirlscook.com
If you have time to make a more involved breakfast sandwich, try this portable twist on chicken and waffles! Whip up a batch of fluffy buttermilk waffles and fry some chicken cutlets in a spicy breading. Then pile the chicken, a few slices of bacon, and coleslaw between two waffles for what is sure to be a new breakfast favorite.
4. Breakfast Reuben Sandwich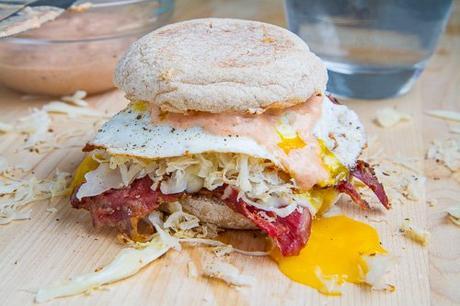 Image Source: www.closetcooking.com
Who says you have to wait until lunch time to enjoy a Reuben sandwich? Simply toast an English muffin, then top one half with corned beef and the other with Swiss cheese. Broil until the cheese gets melty and gooey. Add a generous amount of sauerkraut, some Russian dressing, and a fried egg, then put the halves together. This is the perfect breakfast sandwich for guys!
5. Donut Breakfast Sandwich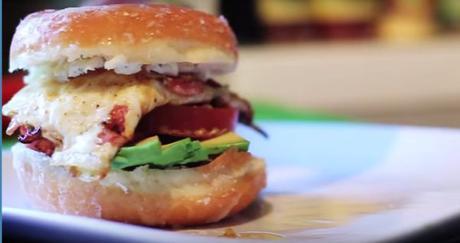 Image Source; www.thefoodiechef.com
When you want to indulge, try this sweet and salty start to your day! Instead of bread, this one uses your favorite glazed donut. Slice the donut in half, then sandwich cheese, strawberry jam, avocado, tomato, a fried egg, and Canadian bacon in between. This treat is full of flavors to wake up your taste buds in the morning.
6. Eggplant Pita Sandwich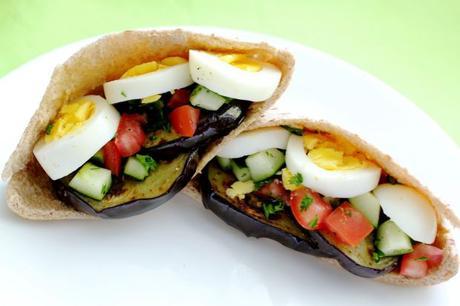 Image Source: www.whatjewwannaeat.com
If you want a healthier start to your day, try this veggie-packed sandwich. It features hard-boiled eggs, fried eggplant, and a tomato and cucumber salad all stuffed in a pita with a touch of your favorite hummus. This sandwich will give you a taste of the Mediterranean any time of day.
7. Buttermilk Biscuit Breakfast Sandwich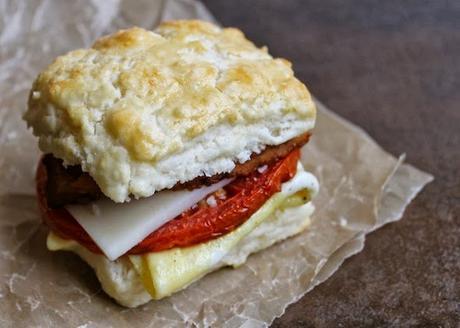 Image Source: www.pursuitofsweetness.com
There is nothing more comforting than a soft, crumbly buttermilk biscuit. Why not bake a batch, then use them for breakfast sandwiches all week long? A great idea for a biscuit breakfast sandwich is to add scrambled eggs, bacon, roasted tomato, and asiago cheese.
8. Breakfast Banh Mi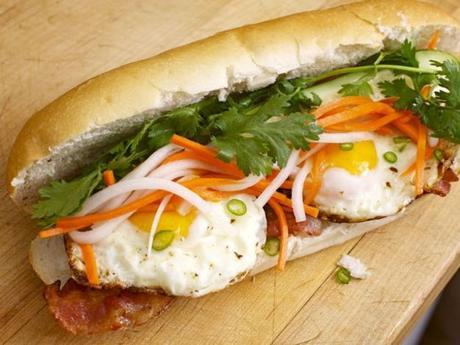 Image Source: www.seriouseats.com
Can't get enough of these delicious Vietnamese sandwiches? Try making a breakfast version at home! Your taste buds won't know what hit them when you eat this sandwich of pickled vegetables, bacon, fried eggs, cucumber, and cilantro. Buy a soft banh mi bun from a Vietnamese bakery or use a regular sub roll.
9. Banana French Toast Sandwiches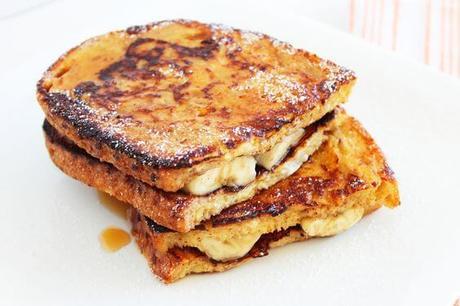 ImageSource: www.monpetitfour.com
Want to feel like a kid again? Make this sweet breakfast sandwich. The soft French toast and sweet bananas will make you think of the weekend breakfasts of your childhood. Enjoy it while watching Saturday morning cartoons or as a late night snack.
10. Waffle Grilled Cheese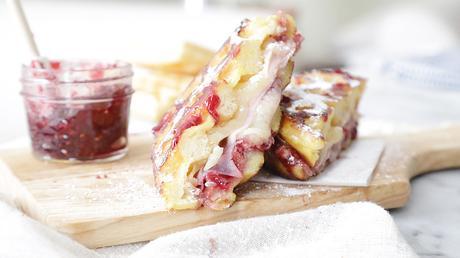 Image Source: www.thechiclab.tv
If you can't decide between a savory or sweet breakfast, try this sandwich. The Swiss cheese, deli ham, and raspberry jam taste so good together and the waffles make it more fun to eat than plain old bread. Make this even easier by using frozen waffles instead of homemade! This grilled cheese variation would taste great morning, noon, or night.
11. Monte Cristo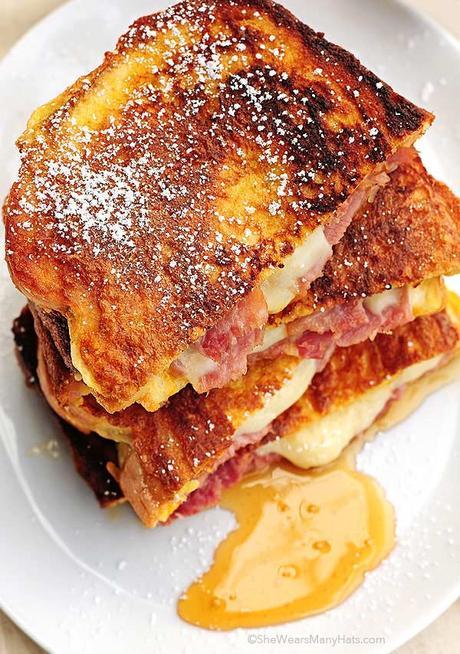 Image Source: www.shewearsmanyhats.com
This is a great recipe to have in your arsenal to impress dates. This sandwich might seem fancy, but it's actually really easy to make! First, dip your bread in egg like you would for French toast. Then slather one slice of bread with mayonnaise, the other with mustard. Slap some gruyere cheese and thick-sliced baked ham on one slice of bread, top with the other slice, and fry it up French toast style. Top with maple syrup or honey to balance the salt with some sweetness.