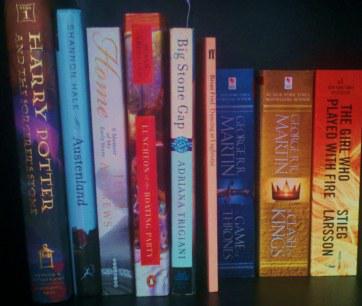 ...my mind and book collection: both scary places...
As a rough fall gives way to what will probably be a long winter  for the hardbound (and even the paperback) book (in the metaphoric and seasonal sense of the words) I thought it was only right to check in on our heavily inked friends.
Of course they're not the only ones suffering from the rise of the e-reader, their retailers are paying the price as well.
And the rest of us are paying the price of library fines.  You're not getting 20 cents off of me because you lost the book after I returned it Chicago Public Library (true story).
With the recent demise of Borders (RIP refuge for the time-killing pedestrian) the winter of the book seems to be closing in upon us, but I offer hope and optimistic theories; all in convenient short story form…
The winter of the book:
Imagine if you will a wintry scene.  Let's say it's mid December.  Snow falls softly outside, or gusts against your window if you're in Chicago.
It's the perfect night to stay in, sip tea,  pull out the Snuggie, and grab your e-reader.
This scene just lost it's magic didn't it?  Leave it to a screen glowing in your face to kill the coziness of a perfectly good read.
That perfectly cozily lit nook that you're imagining just isn't the same with a fluorescent aura in your face is it?
If only there were another option.  Something that doesn't illuminate itself, but still can itself be very illuminating.
Just as cozy as that Snuggie and tea, the printed word is a comforting addition to any stay-in winter's eve.
So this winter, dust off that Harry Potter collection (everyone owns those right?) or whatever catches your fancy and lose yourself in a good book (of the literal page-turning variety).
Plus I'd like to make a case for the constant possibility of paper cuts.  You're expanding your mind and risking blood loss.  It's practically a full-contact activity.
Can you say that of your e-reader?  I think not.
_____________________________________
"Ode to the Bookstore": The Daily Beast 
…and an ode to awesome…