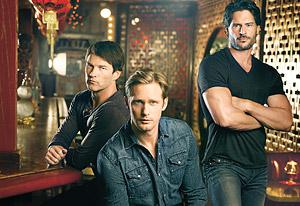 It is no secret that True Blood has some of the hottest men on television today – even series creator Alan Ball has called them insanely beautiful , and TV Guide has featured Stephen Moyer (Bill Compton), Alexander Skarsgard (Eric Northman) and Joe Manganiello (Alcide Herveaux) in this weeks edition.  Anna Paquin, who plays Sookie Stackhouse, has a very difficult job acting with these men all day and this season the quadrangle is going to heat up.  Her relationship with Bill is essentially over after she found out he lied to her, Eric has amnesia and is stuck living with her, and Alcide is back with his former v-addict fiance.  Ball promises fans that we will be seeing a lot of fun stuff this season with Sookie and her men.  Alcide will be deeply affected by the news that Sookie is alive and that will turn his life upside down.  Eric and Sookie will fall in love while dealing with Eric's amnesia and Bill will not like that although he will be busy with his new duties as king.  Of course on top of all this they have the upcoming battle with the witches to worry about so it should be a fun action packed season.  The three men talked with TV Guide about what we can expect in Season 4, their working relationship and their future botox plans. 
Since all three characters are going through such big changes this season, the guys talked about the experience of playing their characters in such different ways.  Moyer says that Bill accepts that his relationship with Sookie is over and his moving on actually makes him a better king and a better man all around.  We saw in Season 3 that Alcide really struggles with who he is and that will continue into Season 4.  Manganiello tells TV Guide that he really enjoys the moments where Alcide's strength comes from the best within him that he fights so hard against.  As for Eric, Skarsgard says he had a lot of fun playing this new vulnerable side of Eric.  He didn't want to "chop his balls off" so we will still see glimpses of the old Eric but there is a struggle there because he is happy living in the house with Sookie.  If his memory returns that will put that relationship in jeopardy.  Moyer for one is a fan of that storyline saying:
"Eric and Sookie are the tipping point of this season.  The best stuff that's in the show is their stuff".
Many people would think that this relationship between Eric and Sookie, which fans of the books are insanely excited about, would be awkward for Moyer, Paquin and Skarsgard given their close relationship but both men are quick to say this is not the case.  Moyer feels for Paquin because her job of having to show so much emotion to someone other than her husband can't be easy and Skarsgard says that if they all made it awkward that would be uncomfortable for the crew as well.
Manganiello joined the show during Season 3 when the close relationships had already been formed but according to him they were all very welcoming.   He says that Paquin was very friendly and welcoming and jokes that he is still not allowed to make eye contact with the guys.  While there was no formal initiation from the cast, the sock of destiny could be seen as a right of passage and Skarsgard jokes that he was the one to put it on Joe and show him how to use it.
True Blood has always pushed boundaries storyline wise and sexually but this year will be taking it up another notch.  Manganiello reveals that we will be seeing werewolf sex during Season 4 and Moyer says that it will be very interesting.  Looking that good during the naked and/or shirtless scenes cannot be easy and takes a lot of hard work.  The three agree that Manganiello works out the most with his twice a day 6 days a week sessions and he eats constantly.  Both Moyer and Skarsgard work out three days a week but it seems Alex is transfixed by Joe's pecs.  Joe jokes that Alex never looks him in the eye and instead focuses on his chest. 
The vampires have to struggle with the fangs and learning to speak with them in, but werewolves have to growl.  Manganiello says that the inspiration for his growl came from his little Yorkie becuase he growls from the belly.  Naturally that left him open to some fun ribbing from Moyer and Skarsgard who claimed they also channeled animals.  Skarsgard a fish and Moyer the ants in the backyard. 
So what does the trio have to say about Alan Ball's revelation that Season 4 will be the most action packed season yet?  They definitely agree.  Moyer says they filmed a scene that is going to be massive (I'm thinking the showdown between witches and vamps), and Skarsgard says the season is insane.  Joe gives us a little more information saying that he had spent the last two weeks lifting and carrying around most of the cast.  He describes the new pack of werewolves that is in town saying they fight all the time regardless of the event.  It sounds like Alcide will be involved in those fights with Manganiello saying:
"Last year my dad was upset because he hated it when I got beat up.  He should be happy this season, because Alcide's finally going to get his way."
While they are rivals onscreen, the cast gets together outside of work.  Paquin and Moyer recently hosted a brunch for the cast and Skarsgard hosts a Swedish punch party every year and invites everyone.  When asked if they were going to get together to watch the new Twilight movie when it comes out, Skarsgard and Moyer joked about their plans to see it saying:
Stephen: We'll be in the back with popcorn, holding hands.

Skarsgard: We're going to have a PJ party.  "Twilight" marathon weekend.
The guys talked about other things such as their favorite television shows, Joe's upcoming wedding and finally about how they are going to stay looking young if True Blood continues for 10 more seasons.  They joked that they would be going in Monday mornings for botox before filming.  To read the complete interview and see the pictures be sure to pick up this weeks edition of TV Guide which hits newsstands today! 
Source:  TVGuide.com – Exclusive: The Men of 'True Blood' Revealed
Photo Credit: TVGuide.com