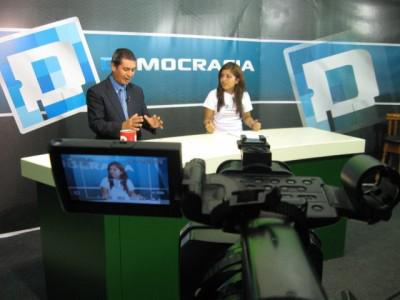 Karla Diaz is interviewed about the EmprendeAhora program.
This article is part of a series of interviews with participants of Instituto Invertir's EmprendeAhora entrepreneurship and leadership training program in Peru.
Continuing my grand tour of Peru to meet EmprendeAhora alumni, I headed to the desert-like coastal city of Chiclayo, capital of Lambayeque region and fourth most populous city in the country. Forty students from the Universidad Nacional Pedro Ruiz Gallo, Universidad Católica Santo Toribio de Mogrovejo, and Universidad Señor de Sipan in Lambayeque have participated in the program since 2008. In honor of International Women's Day, it seems appropriate to highlight how two alumni, Karla Díaz (2009) and Estrella Carrillo (2010), successfully incorporated lessons from EmprendeAhora into their lives.
For Karla Diaz, the leadership component of EmprendeAhora was just as important, if not more so, than the courses on entrepreneurship. As part of the program students are taught communication and teambuilding skills, how to create their own vision and mission, and about the importance of social responsibility. Additionally, students learn about volunteering through a volunteer workshop and participation in a social entrepreneurship fair where they meet with representatives from youth volunteer associations. Karla had always thought of herself as a leader and when she was growing up she wanted to create an organization that provided some sort of benefit to the public good. She just never had a concrete plan.
Motivated by what they learned and experienced during EmprendeAhora 2009, Karla and several of her fellow alumni decided to create a branch of Voluntades, a youth volunteer organization, in Chiclayo. In early 2010 they kicked off their first program organizing fun activities while sharing positive values with youth ages 8-13 years old at the Aldea Virgen de la Paz, a village for orphans and troubled youth whose families cannot support them.
After two years, what began with six volunteers (almost all of them EmprendeAhora alumni) has multiplied into a group of around 30 volunteers, proving that these alumni have implemented their leadership skills and inspired other young people to volunteer. I was incredibly fortunate to visit the Aldea one Sunday afternoon to attend the weekly Voluntades activity with the young people living there. The volunteers led the children in singing, dancing, games, and creative thinking activities.
When I spoke with the director of the Aldea, he told me that they often receive volunteer groups interested in working with the children. The cooperation with Voluntades, however, is by far the most formal and consistent relationship, with activities every Sunday for the past two years. He said, "unconsciously the children are registering what they see, hear, and learn during the games. During the week they have a lot of homework and classes and it is good for them to have a fun weekend activity."
As anyone who has ever spoken with an 8-13 year old can imagine, when I asked some of the children what they thought of Voluntades, the responses I got amounted to, "sometimes we like it, sometimes we don't." While there were some activities in which it was more difficult to engage the children, it was quite clear that the children looked up to the volunteers and relationships had been formed.
Karla has served on the board of Voluntades since its creation, in addition to managing various areas like human resources, project coordination, and communications. Although Karla does not have her own business, it does not mean that EmprendeAhora did not awaken her entrepreneurial spirit. Actually, she now sees everything as a business. This has helped her to more quickly develop and execute concrete plans regarding volunteer initiatives, in the workplace, and in her personal life.
Speaking of the workplace, Karla is the host of two television shows based in Chiclayo. Therefore she has plenty of experience speaking in front of an audience – both on camera and in person. In January her audience was an auditorium full of 120 university students waiting to hear her discuss the experience of Voluntades in Chiclayo. Karla was one of the program alums at the University of Lima for EmprendeAhora 2012 as a winner of the "successful alumni contest." The contest brings several alums to each educational session in order to provide successful examples of entrepreneurial and leadership initiatives and motivate each new class.
While in Chiclayo, I also had the chance to meet with Estrella Carillo.
Unlike many of the other alumni with whom I met, Estrella never imagined herself as an entrepreneur prior to EmprendeAhora. She studied law and was on the path to becoming an attorney. Nonetheless, when she received an email from her university about the program she decided to apply for the opportunity to meet people from other parts of the country.
What captivated her attention during EmprendeAhora 2010, however, were the courses on business planning. Going through the process of developing a business plan idea, devising business strategies, and learning about customers and costs was a highlight of the program for Estrella. The program overall taught her that opening a business was possible even if it didn't necessarily fit the career path she was on.
Always a fan of fashion, Estrella recognized that the demand for fashionable, trendy women's clothing in Chiclayo was far greater than the supply. Starting with a small investment from her personal savings, she began taking monthly trips to Lima to purchase clothing from stores that were not available in Chiclayo and reselling to her friends. Rather than just buying and selling any type of clothes, Estrella customizes the items she purchases based on her client's style preferences and needs. In a sense, Estrella acts as a personal shopper. Currently she serves around 15 clients – friends or friends of friends who heard about the shopping service through word of mouth.
EmprendeAhora not only motivated Estrella to start a business, but also reignited a desire to be involved in more social causes, including the environment and community development, and doing things for others. She now volunteers at a non-profit organization dealing with domestic violence and abuse towards women. Estrella has continued to pursue her legal degree because she sees her legal background as a tool to better serve these social causes in the future. In fact, she is one of approximately 130 young legal professionals worldwide selected for a nine week legal fellowship in the United States this summer.
Because Estrella has continued with her education in the legal field, the business has remained a part-time, informal endeavor for the time being. However, she sees the business as her true passion and hopes that in a few years time she can expand it into something more formal by opening a shop providing personalized styling services.
Although I have highlighted two women in this article, EmprendeAhora provides an opportunity for students of any gender to become active citizens and agents of change in their communities. Over the years Instituto Invertir has tried to maintain a gender balance among the participants, but there is no set quota. Of the 2012 participants, 65% are female. On International Women's Day it is important to share the EmprendeAhora model as it is a good example of a program that benefits women without specifically targeting them.