It is with great pleasure to announce that, in addition to authoring this golf blog, I will also be writing a golf and travel column for "the leader in Myrtle Beach golf.".
MBN.com, a long established tee time service for the Grand Strand, wanted to add a new perspective for travelers visiting the Myrtle Beach area and locals who would be interested in stretching their familiarity beyond the beach and golf courses. With a wealth of over fifteen years of publishing golf and travel blogs on Golf for Beginners and beyond, writing about Myrtle Beach was a natural match!
Exploring Myrtle Beach has brought us to this point - when my husband and I moved to the Grand Strand, (from New York) we wanted to feel comfortable in our new hometown. Five years after making the migration to Myrtle Beach, it is my pleasure to be able to share my experiences and unique perspective with my audience.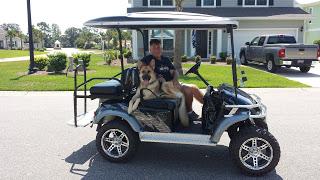 What better way to kick off the new MBN.com column than with an article about how to balance golf, your dog and a Myrtle Beach vacation! Einstein, our seven-year-old German Shepherd, goes practically everywhere with us (except on the golf course, but he does have his very own golf cart). 
Future articles subjects may include, "Where to Shop While Your Husband Plays Golf", "Places to Play More Golf After Finishing Your Round", and more! I'm hoping that my readers will help with more topics.
For my readers that may be considering a trip to the Myrtle Beach area (or even surrounding areas), feel free to ask me questions and I will be most happy to give you the "skinny" on the best of the beach.
Post your suggestions in the comments section of this golf blog and also on Twitter @Golf4Beginners.