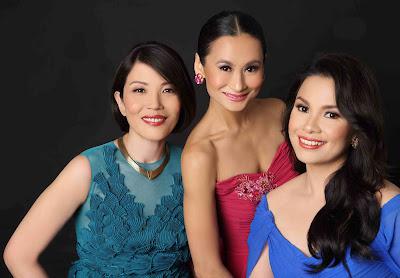 Lea Salonga, Lisa Macuja, Cecile Licad--three Filipinas who have shone brightly on the international stage and brought home countless accolades for their country.
Now, they will be together for the first time on one stage, in a once-in-a-lifetime concert called "The Legends and the Classics", on March 17 (Saturday), 8 p.m., and at March 18 (Sunday), 6 p.m., at the main theater of the Cultural Center of the Philippines.
"The Legends and the Classics" brings together the outstanding talent and impeccable showmanship of this triumvirate. Each of the three artists represents a lifelong dedication to the arts--whether in theater, music or ballet--where success is forged through long years of training, unwavering commitment and an ironclad will in pursuit of excellence.
Multi-awarded thespian and singer Lea Salonga, who began her career in musical theater at the age of seven, took the West End and Broadway by storm with her unparalleled success in major productions of "Miss Saigon" and "Les Miserables".
A certified child prodigy, Cecile Licad made her debut with a full orchestra also at age seven, and launched her international career as a piano virtuoso by being the youngest gold medalist to win top honors at the prestigious Leventritt Competition.
Meanwhile, prima ballerina Lisa Macuja learned her first ballet steps at eight and went on to become a soloist of the legendary Kirov Ballet when she was barely out of her teens.
From these early successes, all three women artists have continued to excel and to evolve, from ingénue to icon to legend.
Joining them are Gerard Salonga and FILharmoniKA and Ballet Manila, with internationally acclaimed cellist Wilfredo Pasamba in a special number. Musical director is Gerard Salonga, with stage direction by Roxanne Lapus.
"The Legends and the Classics" is presented by Ballet Manila and Manila Broadcasting Company, with the support of Lifestyle Network, Sofitel Philippine Plaza, and Ayala Land Premiere. Special thanks to McDonald's Philippines.
Tickets are available at TicketWorld outlets. For details, check out www.ticketworld.com.ph or call 8919999.