An exhibit opening at MoMA next weekend will give Modernist pioneer Le Corbusier his just dues.
Le Corbusier: An Atlas of Modern Landscapes
celebrates the architect, designer, artist, and urban planner with the largest showing of his work ever produced in New York. Slideshow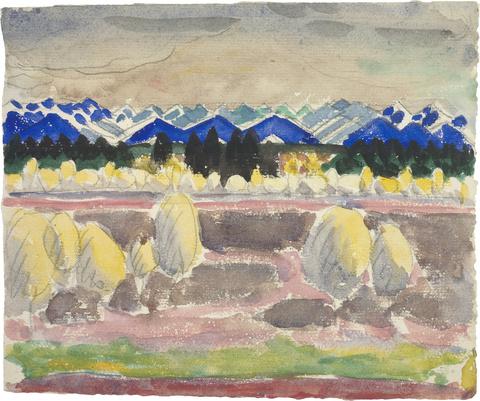 An early work on paper by Le Corbusier shows his fascination with landscapes. (Charles-Edouard Jeanneret). (French, born Switzerland. 1887-1965). Blue mountains. 1910. Pencil, watercolor, black ink on paper. 6 3/8 x 7 11/16" (16.2 x 19.5 cm) Foundation Le Corbusier, Paris. © 2013 Artists Rights Society (ARS), New York / ADAGP, Paris / FLC
Curated by Barry Bergdoll, the Philip Johnson Chief Curator of Architecture and Design at the MoMA, and Jean-Louis Cohen, Sheldon H. Solow Professor in the History of Architecture, Institute of Fine Arts, New York University, the show culls together paintings, videos, drawings, and models from the French architect's vast body of work. 
The comprehensive exhibit follows the trajectory of Le Corbusier's work through various interpretations of landscape. Pulling from MoMA's own collection, a hefty loan from the Le Corbusier Foundation, and architectural photography by Richard Pare, MoMA visitors can walk through a chronological atlas of the travel influencing Le Corbusier's work set against colored walls selected from the color palette he favored throughout his career.
The recreated interiors from four of Corbusier's buildings were a big highlight for us. Corbusier saw houses as "machines to view landscapes," and the rooms offer an intimate look at his vision for domestic settings. The recreation of Le Corbusier's very own Cabanon is another highlight – the only project he built for himself, he foretold his future when he proclaimed in 1952, "I feel so well in my Cabanon, that, without a doubt, I will end my life here."
You'll want to plan for at least a couple hours to make it through over 320 works on display. On our way out we took a look through the show's catalogue—the quick perusal was enough to tell us the tome is a necessity for any Corbusier follower. (Other Corbusier-centric books worth a spot on your shelf are here).
Can't get enough Corbu? This weekend MoMA and the Center for Architecture are holding a two-day international symposium examining the architectural legend's relationship with New York. A curator led tour of the exhibition, tour of UN Headquarters, and lectures are on the schedule. <a href="http://cfa.aiany.org/index.php?section=calendar&evtid=5806">For ticket information, go here</a>.
Le Corbusier: An Atlas of Modern Landscapes runs June 15 to September 23. More information can be found here.