ASHEVILLE- There is just not enough time in a day to slave away over your potions and spells any more.
Ester Filmore a century old witch and resident of Asheville threw her ingredients for her latest potion this morning in a crock-pot instead of a cauldron for the first time.
"A witch's life is a busy one and to tell you the truth I have no time for a cauldron anymore," said Filmore.
"The crock-pot was just easy. I threw all my ingredients in and set it on low and when I get back from my job at the Magic 8 ball factory it should be ready to go. Now if I can just figure out a way to get my black cat Lucy to feed herself my life would be set."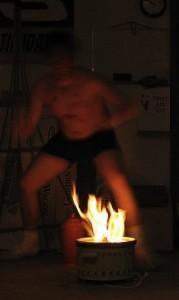 Some witches are embracing crock-pots faster than others
The witch community is embracing crock-pots at a growing rate, but not all witches are happy about the latest trend.
"Oh those witches are just old fuddy duddys," said Ester.
"They claim cooking out of cauldrons give us witches a sense of history and preserves our way of life. But those witches are the same witches that are still casting spells out of spell books. Warlock Steve Jobs created the IPad for a reason honey. A witch gotta be reading incantations in high definition, it's the future baby."
Ester shared one of her crock-pot potion recipe with the Citizen Thymes. Ester plans on publishing a book soon on the art of crock-pot potions.
Cheap Seduction
Ingredients
1 handle of Tequila
1 cup of melted Chocolate
1 Marvin Gaye 'Let's Get It On' MP3 diced
2 tbsp of Vicks Vapor Rub
1 Bear Rug shredded
Directions
Place all ingredients in crock-pot. Set crock-pot on low and cook for eight hours. Put aside some Vicks Vapor Rub for garnish. Serve hot and bothered.