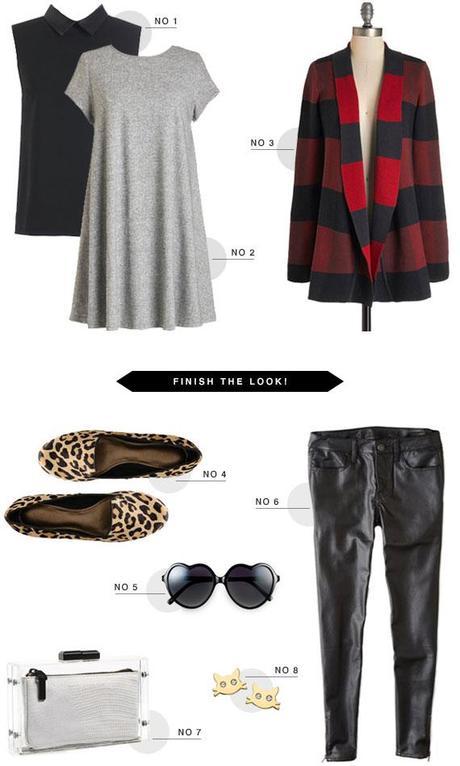 1. Give It a Tripod Top from ModCloth | 2. Static Felicity Tunic from ModCloth | 3. Simply Snuggly Cardigan from ModCloth | 4. Kelly & Katie Dandy Leopard Flat from DSW | 5. 'Luv' Tortoiseshell Heart Sunglasses from Nordstrom | 6. Vegan Leather Jegging from American Eagle | 7. French Connection Sportivo Crystal Clear Clutch from Zappos | 8. Serefina Cat Stud Earrings from Max & Chloe
ModCloth recently asked me to share my rendition of the perfect outfit for autumn, AKA The Best Season of the Year, so of course I jumped at the chance to do a little virtual shopping! Remember that Friends episode where Joey wore everything in Chandler's closet all at the same time? I often felt like that while trying to recreate cool outfits I spotted on Pinterest/magazines, but with a bit of trial and error, I think I've finally gotten a handle on staying comfortable without looking frumpy :-) Here are my ModCloth building blocks for a polished layered look:
1) This basic black top is the perfect base layer for a fall outfit. You won't have any added bulk from sleeves, and the faux leather collar gives it a little extra oomph.
2) Next up, this unfussy soft gray tunic – its swingy shape won't make you feel like a stuffed sausage, always a plus in my book!
3) Top both of these pieces off with a big comfy cardigan like this one in a classic checkered pattern. An open sweater is much more accommodating when you've got a few layers on, and it's the only socially acceptable way to feel like you're walking around wrapped in a cozy blanket all day.
There you have it! I hope you liked the outfit I put together, and be sure to check out more cute tops and sweaters over at ModCloth!