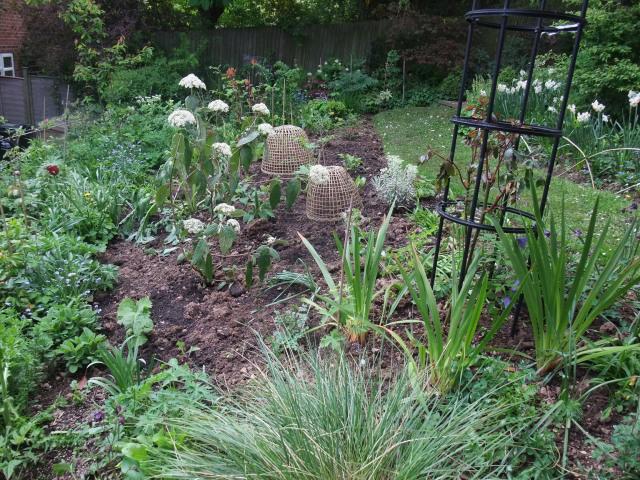 Digging up my back lawn has been completely liberating – more liberating than I could possibly imagine.  No longer do I have the tedium of trying to mow a sloping lawn but what I hadn't really anticipated was how the dynamics of the garden have completely changed.
Looking back its as though the garden hadn't really come into its own, the lawn was holding it back like a parent trying to stop its child leaving the nest.  The garden just didn't work.  There was no sense of journey, no mystery, no discovery. The whole garden could be seen laid out before you.  There was no excitement.  As the garden is relatively small and dominated by two large trees adding screens or hedges to create rooms or vistas wasn't to  my mind an option.  With the lawn gone I have a large border and through planting a couple of shrubs I feel that I have managed to obstruct the view in places and create zones or compartments.  The paths through the garden now have a sense of purpose and I feel that you are encouraged to explore.  I hope that as the shrubs and other plantings grow then this will increase.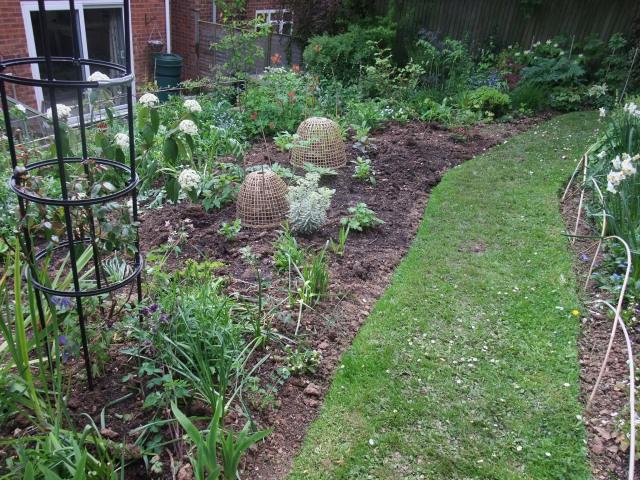 I really enjoy being in the garden now.  I now longer feel constrained by the size of the borders, causing me to feel I can't have shrubs or trees or other large plants.  I can create discreet areas better and allow my plants to stretch their leaves with more space around them.  You can almost hear the garden breathing out.  If I was being whimsical I would say it was like a 19th century lady taking her corset off. The garden feels more secluded, it feels more like my garden rather than a garden based on other people's ideas.
I find myself wondering why we are so hung up on lawns.  It seems to me to be something that is deep within our English psyche. The pundits and supporters of the RHS Chelsea flower show and its sister shows: Hampton Court and Tatton Court argue that they are influential and dictate fashion.  However, when was the last time there was a proper lawn in one of these show gardens?  The majority of show gardens feature hard landscaping with planting but how many people follow this lead and get rid of their lawn.  Of course many people need their lawn space for the children, pets or because they like to use it as a social space.  From the magazines I read it seems that more and more city gardens particularly in London have gone the route of no lawn but here in the suburbs it causes raised eyebrows.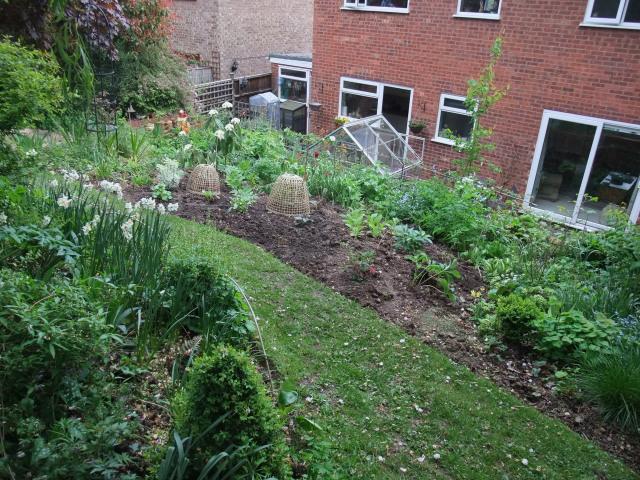 I have to admit to dithering about taking this route I was so brainwashed.  It was the book Beautiful No Mow Yards which pushed me into taking action and I am really glad I was sent a copy to review.  Yes there is still a grass path and this isn't because  I am trying to hold onto some grass but because we really don't have the time to put in hard landscaping here at the moment due to the workshop going in.  I do like the appearance of the grass path but it isn't that practical to maintain.  I tried to mow it this weekend and the camber of the path is so steep that you are constantly battling with the mower.  We are going to see how strimming works but I suspect that by this time next year it will have been replaced with gravel.
I would like to take this opportunity to thank everyone who persuaded, cajoled and dared me into digging up the lawn- you have given me so much more planting space