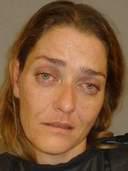 Local news reports
A Flagler Beach woman is accused of firing a shot outside of a State Road A1A bar, upset because she was ready to leave but her friend wasn't, said Police Chief Dan Cody. 
Flagler Beach Police arrested Maureen Eleanor Witkowski, 38, Tuesday at the Lazy Pelican, 2444 S. State Road A1A, after investigating a complaint about the gunfire. 
"One shot was fired about 9:40 p.m.," Cody said by phone. "The suspect was outside, but she went inside (the bar) when officers arrived." 
An officer questioned Witkowski, who initially said she heard a loud boom and pointed northeast toward the beach, Cody said. 
"Officers left and investigated the area, but didn't find anything," Cody said. "When they returned, they were told she ran into the bathroom (after they left). Both women (Witkowski and her friend) were sitting at the bar." 
One officer stayed with the women while another went into the women's restroom, Cody said. A silver and black .38-caliber handgun was found stashed in a drawer of the vanity.