San Miguel de Allende has several soothing spa's to experience, including Laja Spa of the Casa Sierra Nevada,  and Sense, in the Rosewood. And, it is the scentful aroma of lavender that is grown in the region that helps guests and travelers unwind, and gives back to the communities.  The Lavender Project started in 2008, and is a collaboration with the La Colorada Community in Dolores, Hidalgo, Guanajuato in the sustainable production of this plant. Here, they manufacture soap, oils, scented pads for relaxation.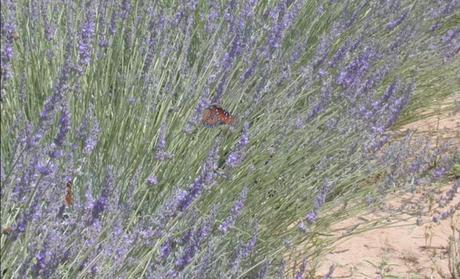 Among the region's spa's that take advantage of the plant's properties is the 
Laja Spa of the Casa Sierra Nevada
. The privacy of its spaces will make you feel at home. The menu includes several facial and body treatment options, among which the Cacao Chilli Wrap stands out There also are therapies and massages with hot stones, aromatherapy and reflexology. An experience you just cannot miss is the temazcal, as it recreates a pre-Hispanic ritual shared by various cultures in Mesoamerica, while purifying all of your being with aromatic fumes.
Sense, in the Rosewood
, is also well known due to the variety of its proposals, such as the "Mole de San Miguel". Just in case you thought that mole can only be eaten, you will discover here that it may also work as an exfoliant that removes dead skin cells and promotes circulation. The milk and honey treatment consists of an exfoliation and the application of honey coming from the lavender plantations in San Miguel with a gentle massage If you are looking for a complete treatment, ask for the "Travesias Sense", which include a visit to the hot springs near San Miguel, a yoga class, a treatment and a hot stone massage. The relaxing experience ends with a low-fat organic breakfast.
Lavender is top among my favorite scents, which I use often to calm headaches, and is ideal for helping you breathe. Not only does Lavender have a soothing scent, it grows very well in the San Miguel de Allende region. The plants need little water and have a long life span, and makes a perfect resource for aromatherapy products. You can learn more about 
The Lavender Project by visit their website
Photo Credits: 
The Lavender Project