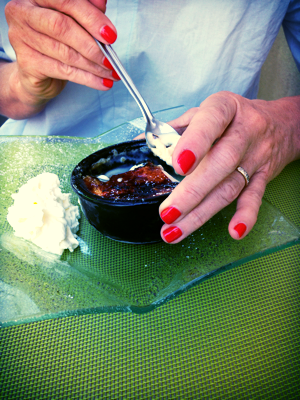 For years I never understood the adoration for creme brulee. It amazed me how friends and family alike often asked for creme brulee, instead of any of the other beautiful desserts on a restaurant's menu.
Burnt cream? What was the attraction?
Small glazed terra cotta pots with a couple of spoonfuls of chilled cooked cream,  spoonfuls of sugar sprinkled on top, and then often blow torched to melt and harden the sugar.
I had heard that if you tapped your spoon on the harden sugar and it makes a hearty crack then it is a sign that it is a "good" creme brulee.
I rarely heard a crack.
Besides, creme brulee isn't the beauty queen of French desserts.
Food porn is visual n'est pas?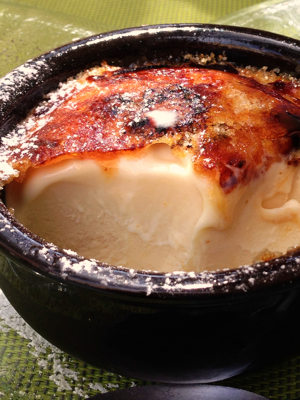 There is a small restaurant near where I live that is a fav of mine. Of course if you know me and have read my blog I have many fav restaurants here in France. I am faithful to good cooks who offer a lovely meal at a reasonable price. Brocante and food are a good enough reason to for me to go anywhere. 
La Table en Provence in Saint Maximin does just that.
Family owned. Reservations a must. Undeniable clever cuisine. 
And their creme brulee... has me dumbfounded. I dream about it, literally dream about it. 
Amazingly one of the best things I have ever tasted.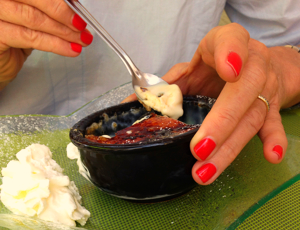 Honey lavender ice cream frozen solid. Taken from the freezer, sugar added, grilled golden and served.
Love on a dish.
Like OHMYGOD this is worth every calorie.
The taste of yum.
Unreal happiness in a spoon.
Am I makig myself clear? Delicious.
When something taste good one tends to eat slowly, but when there isn't a taste or very little of it, people tend to eat more in search for it.
I asked the owners if I could one day I could come around four in the afternoon, a traditional hour for a tea or coffee break. They said of course. I think they saw how desperate I was.
If ever you come to my neck of the woods, Lavender Honey Ice Cream Brulee is in order.
 The taste of yum.
La Table en Provence
50 rue general de gaulle, 83470 Saint-Maximin-la-Sainte-Baume, France  






Related Stories