Pune is my hometown and there are many nearby places to visit for a day trip, road trip, or weekend getaway.
Lavasa is one of the innumerable tourist attractions for Pune and Mumbai citizens. It is around 65 km from Pune and approximately 190 km from Mumbai.
I have visited Lavasa seven times from the beginning when the construction of some parts was still ongoing to the recent time when it has started losing his charm.
However, I will keep visiting this alluring town because it is a perfect place to get away within few hours from the hustle & bustle of city life and spend a rejuvenating time amidst nature and the lake.
Lavasa is a privately planned hill city which is one of the best options to visit especially during monsoons. We assumed it looks like Venice but, the architecture and building are inspired by an exquisite village of Italy- Portofino. The pastel-coloured buildings with lakeside view and promenade make it enthralling.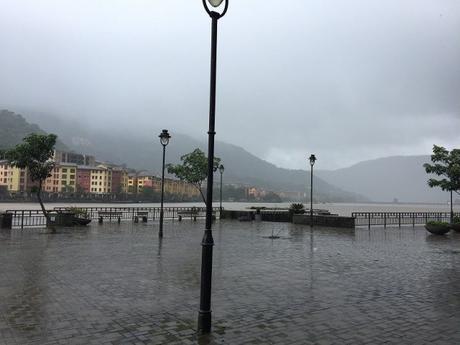 There are many things to do in Lavasa such as cycling, water adventure, and photography or enjoy the picturesque view. Also, the way to Lavasa is splendid and will leave you awestruck. We always stop in between to capture scenic points and feel the pleasant vibes.
As the hill is beautifully surrounded by lush greenery and scintillating waterfall, travellers can't resist continuing driving without a halt. Yet, you need to be cautious if you are visiting during monsoon because the road and the hill are slippery and can be menacing. Therefore, am listing three main points where you can halt without worry but with carefulness.
A dam on the way (Huge and the water sound make you feel exhilarating)

Panoramic view from above (Will leave you spellbound)

Dasve Lake (Near to Promenade)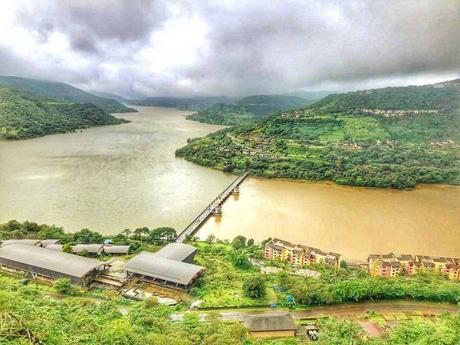 Panoramic view from above
---
How to reach?
I have traveled to Lavasa by Pune:
 Private car (hired and owned)

Bus (Office trip)

Activa (Yes, once with friends during winter)
If you are driving, kindly be careful as it is a hilltop destination and has meandering roads. Also, if you have motion-sickness, then take a tablet before you start your journey.
Out of my seven-time visit, the bus trip was a tad scary as during the turn, the wheels got stuck, but soon it was back on the road and all were safe.
View this post on Instagram

#VisitIndiathroughshaandaarjenie #virtualtour This week follow me to #Lavasa Lavasa is a privately planned hill city which is one of the best options to visit especially during monsoons. It is around 65 km from Pune and approximately 190 km from Mumbai. Driving down is the best option to feel the pleasant weather and panoramic view. I have visited the city many times right from the start, that time it felt as if we are in Venice, sadly now it has lost its charm, no maintenance as u can see. Read more about this place and tourist places to visit in Pune. LINK IN BIO. Have u visited it? #shaandaarjenie #travel #traveling #vacation #visiting #doctorblogger #instago #instagood #photooftheday #travelblogger #mytravelgram #travelgram #lavasaindia #killershotsofindia #WorldPhotographyDay #TravelClicksUnpacked #IndiasGotStyle #pune #lavasahillcity #lavasavenice #incredibleindia #lifeisnewlesson #instamondymood

A post shared by Jenifer $ayyed (@shaandaar_jenie) on Jul 6, 2020 at 5:22am PDT
---
When to visit
Lavasa is glorious & mighty throughout the year, but it sparkles the most during monsoon season and then winters. Therefore, if am in Pune, I never miss a chance to visit it during rainy days.
Charges:
Lavasa is free to visit, however there are parking fee charges which has to be paid at the entry gate.
4 wheelers – 500Rs 

2wheelers –  200Rs
I had last visited Lavasa in 2018 and that time I came to know about this new rule. Before (6 times visit) it was free from any parking charges.
---
Where to stay
Except for my office trip, I have visited the hill city for a day only. If you are planning to visit Lavasa, I would recommend staying overnight because the night view is mesmerizing.
Our office had arranged our stay at the Mercure- an AccorHotels brand. It was luxurious and sumptuous with good hospitality. Further, the food menu was precise and irresistible. We wake up to the serene and tranquil view with the chirping sound of birds.
Wow! I can still feel that breeze.
---
Lavasa is waiting for you. Go and explore this hill city and get immersed in this beauty. Although with time, the beauty has faded and also many shops have shut down, still, it is a good option to visit especially during monsoons.
Do try out tandoor chai over there. Imagine! Having chai with a glimpse of hill and lake. Excited enough? Then come and visit, and collect memories for a lifetime.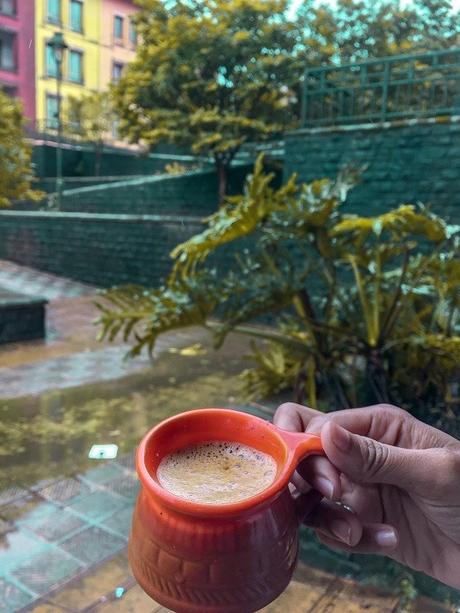 tandoor chai
---
---
---
What is your favorite place in Pune? You may also like to read:
1.   A Day with Nature at Meher Retreat near Pune
2.  A Magical visit to Adlabs Imagica