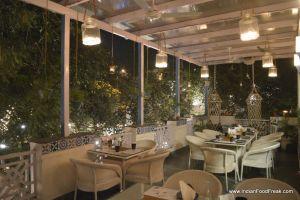 Tucked away in Western Asia in between Turkey, Iran and Georgia is the tiny nation of Armenia with a population of just about 3 million. Interestingly, there is a larger diaspora of Armenians, numbering about 8 million, outside of Armenia in various countries around the world including India. However, the number of Armenians in India now number a mere hundred or so even though Armenians have been in India for thousands of years and achieved positions of affluence and eminence in the past (a bit of trivia here – it is believed that Mariam Zamani Begum, one of the wives of Emperor Akbar, was Armenian).
Now you might be wondering whether this is a history lesson or a restaurant review but do bear with me a short while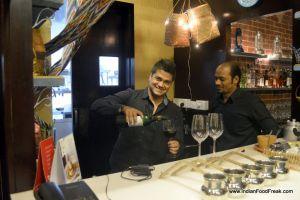 Almost the entire vanishing population of Armenians in India now resides in Kolkata in West Bengal (some more trivia though food related this time – the Stephen Court Building in Park Street in Kolkata, which was built by an Armenian, houses the iconic Flury's)….and in West Bengal is the city of Asansol which had a strong Armenian presence at one time…..and Asansol is where Chef Sabyasachi Gorai was born and spent his childhood !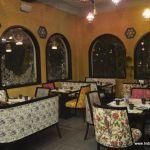 Chef Saby, as he is popularly known, is often inspired by his life experiences in his culinary adventures (for instance, I am told that he conceptualized SodaBottleOpenerWala because his god mother was a Parsi). Therefore, it is no surprise that he has again opened up the doors to his heart and made you peep into his childhood with his latest offering – presenting Lavaash by Saby serving Armenian and Armenian influenced cuisine !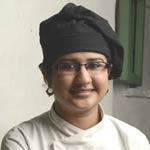 But before I embark on a review of Lavaash, it would be most amiss of me if I don't mention the lady who is making Chef Saby's dream come true so to say. The Head Chef of Lavaash is Megha Kohli – a lady with an infectious smile who keeps running in and out of the kitchen to fuss over each table in order to help them to order. The food she cooks is an extension of her warmth.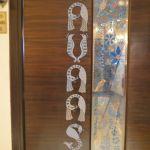 Lavaash is on the first floor of the Ambawatta complex which has its own charm being away from the hustle bustle of the crowded city. The restaurant has an open terrace with a garden swing at one end of it and hammocks at the other end and another terrace on the second floor with a barbeque and open bar facility. There is ample parking in the complex and valet parking as well. I could not help noticing the mesmerising logo of Lavaash at the entrance door – peacocks intricately laser carved on wood as alphabets to form the name Lavaash.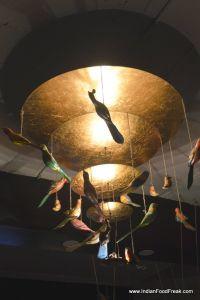 The minute you step in, you get attracted to a huge, circular gold coloured chandelier right in the center of the restaurant, with colourful wooden parrots hanging on hemp ropes. You can notice that nothing in Lavaash happened by chance – each and every detail had been well thought of and creatively executed. You realize this when you see the hand painted glass windows, the rustic mud look on the walls, block printed motifs on another wall, a hanging blue metallic partition with peacocks carved on it, huge arched windows to capture as much natural light as possible, potted plants, coloured glass painted lamp shades, each chair with a different coloured floral 'katha' upholstery, table mats with healthy living tips, aluminum buckets hanging on a metal stand (which, as I discovered to my consternation, were wine chillers), retro music playing in the background (all the songs I could hum along with), one wall next to the bar where black and white Charlie Chaplin movies are played continuously, etc., etc.
My companion and I started with freshly made mulled wine which was a perfect way to welcome the onset of winters. It had a hint of orange, cinnamon, star anise and cardamom. I was enjoying the warmth of the wine flowing down my throat when along came the food.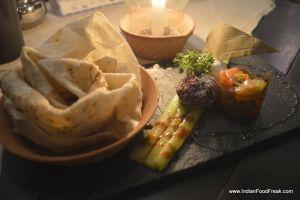 Asparagus and Labneh was a warm zatar lavaash with roasted bell peppers, labneh balls and chili oil. A lavaash is a baked bread which can be soft or crisp. Labneh balls are flavoured hung curd balls. The combination of the rich, flavoured, labneh balls with the fresh flat bread (look alike of a roomali roti) lavaash dusted with zatar can make an anytime snack. Healthy, simple and easy on the tummy.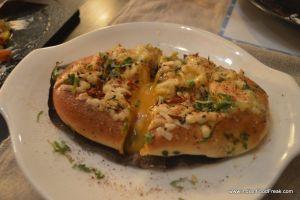 Spiced Pide Pie is a Georgian bread boat with egg, black onion seeds and Kalimpong cheese – a freshly baked oblong piece of bread, topped liberally with cheese and dusted with lavaash spice (a very flavourful spice one can easily get addicted to – it has been created by Chef Saby and is also being retailed by itself in the restaurant). The best part is that as I cut through the centre, the yolk oozes out like a fountain. This was definitely one of the best breads I've had.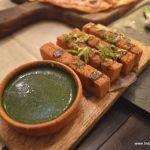 Crispy Lentil Sticks which were dusted with lavaash spice, are crisp, finger sized, rectangular sticks reminding me of a Bengali dish called Dhokar Dalna where these lentil sticks are put in a gravy. I really enjoyed them with the tangy coriander chutney.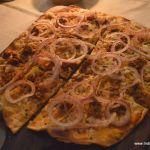 Lamb Mince Lavaash Pizza looked similar to a thin crust square pizza and was topped with Kalimpong cheese (which tastes like feta cheese), spicy lamb mince, onion ringlets, lavaash spice and black sesame seeds. It was a pleasure for the taste buds.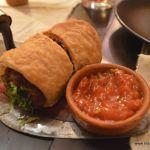 Mochar Puff, according to the menu, is inspired by Nahoum's vegetable puff (for those not familiar with Kolkata, Nahoums is a famous bakery there). Mocha is banana blossom and was cooked with spices witha hint of sweetness to it. This was stuffed inside a thin crisp patty and baked to perfection. It was served with the Bengali tomato chutney which was mildly sweet. Each heavenly bite had a crisp exterior with a soft, spicy and sweet interior.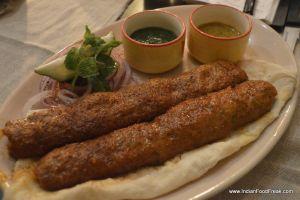 Lamb Koobideh were flat kebabs of lamb cooked on the charcoal and served on a bed of fresh lavaash. When they came to the table, they looked like your regular sheikh kebabs but in taste were vastly different thanks to the liberal sprinkling of the delectable lavaash spice. and their juiciness These were the juiciest kebabs and the juices were soaked up by the lavaash. I really enjoyed rolling them in the lavaash and savouring them with the kasundi and coriander chutney.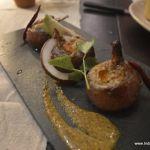 Prawn Tolma – a tolma is a stuffed vegetable.  Here, it is a big onion stuffed with coconut milk, ginger, kasundi and chili and is baked twice. Having a stuffed vegetable itself is a delicacy but to have it stuffed with a whole big marinated prawn was an absolute indulgence. It had subtle flavors with the sweetness of the baked onions coming through.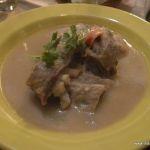 Mutton Rezala (served with Gobindo Bhog rice – a sticky, aromatic rice cultivated in West Bengal) is a mildly spiced mutton stew cooked in yoghurt. The mutton was cooked perfectly and was falling off the bone and was embedded in a subtly flavoured, creamy yoghurt based gravy. While this was excellently made and is a huge favorite with my Bengali side of the family, I suspect that it may not appeal to the North Indian palate.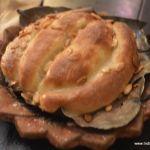 Matnakash Claypot Bread was served as an accompaniment to the mains. This fresh bread is baked before the harvest season and it is baked in a flat claypot. There is nothing which compares to a freshly baked bread.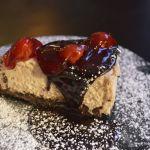 Having gorged on the food, I had space for only one dessert i.e. Milk Chocolate and Cherry Cheesecake. It is a creamy cheesecake topped with chocolate sauce, cherry compote and liberally dusted with powdered sugar.
The restaurant has a very cosy and comfortable feel to it and one can lounge there with family and friends. There was honesty and simplicity in the food presented. None of the tastes were alien to the palate and I could totally connect with the food. I would love to go back to try all the dishes that I could not on this visit.
Ratings (out of 5)
Food: 4.5 | Drinks: 4.0 | Ambience: 4.5 | Service: 4.5 | Overall: 4.5
Meal for Two: Rs. 1800 (Without alcohol) | Credit Cards: Yes | Alcohol: Yes | Timings: 12pm – 12am | Wheel Chair Friendly: No
Address: H 5/1Ambawatta No.1, Kalkadass Marg, Mehrauli, New Delhi | Telephone: 078270 44050
Disclaimer: This review was done on an invitation from the restaurant. Due judgement and care has been applied by the author to remain objective and unbiased in the review, but readers need to consider this review keeping this fact in mind.