Lava Cheese Tart is so popular in Saporro and now in Hong Kong.  
Since I won't be visiting these places any sooner.  I decided to try my hand at it.
When I first came to know about this tart, there were only two recipes available online and both doesn't seems to be the close to the original.  
Within a month or so, more recipes were popping up in the cyberworld.

Actually my crave picks up again after talking to a fellow blogger who went to Japan recently.  Since I have all the cheeses on hand, I pick this recipe to try.  I will be eagerly looking forward to her experiment as hers might be the closest to the real stuff.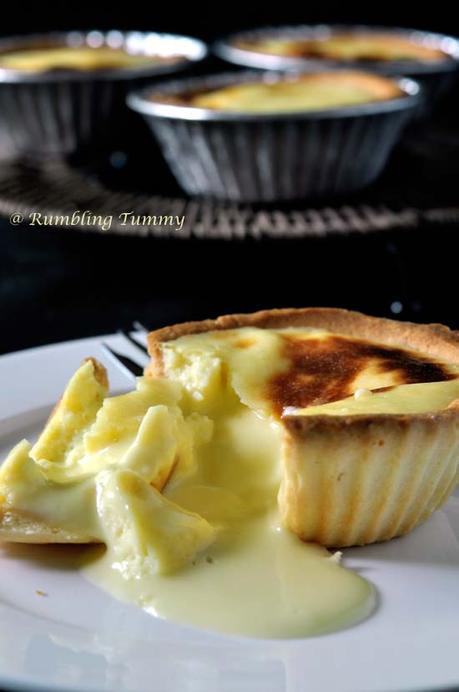 Findings: When you cut immediately after baked, the lava effect is very evident.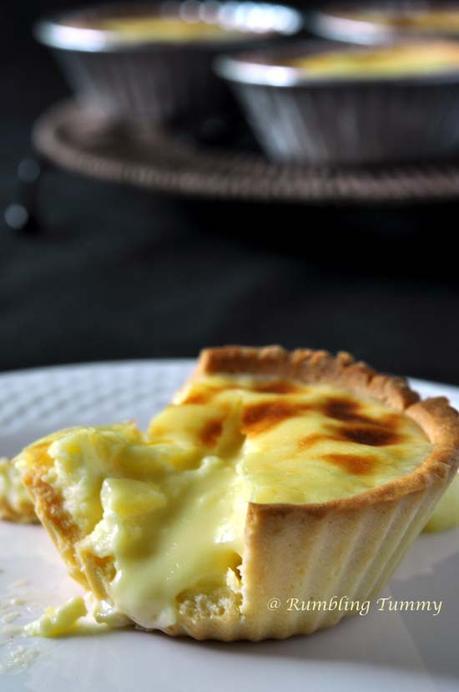 Upon resting around 5 mins, it will not be runny but will still yield a soft curd.
Overall, the tart is yummy but as to whether it is the same as the original, I was told that the original has a distinct cheese taste as I guess I won't be able to replicate that as getting Japanese cheese is not easy.
Perhaps you can incorporate sharper cheese and let me know how your experiment turn out.
In the meantime, I think this will be able to satisfy my craving for the time being.Adapted : Siu Kitchen
What you need:
yield 8 pcs
Crust
40g unsalted butter40g icing sugar 30g egg 100g cake flour
Method:
Cream butter with icing sugar until light and fluffy.
Add the egg and mix well.
Add in cake flour and knead to incorporate well.  DO NOT OVER KNEAD.
Place dough in cling film and let it rest in the fridge for ½ hour.
Divide dough into 8 balls and shape dough into the mold.
Poke little holes in the dough and blind bake for 12 minutes at 180°C until light golden brown.
Note: Air Fryer at 170°C for 10 mins
Cheese Filling

160g cream cheese
15g parmesan cheese
40g icing sugar
80g milk
15g unsalted butter
50g egg, beaten

Method:
Melt cream cheese, parmesan cheese ang icing sugar over a bowl of boiling water.
Add the milk and butter and mix again until smooth.
Remove bowl from heat and stir in egg.
Pour the cheese filling into the baked tart crusts and then bake for 5 minutes at 180°C.
Cool tart a little before removing.

Note: Air fryer: 180°C for 5 mins.
Enjoy!
If you have enjoyed this post by
Rumbling Tummy
, be sure to follow this Rumbling Tummy on
Facebook
, Instagram, Pinterest, Twitter and
Google+
.