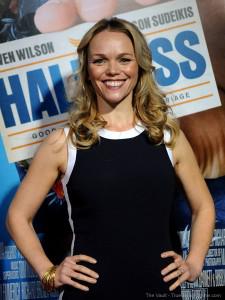 True Blood's Lauren Bowles, who plays the mysterious Merlotte's waitress with the interest in Wicca, and her husband, actor Patrick Fischler (Mulholland Dr.), will be guest starring in Episode 2 of Curb Your Enthusiasm as a couple who, surprise, annoys Larry. Bowles plays a busybody while her husband's character has been described to us as a "hugger."
Curb Your Enthusiasm by Seinfeld co-creator Larry David returns with Season 8 on July 10 at 10 p.m. on HBO and, in addition to Lauren and her husband Patrick, the season lists an impressive lineup of guest stars including Rosie O'Donnell, Wanda Sykes, and Michael J. Fox.
This information was confirmed by an HBO rep to The Hollywood Reporter.