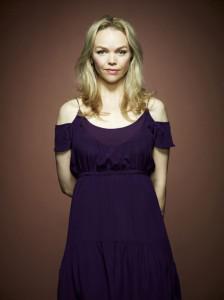 As an actor, landing a job on HBO's True Blood is a dream come true and Lauren Bowles, who plays wiccan Holly Cleary on the hit show, is very aware of how lucky she is.  Bowles joined True Blood near the end of Season 3 aware that Season 4 was going to be the season of the witch and she has enjoyed every minute.  She recently spoke with Collider.com about how she got the part, working on the show and her appearance on Curb Your Enthusiasm with her husband Patrick Fischler. 
According to Bowles, auditioning with Alan Ball is quite different from other shows.  Most shows have a lengthy auditioning process but with True Blood she went in, auditioned and knew she had the part by the time she got home.  She did not anticipate actually getting the part but was merely hopeful that she would impress Alan Ball enough to earn a guest role on the show.  Bowles reveals that she has been a fan of True Blood since the show debuted, even though she does not typically watch supernatural shows.  She started watching simply because she was a big Alan Ball and Six Feet Under fan and quickly became hooked. 
We have heard several times that the cast of True Blood is close and that they are all really great people and Bowles echoes this sentiment saying:
The year I joined – last year – there were a bunch of new people added, so I wasn't the only new kid in school. But, the main thing is that it truly is the most awesome cast. I would normally read that and be like, "That's bullshit!," but it's really not a lie. I've worked on a lot of TV shows and hierarchy is always a part of it, but everyone is just so awesome. The fact that everyone is so welcoming really makes it so easy to just jump right in. Because the cast is so large, if your storylines aren't with certain people, you can go all year and not see some of the cast, other than at table reads. It took me a long time to actually get to meet everybody.
She goes on to say that one person she would really like to work more with is Ryan Kwanten (Jason Stackhouse).
So what is it like to work on a show that is so secretive about the plot?  Well for Bowles it is more difficult than some.  She says she is terrified of accidentally spilling the beans in an interview and does not even reveal the plot to her husband who had his own secretive role on the hit show Lost.  Bowles is of the opinion that true fans of the show don't really want to know what is going to happen anyways but she still worries about giving things away.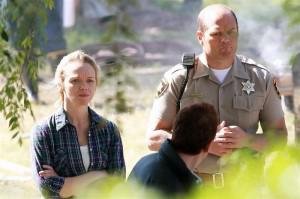 According to Bowles, she knew going in to the role that she was essentially being set up for Season 4 and that Season 4 was going to be the season of the witch.  She says she gasped outloud every time she saw the scripts and she would read them twice – once as an actor and once as a fan.  Bowles revealed that the cast gets full scripts rather than just for their individual parts but they are heavily watermarked so if they ever get leaked they will know who did it.  Overall Bowles has really enjoyed working on the show and even though there can be really long days it doesn't happen so frequently that it outweighs the positives of the job.  Although we have already seen the season finale, she says that was her favorite one to film.
Bowles had the opportunity to appear on Curb Your Enthusiasm along with her husband Patrick Fischler, after having known Larry David for a number of years.  She met David when she appeared on Seinfeld  years ago along with her sister Julia Louis-Dreyfus and when the part came up for a married couple her and Fischler went in.  Her husband played a guy that likes to hug a lot and Bowles played a nosy busy-body.  The job was perfect because it was shot a short distance from their house so they were able to play with their daughter all morning, arrive at work at noon, shoot for a few hours and be home in time for dinner.  A lot of people might be intimidated working with Larry David but Bowles had this to say about working with him:
Not for me, it wasn't because I've known Larry, over the years. I'm sure that if I didn't know him, I'd be like, "Oh, my god, that's Larry David!" It's not like we're besties or anything, but I have known him over the years and really enjoy him. And, I love improv. It was a blast! My husband and I oddly have worked together a couple of times. We did a Veronica Mars episode together. We didn't work together, but we were both in Ghost World. We had a theater company in L.A., for a bunch of years. So, we've worked together a fair amount, and it's always just great fun.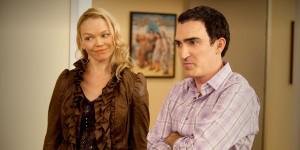 So after working with Larry David and Alan Ball, what would Bowles like to work on next?  She would like to get back to the theater since she hasn't done that in a lot of years. 
To read the full interview that Bowles did with Collider click here.
Source:  Collider.com – Lauren Bowles True Blood Interview
Photo Credit: HBO, Inc.