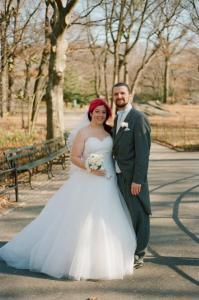 Laura and Alan are from Nottingham in England and had been together for twelve years before Alan proposed. The first time Laura saw Alan he was on stage with his band at Nottingham's 'Rock City'. It was love at first sight for Laura, so she made sure she was in the record shop where he worked every Saturday to make sure he noticed her.
Laura and Alan went on a trip to Lapland for in December 2009 and Laura had hoped that they might come back engaged. She was disappointed until that Christmas Day, when he told her he had just one more present for her, and got down on knee and proposed. Of course Laura said yes.
Laura said that she had always dreamed of getting married in New York, she said "we knew that we did not want a traditional British wedding at either a hotel with bad carpets and curtains or a church, as we are not religious." They were planning to marry in December, so they did also consider Lapland for a short time. They had to be careful to only make a very short guest list, and the only major drawback for New York for them was that Laura's 85 year old grandmother would not be able to go.
They loved the romantic feel of Central Park. Laura said "I knew that we were taking a risk with the weather having a winter wedding, but it was worth the risk! After all, the weather in the US East coast is much better than in the UK during December, so we just had our fingers crossed for a dry, crisp, blue skied day", and judging by the photos, that's exactly what they got!
Laura and Alan stayed at the Beacon Hotel on the Upper West side, which they highly recommend. Laura told them that they were getting married so they upgraded them to a bigger room on the top floor of the hotel. The rooms have a little kitchenette in them all which was really handy for the sister of the bride with her two year old son.
One of the things they especially enjoyed was walking to and from the ceremony location in the Park, Laura said "everyone who we passed was just thrilled for us! Waving and taking our pictures and congratulating us… it was really really lovely."
They had a total of sixteen guests; immediate family and close friends, including three bridesmaids, and also some family who lived in Virginia were able to come along too. The wedding ceremony was at Belvedere Castle, they had pictures at the castle and then at some stops on the way back to the 77th Street entrance to the park where their car was waiting.
The bride and bridesmaids did their own hair and make up and carried bouquets of white carnations. As you can see from the photos, Laura wore a fabulous white dress with sweetheart neckline and a full netted skirt with sparkly crystals all over. Their guests were surprised that she had managed to get such a big dress over to New York. Laura had chosen a pair of beautiful white and silver shoes that she could barely walk in made by Irregular Choice. She does recommend wearing comfortable shoes in the Park, and I would agree with her, or at least spend some time breaking them in before you get to the Park, there is no avoiding walking!
On the night before the wedding, the bride and groom slept in separate rooms, and the morning of the wedding, Laura and her family had breakfast delivered by Gigi Café, "chocolate chip pancakes what a great way to start off our wedding day!"
Laura and Alan had hired Molly the Trolley from the New York Trolley Company to take their guests on a sightseeing tour of Manhattan on the way to our reception venue which was in an events room in reBar in Brooklyn. They were very happy with the venue, they were able to take their own music and they couldn't be happier with the staff. Their wedding cake was from Pink Cake Box, Laura said "it was the best cake I have ever had or seen in my life!"
If you are considering a Central Park wedding, Laura says "I would like to say to all brides who are thinking of marrying in Central Park, who don't live in NYC or the USA to not think about it, just do it! Don't worry about who will be there, as a the end of the day, those who can make it are the ones who end up having the best time!"