Hello everyone,
Experiencing a hurricane is not the way I like to start my week! I'm not looking forward to all that rain and wind, not to mention the possibility of a power outage that could last several days!  As I'm going to be indoors all today, it's a perfect opportunity for me to catch up on some chores that I put off from doing last week, like the laundry. I'll be honest here: the thought of going up and down two flights of stairs to shuttle between my office and the laundry room is not always appealing. I strive to keep the laundry room clean and organized, but it's an ongoing challenge, because it's part of the room that we keep our bikes and home-maintenance products. It certainly isn't always perfect, but properly designing the space and the system has certainly helped tremendously.
I'm always thinking about ways to organize my home, and that includes our laundry area. Doing laundry is so much nicer if the room has some semblance of order! When planning a new space or reorganizing an old one, remember to design it for your family as well as yourself. Laundry rooms don't need an expensive designer touch, but they do need to make it easy for you to perform your tasks there.
You might be surprised at how having some nice color, light and storage space can make the laundry room a nice place spend time. The room doesn't have to be expensive; it just needs a few touches here and there to give it personality and to make it a more efficient workspace. Your wall colors should be soothing and not overly bright; you want colors that will encourage you to stay in the room.
Here are a few laundry room decorating ideas. The designs of these rooms should definitely help make doing the laundry more fun!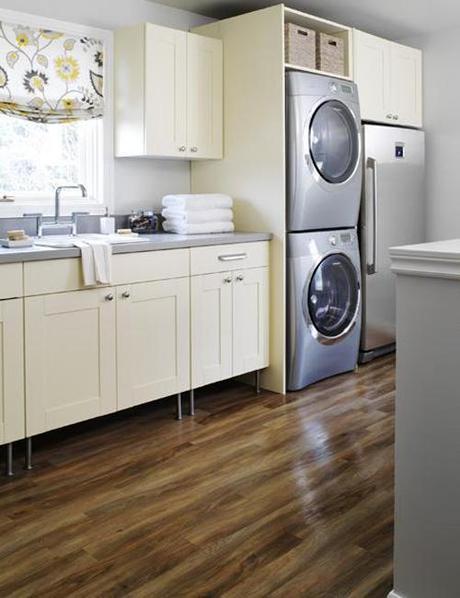 If you would like to have color in your laundry room, add a lot of style by creating a bold accent wall.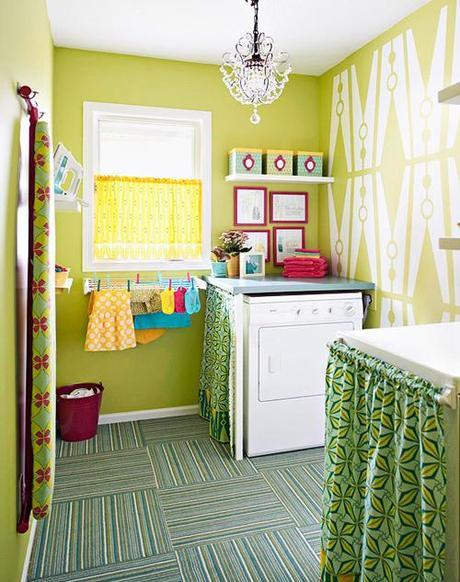 I love the idea of having the laundry room below the staircase going down to the basement.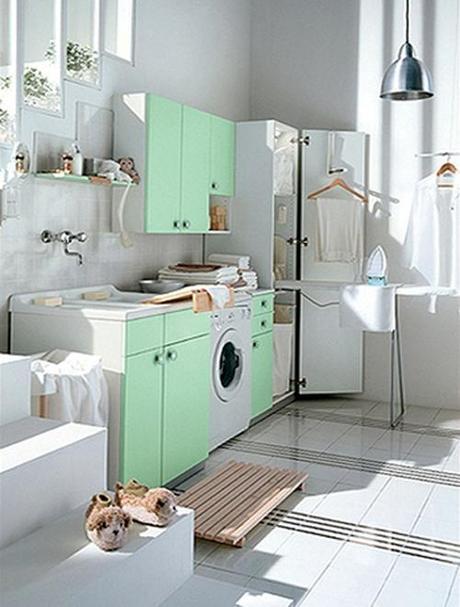 Suppose you have a small laundry room that's hidden in a closet in the basement or the kitchen. Create a storage space in lighter colors to make it seem larger. The idea is to make the area feel light and airy.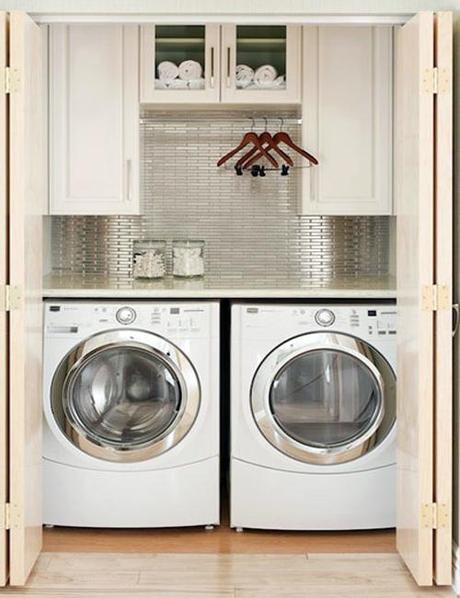 In a small room, stacking the washer on top of the dryer provides you a lot more storage space.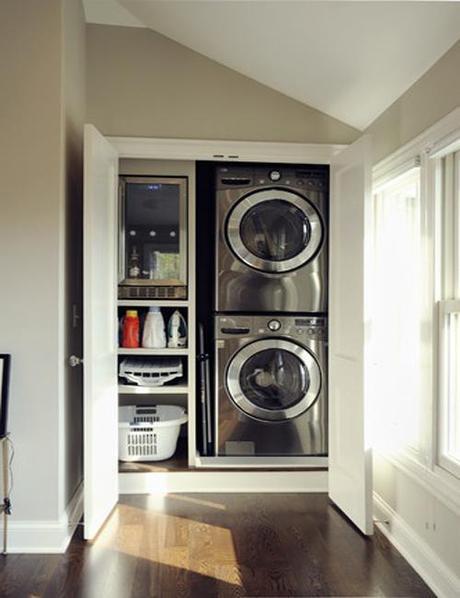 Having adequate storage space in a laundry room is a must. We need areas to place the laundry cleaning products, baskets or bins. And don't forget the iron and ironing board! You can put the laundry detergent and fabric softener into glass canisters– that way you can easily see when they're ready to be replenished.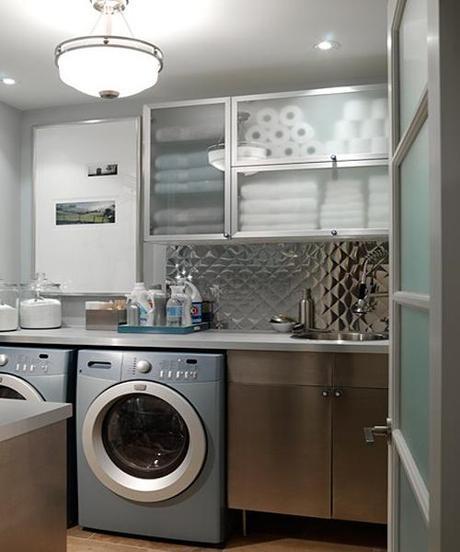 This is such a neat way get out the ironing board: just pull it out like a drawer! Fabulous!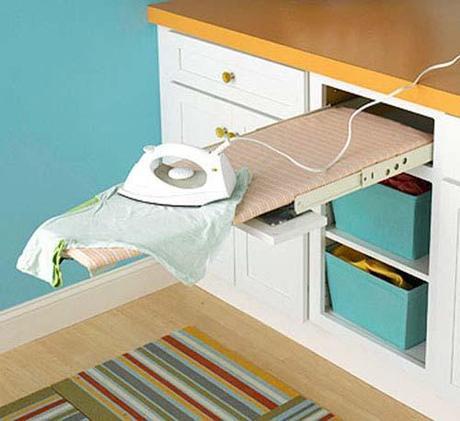 This is such a wonderful idea. Hanging a storage rack over the door and using chalkboard paint on its interior. What a creative and a great DIY project!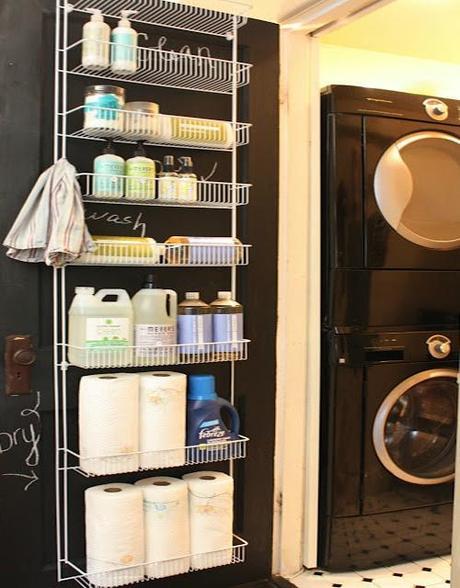 Finally, why not add some artwork to your laundry area? If you're going to have to sort out dirty linen, there should be something there to make you smile, don't you think?!!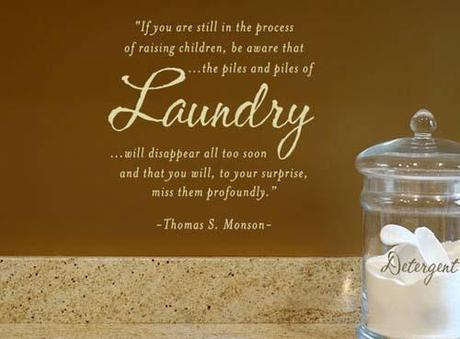 Which of these decorating ideas do you like the best? Do you think you'll try one of them in your home?
Finally, we come to our prize winner of the mercury glass votive candle holders and the salt and pepper sparrow holders. It's Gabriela Huber!  Congratulations, Gabriela! Can you send me your contact information and I'll mail it to you.
Here's hoping your Monday isn't as wet and windy as it is here.  Now let me upload this post before the inevitable power outage arrives!
Be safe and stay dry,
Simone