Just in case we weren't all flat-out exhausted from the Olympics and last weekend's Foodies Festival, Edinburgh is full of colour, music and the unmistakeable sounds of 'Geez! It's so quaint!' and tramworks. It's August – it's Festival time!
I absolutely love Edinburgh in August; it's a cosmoplitain melting pot of people, culture and ridiculousness. People come from around the world to see/hear/feel the festivals and others come to perform, in what is arguably the largest arts festival in the world. And it's right on my doorstep.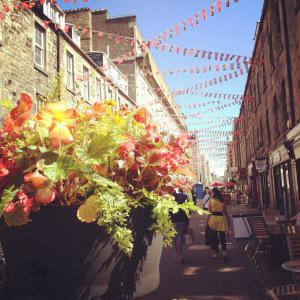 It can, of course, become a bit of a nusiance, but it would be idiotic, not to mention a little selfish, not to take advantage of it. Rose Street featured in last week's Instagrammers Anonymous as a barrage of flowers and colour, but it's also home to so much music right now from all the buskers, and even just strolling down it at lunch time can be a treat. Yes, a busker with mutton chops to rival Bradley Wiggins doing a mediocre Elvis impersonation on an out of tune guitar isn't something I'd pay for, but the atmosphere is great and we all love a tryer. What really makes the difference is all of the people interacting with one another – stopping to listen to another young busker who's lost the facial hair in favour of a harmonica and some tuning singing Bob Dylan (albeit with a Glaswegian accent), or the rickshaw driver who accompanied him momentarily as he cycled past.
My favourite part though, is the comedy. There's something about seeing comics in tiny little venues that is just utterly spellbinding (and not just because you're going be part of a joke if you nod off). I think the best way to do it is to get tickets for a couple of bigger names that you'd really like to see and then play Fringe Lottery. If you don't know Fringe Lottery there are two ways you can play: 1. Go to the 'half price hut' down by the National Gallery and get tickets for which ever show sounds the most interesting, or 2. Go to one of the bigger venues (Pleasance, Assembly, Gilded Balloon, etc.), find their box office and ask the cashier 'what have you got tickets left for?' You won't get a big name, it can be a obscure and you might not like it; however, you can get great deals (from venues just wanting to put bums on seats) and you can discover some great gigs. When we played a couple of years ago we saw this guy who was just becoming a Fringe hit and it was a last minute show, his name was John Bishop and is now one of the BBC's top comedians. Oh, and this other time we saw some guy called Russell Howard in a venue with about 35 seats, anyone every heard of him?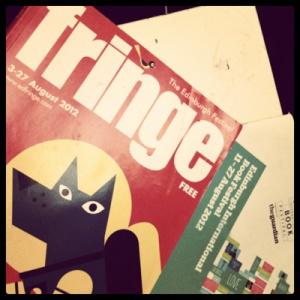 I played this game again with my friend who came through from Glasgow for Foodies Festival at the weekend – any wonder we were both exhausted by Sunday lunchtime – because they'd never seen a Fringe show. We went up to the Assembly Rooms on George Street, but didn't fancy any of their shows, so they pointed us in the direction of Stephen K Amos down at the Stand. When we got there we got offered a flyer for Markus Birdman, whose show was starting in about ten minutes time. Tickets were £8 and he had a 4 stars from a couple of reviews, so we took the gamble and bought the last two tickets. This was definitely a winning roll of the dice and we spent the next hour laughing pretty much constantly. I won't go into too much detail – I wouldn't want to spoil it – only to say that if you want a great show and a lot of laughs he is on at 9:20 at the Stand until the 26th, it is definitely one to see.
The other option, of course, is the Free Fringe. Hundreds of shows in venues across the city by comics trying to make a name for themselves. We went to a few of these last year and found some great little shows. My first foray into them this year – at the Three Sisters, down on the Cowgate – wasn't exactly inspiring, but the first of the five slots was pretty funny and the others all got a laugh occasionally (it was post 11pm, a lot of the crowd were hammered which always helps), it certainly was a cheap evening out (it's a throw a pound or two in the bucket at the end affair) and I'd always try again another night.
So who knows what I'll see next, there are a few I have my eye on and I'll probably end up at a few more random shows before the month is out. Who knows, might even play a bit of Fringe Lottery this weekend and see what happens.
Go on, I dare you, take the plunge and go see something ridiculous just for the sake of it!
Cr