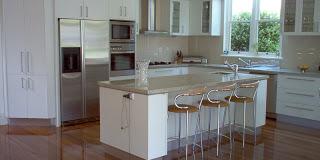 While many designers choose to always take the safe and traditional route when it comes to producing and renovating Melbourne interiors, it can be fun to take inspiration from the more adventurous new trends enjoying their moment in the sun. While a timeless space is perhaps more guaranteed to compensate the expense of renovation, many of the new trends for 2012 are practical and stylish enough to be worth the risk of trying out something new.
If you like the look of simple, sleek interior designs, then you're going to love this trend. Many of the latest and most popular designs feature cabinets with clever magnet and push spring door opening mechanisms, which eliminate the need for fussy handles. These cabinets are often easier to clean and work exceedingly well in contemporary surroundings.
If, however, you prefer a more ornate and artistic approach to interior design, you might consider featuring a beautiful mosaic design in your space. Mosaics look great as practical back splash arrangements and can be designed to be as personal or colourful as you like. When considering a mosaic feature for your space you should make sure that the final result will be easy to clean and long lasting.
Curved Shapes Kitchens in Melbourne
Until recently it would have been very uncommon to see curved lines in the kitchen, whether in the cabinetry, counter tops or even appliances. Now, innovative interior designers are experimenting with softened surfaces and curvaceous shapes to produce an entirely new look in such a typically utilitarian space as the Melbourne kitchen.