The theme has been an extremely popular Newspaper WordPress theme that lets you write articles and blog posts with ease. This cool yet minimalist newspaper template has been developed by TagDiv and allows you to create a great news website.
This theme has been tagged as a bestseller in its type and is considered an excellent option for blogging, news, newspaper, magazine, publishing or review site. In this post, we will give you a comprehensive review of this cool WordPress theme including its description, features, tools, prices, benefits and more.
SO LET'S DIVE IN! [Latest] Newspaper Theme Review By TagDiv 2019: Should You Buy ?
Newspaper Theme Review 2019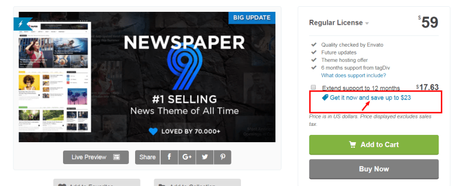 About The Theme
The Newspaper theme is a WordPress theme available in the ThemeForest marketplace known as EnvatoMarket. It is very flexible in terms of usability and supports videos from YouTube. AMP and is designed to be mobile responsive. The theme is fast, simple, and easy to use for various types of websites like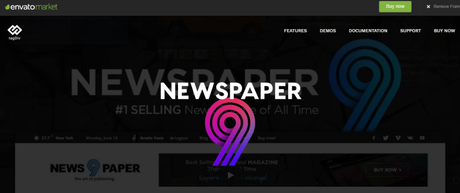 And much more!
You can even demo a full website design. This feature also lets you bring all the design with or without the demo content when you import one, which you can then customize with templates, sections, elements, colors.
In terms of functionality as well, Newspaper theme hits the jackpot as it seamlessly integrates with Instagram, bbPress Forum, BuddyPress and WooCommerce. Furthermore, the theme supports responsive Google Ads and AdSense and also uses the best clean SEO practices.
Highlight features
Newspaper theme has been packaged as a feature rich theme for building news, newspaper or magazine type websites with utmost ease and flexibility. The theme has been voted as the No. 1 news theme by various experts and rating systems, who have particularly praised this theme for the following features:

Powerful Header Manager
The Newspaper theme V9.5 brings in a cool new Header Manager feature which you can use to create and edit different Headers for every page of your website. The header manager has been rolled out to allow you to build and customize a website's header from the ground up. The TagDiv team has created a series of shortcodes to accompany it to give you the elements necessary for a fantastic layout, including:
And more!
The best part about this feature is that it is extremely easy to use for any use and every header created is customizable right through the front-end page builder.

Visit this link for more information regarding the Newspaper theme Header Manager.
Header Main Menu
The Header main menu is one of the 4 customization zones you get to work within the Header Manager dashboard once you have imported your desired header template for your website. You can easily import a Header Template from the Cloud Library.
Once the import is complete, you can easily take a look at the beautiful Menu widget. Just click it! The settings available are very easy to use and you can inspect them further to get accustomed to it.
Now first, make sure you already have a Menu created precisely for the page you're editing and then select your Menu in the General Settings tab, right at the top to get started!
Hover over Appearance and click the Menus page in the WordPress Admin Dashboard provided to you. The left side will give you access to all of your Pages, Categories, and Posts, while on the right, you can see your current Menu Structure.
Just click on Create a new Menu at the top. Now give this new menu a name and then press the Create Menu button.
Keep in mind the Header Menu should contain only the essential navigational elements before you choose which item you want for your menu.
Header Live Search
The Newspaper theme offers an underappreciated usability function for your website in the form of its Header Live Search feature. This feature has been designed to give your visitors instant results based on the input keyword and each letter typed into the form so they can quickly access the desired content.
The latest V9.5 update of the Newspaper Theme gives you access to a brand new Header Live Search shortcode which you can add straight into your header and give the audience a way to access different pages of your site. This feature has been incorporated with the newly enhanced Header Manager as one of the core features of the 9.5 update of Newspaper Theme.
The Header Live Search pulls up articles, posts, pages relevant to the keyword, giving the audience the content they are searching for instantly and helping them access it faster than ever before. You can further customize each result displayed to your readers from adding padding to the meta info to resizing the featured image for the page.
You can also easily create a search form, give it a background color and add a placeholder text to it so that it fits in with your site's appearance. Furthermore, you can also add a hover animation over the results such as a movement one or even the conventional shadow display.
Mobile Header
As mentioned quite a few times throughout this review, the Newspaper theme has been designed to be mobile ready and responsive to any kind of mobile device owing to the fact that more than 75% of your website visitors are mobile users. The Newspaper theme brings along a fantastic Mobile Header with Newspaper Theme below to catch the attention of viewers surfing your site on the go.
Just open a page or post through Newspaper Theme's front-end page builder - tagDiv Composer
Now import a template by clicking on the Header Manager and then on the Import Template button.
If you have already imported a Header template from the Cloud Library, then simply scroll through the various designs and choose the one that fits your website best.
Next up, click on any element of your Header or content and then click on the Mobile Device Viewport icon.
Now you will get an instant preview of the entire page as it would look like on the phone. The Header shrank in size alongside the content, thus showing the power of the new Mobile Header elements.
Infinite Loading For Single Posts
The Newspaper theme also comes with a brand new feature called "Infinite Loading for Single Posts" that has been designed to increase the time spent by visitors on your website. This feature makes users smoothly scrolling through your interesting articles and post, without clicking away. Let us tell you why this feature is so important for you as a website owner and how to make this feature an excellent improvement for every website?
Infinite Loading first and foremost, lets the audience move from one blog post to the other in a very fluent and intuitive way. This saves them a lot of time, effort and suits their patience perfectly as well. Once they reach the end of an article, the loading icon appears, and the next post is brought up. The feature proves useful as it keeps the visitors on your website for extended periods and they can keep reading without having to click away to find your next awesome piece of content through the Category Page.
The biggest advantage with the feature is that it eliminates the loading time when redirecting from one post to another, thereby increasing the time on page. Furthermore, you even get to choose the number of posts a user can read through, as a bonus. This feature has been popularly used by some of the biggest and most extensively used websites in the world including Pinterest, Tumblr, Facebook, and Instagram. These websites have mastered the art of using this feature to show off related content without having to redirect from one post to another.
Infinite loading for single posts feature has been incorporated into the Newspaper theme by the developers to help increase the user's time on site, especially targeting mobile device users so they can keep moving through the posts efficiently.
Supported Widgets and Plugins
WordPress is a plugins paradise for website owners as they get to choose and integrate numerous third-party applications to improve and enhance the functionality of their WordPress website.
The Newspaper WordPress theme has been touted as one of the best themes in the news, magazine categories by numerous users and experts in the internet industry due to the ability to seamlessly integrate with some premium plugins that include Visual Composer, revolution slider, etc. Newspaper theme supports unlimited sidebars and includes modules of various styles that allow you to add many types of widgets to the sidebar on your blog.
You can even move JavaScript files to the footer section of the site which in turn will improve the page speed with the help of the speed booster plugin. Furthermore, you can even keep track of the GT Metrix score of your WordPress blog using this plugin.
The theme also brings you the option of requesting other users to join you on social networks through the tag div social counter widget included with this package file. This widget gives you a social network button which boasts a counter that will automatically get the number of fans/followers your social profile has.
Pricing
You can buy the TagDiv newspaper theme on ThemeForest marketplace. The template is available in two price tags.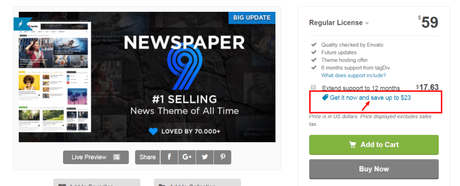 The regular license costs $59 and is worth the money because the support is good and includes the following features:
Quality checked by Envato
Included: Future updates
Included: Theme hosting offer
Included: 6 months support from tagDiv
There is also an extended license option available for the same theme that will cost you $1200 and will include the same features as mentioned above.
Quality checked by Envato
Included: Future updates
Included: Theme hosting offer
Included: 6 months support from tagDiv
Quick Links:-
Conclusion: Newspaper Theme Review 2019
The Newspaper theme has been designed to make your life easier as a website owner easier, allowing you to build a website in a few hours instead of days. There are numerous major advantages of using this theme for your WordPress website. Here are some of the handpicked reasons we recommend you for giving it a try.