Twitter CEO Jack Dorsey and His Music Album EXIT OF FOR
Jack Dorsey, CEO Twitter has shown door to four top executives
Four leadership executives exodus by Twitter CEO Jack Dorsey
Have you heard about the music album released by Twitter CEO Jack Dorsey? After his return as the CEO of the largest media company Twitter, this is the first album released by him. The release has been with a big bang. It has stirred and shaken not only the Twitter Board but the company as a whole. The music has a rhythm. It is loud. The album has not been welcomed by all. It might turn out too sweet music for few in the company. The music has been composed by Dorsey himself. He is the music director of this album called
Exodus Of Four
. Well, it is all about the exit of four top Twitter executives. The pre-release note or rather the release note has been shared by none other than Jack Dorsey himself on Twitter via one of his tweets. The tweet came as a surprise late Sunday night. It came as a shock to others. That is the latest music album from Twitter CEO Jack Dorsey I was talking about.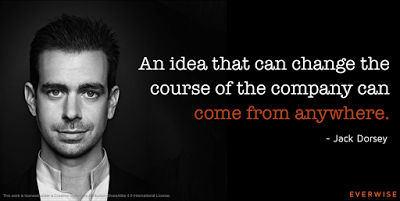 Photo credit: www.geteverwise.com via Visual Hunt / CC BY-SA
A point to note is that Dorsey himself is not comfortable and well set so far after the beginning of his tenure as the chief executive. This is the biggest change so far that has happened at the leadership level in Twitter. Since his joining as the chief executive, Dorsey is struggling with the stability and growth of the company. And then this jolt might act as another destabilizing factor for Twitter. The big four exiting the company include Product Head Kevin Weil, Engineering Division Head Alex Roetter, HR Head Brian Schipper and Media Head Katie Jacobs Stanton. All four are confirmed to leave the company. Dorsey, definitely, is the person behind this music album called
Exodus Of Four.
Twitter is not performing well in the stock market since last year when Dorsey joined the company as its CEO. The stock has lost half of its value in the market since then. In fact, the current trading price of the Twitter stock is less than its initial price at the time of its launch. The IPO price was much higher than the current
trading price
.
Although Jack Dorsey is being credited with a faster rollout of various products under Twitter's portfolio but it has not benefitted the company in terms of a substantial increase in its users. The faster launch of various product categories has not been able to give a thrust to its stagnant user base. If the new product range had been impressive and lucrative, it would definitely have doubled the user base within a year. This is not a new case in corporate stories when a top level failure starts axing its closest rivals within the organization to disseminate a message of 'real power' and to mitigate the risk around.
This blog post is inspired by the blogging marathon hosted on
IndiBlogger
for the launch of the #Fantastico Zica from Tata Motors. You can  apply for a test drive of the hatchback Zica today.