Montpellier is the 8th largest city that lies in the southern France. Languages Schools are copious whereas international students will absolutely get inspired learning within the city. This place is certainly providential in its location, for it is ideally positioned nearby sandy, pristine, Mediterranean beaches, while in inland lots of charming remarkable spots are perfect for visitors to conveniently visit to all the lures that this territory has to offer.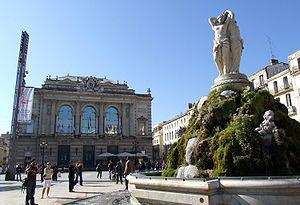 Image by Christophe.Finot via Wikipedia
That is why it is definitely worth selecting the City of Montpellier to enjoy everything it has offered as you seek to learn language. English, Arabic, Chinese, are wide array. Especially when you choose to learn French language in the city, the best resources are broadly accessible. Whether you are a learner, a professional or who is just simply have in-thing to travel and have some fun in a new destination, the fluency in this specific language is attainable.
France largely uses French as their main languages in daily communication, so languages Schools are indeed possess all the expertise about French lessons with experienced and credited teachers in order to educate students quickly and help them enhance in optimal level to meet students' expectations.
The chance and the opportunities to develop new language will greatly be benefited together with native-speaker teachers and language enthusiast varying on programs and specific language. Being an international new student in Montpellier, the mission of majority of these types of institutions put forward the goal of simple philosophy with the combination of kindliness and professionalism in every lesson.
Latest School in Montpellier, France
Perfect for this Christmas, oneFrench school in Montpellier very near from the Place de la Comedie, the major square of the city is currently offering 20 lessons per week for 'Standard French language', and 30 lessons per week for 'Intensive French course'. What is motivating to take hold on these courses is the affordable rate for all courses where enrollees may able to save up to €100, $150, £100.
In times of Christmas, since it is natural that many students visit the City as well as to study languages, the schools arrange their accommodation in cautiously preferred French host families, or in private accommodation and/ or in a close to school student residence.
If you choose this school to learn new language on yuletide, the chance to befriend and gain acquaintance with mix races is a great way to learn not only the language you want to learn, but possibly other language too with other students, in which is a great practice to develop your skills.