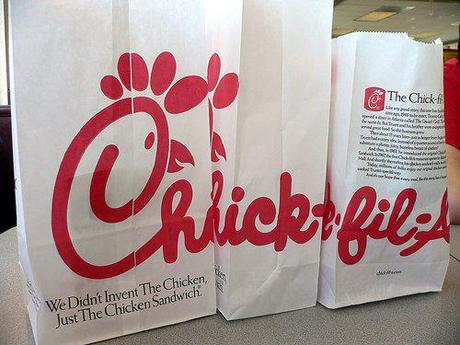 [image from glassdoor.com]
Over the summer, the Atlanta-based company Chick-fil-a found itself in the center of the media's attention after President Dan Cathy mentioned in an interview that he supported what he called the "biblical definition of marriage", and came under fire after the company was found to have donated millions of dollars to anti-gay organizations. This news did not fare well with the LGBTQ+ community or their allies, and boycotts, protests, and counter-protests broke out at Chick-fil-as across the nation.
Earlier this week, Chick-fil-a released a statement saying that they would remove themselves from the same-sex marriage debate, leave it up to those in a political arena, and reiterated the statement released over the summer: "the Chick-fil-A culture and 66-year-old service tradition in our restaurants is to treat every person with honor, dignity and respect – regardless of their belief, race, creed, sexual orientation or gender". In other words, they will no longer donate money to these anti-LGBT organizations. (source, 2)
Naturally, this decision has sparked another firestorm on the Chick-fil-a Facebook fanpage. Critics are proclaiming that the company is hypocritical for not sticking to their guns, and that they, much like those who opposed the very thing that they are doing away with, will boycott the restaurant.
However, based on the statements given, it seems that the company has chosen to take a neutral stance in order to possibly win back the business they may or may not have lost two months (or for some, three years) ago. The outcome remains to be seen, and is something to look for in the coming weeks.