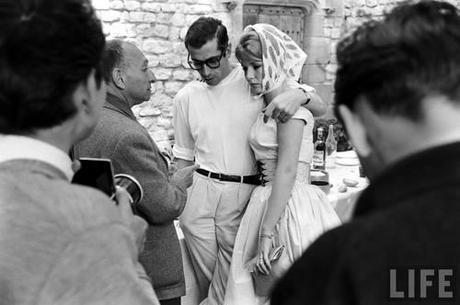 With summer in its last heave, I thought I'd share some photos from a discussion thread at The London Lounge about casual style. As much as I like the coat-and-tie look, it's admittedly a touch formal for today's world. Christian Chensvold put it well eight years ago, when he noted that just tucking a pineapple-adorned shirt into a pair of faded khaki chinos is enough to make most men overdressed these days.  
Anyway, if there's ever a time to dress casually, it's summer, when the weather can be too hot for a tailored jacket, or even a shirt buttoned all the way up to the collar. Shown here are a number of great, casual summer looks. Popover shirts, solid-colored tees, tucked-in boatnecks, and polo shirts are worn with a range of cotton and linen pants. Note the number of high-waisted trousers, one of which even features some double pleats (fashion writers be damned). For shoes, there are canvas sneakers, penny loafers, rubber-soled chukkas, and espadrilles. The clothes are cut well and they fall cleanly, but everything is also worn in that carefree, slightly wrinkled way that makes summer style so charming. 
Readers interested in getting some late-summer casual shoes might be interested in Superga 1705s for sneakers (I have two pairs, one in white and one in navy, and think they're a bit better than the standard bearing 2705s), Rancourt for penny loafers (Jake's suede pair looks great), and Sid Mashburn's playboy chukkas (never really thought much of them before, but Steve McQueen below is doing a lot to change my mind). I also recently picked up a pair of straw-colored Riveras as an espadrille alternative. I've been wanting to wear them with a pair of chinos and a linen button-up shirt, something like what you see above and in the penultimate photo below, but I've yet find the right day for them. Hopefully another scorcher will come before summer ends, and I'll have an excuse.