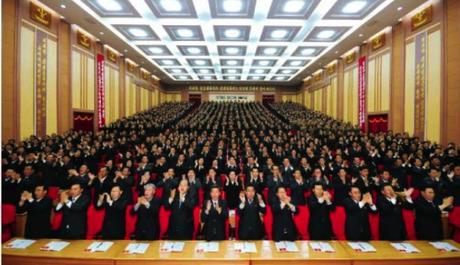 Delegates (party representatives) attending the South Hwanghae provincial party conference (Photo: Rodong Sinmun).
The last three Workers' Party of Korea [WPK] provincial conferences convened to elect delegates and observers to the 7th Party Congress have been held.  DPRK state media reported on April 25 (Monday) that Yanggang, Kangwo'n and South Hwanghae held provincial party conferences, attended by delegates (party representatives) elected by basic party organizations and city(municipal)/county party conferences.
The party conferences began with participants paying tribute to late DPRK president and founder Kim Il Sung (Kim Il-so'ng) and late leader Kim Jong Il (Kim Cho'ng-il).  Participants were briefed about the work and activities of the provincial party committees.  Reports delivered at the party conferences "referred to the successes registered in the relevant provincial party committee's work and said that the proud sucessess despite the unprecedented grave atmosphere go to clearly prove that the socialist cause of Chuch'e which is dynamically advancing along the road indicated by the WPK is invincible."  The party conferences discussed and decided "the tasks for more thoroughly establishing the party's monolithic leadership system and enhancing the function and role of the party organizations as required by the crucial historic period of accomplishing the revolutionary cause of Chuch'e."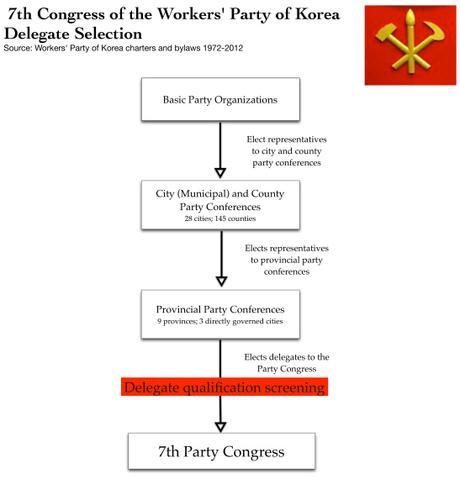 Photo: NK Leadership Watch graphic
The party conferences were also briefed about the work of the provincial party auditing commissions.  Then, they elected the leadership of the provincial party committees.  After, the names of delegates and observers to the 7th Party Congress were placed into nomination.  Party conference speakers talked about electing Kim Jong Un (Kim Cho'ng-u'n) as a party congress delegate and they stressed that "it is the manifestation of the absolute trust and noble loyalty of all party members and people to elect Kim Jong Un who is leading the WPK and revolution to victory with his outstanding idea and rare leadership as delegate of the 7th Congress of the WPK."  The decisions to elect Jong Un as a party congress delegate "were adopted with unanimous approval.
Then delegates and observers, consisting of "officials and party members who fully displayed the ardent loyalty and patriotic devotion to the party's development and building of a prosperous country," were elected to represent Yanggang, Kangwo'n and South Hwanghae Provinces at the 7th Party Congress.
Filed under: 7th Party Congress, basic party organizations, Central Committee, county/city party organizations, delegate selection, General Affairs, ideological slogans, Information Section, Kangwo'n Provincial KWP Committee, Kangwo'n Provincial People's Committee, Kim Family, Kim Il Sung Youth League, Kim Jong-il, Kim Jong-un, kisyl, Korean Democratic Women's Union, Korean People's Army (KPA), Korean Workers' Party (KWP), Local Party Affairs, local people's committees, North Korean press, Organization and Guidance Department, party cells, party life, Party Life Guidance, Political Bureau, primary party committees, Propaganda and Agitation Department, Provincial Party Committees, provincial party conferences, Provincial Party System, Provinicial People's Committee, Public Events, reserve training units, Ryanggang KWP Provincial Committee, Ryanggang Provincial People's Committee, South Hamgyo'ng Provincial People's Committee, South Hwanghae KWP Provincial Committee, Worker Peasant Red Guard, worker peasant red guard, Workers' and Social Organizations, Yanggang Province, Young Red Guard