Photo Post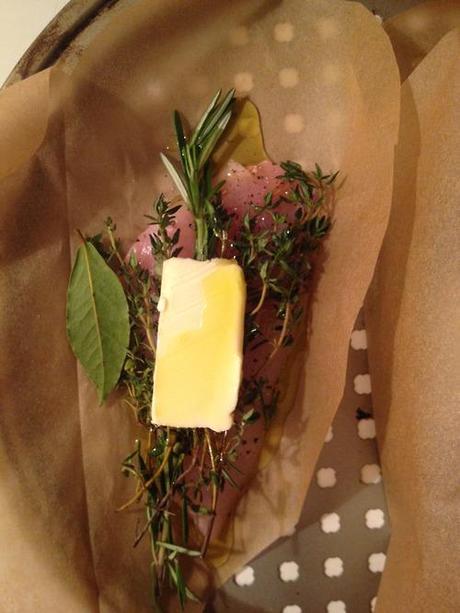 Last night, Caleb cooked dinner for Matt Dreyer™, and his lovely soon-to-be-wife Andrea. He made fried shrimp with fresh tartar sauce, some kind of delicious salad with bacon and lemon dressing, poisson (red snapper) en papillote, wild rice and asparagus. For desert, he made rosemary infused strawberry shortcake.
"I actually helped a lot with this meal," I said in a quote I gave myself for this post. "I went shopping for all of the ingredients. I made the whipped cream. I whisked the dressing for the salad. I cut the parchment paper into large bubbly hearts for the fish. I put all of the ingredients for the poisson en papillote together."
Here's what to do:
1. Buy the size of red snapper filet the Chinese woman at the fish store demands is appropriate because she senses you don't know what you're doing.
2. Buy parchment paper, and cut it into hearts that are roughly 16" long, and 14" wide at their fattest part. 
3. Fold the parchment paper in half, and then put the filet on one side. If it doesn't fit, start over. Don't worry, I had to start over too.
4. Take 1 sprig of fresh rosemary, 4 sprigs of fresh thyme, and a bay leaf, and put it on the fucking fish.
5. Oh wait, first season with salt and pepper. I did this backward too so I had to push the herbs to the side.
6. Take 1 tbspn of butter (measure it on the package), and put it on the fish. Then drizzle 1 tbspn of olive oil on top.
7. Roll the parchment to create a sack, starting with the bottom tip of the heart, and working your way up.
8. When there is only two inches left open—regretfully—you will need to use some of the white wine you're drinking. Pour 2 tbspn of white wine in this hole, and then finish sealing up the sack. Don't worry for a second if it seeps through the sack, I think that's normal.
9. Place the fish in the oven at some unspecified temperature (Caleb did this part) for 8 minutes.
10. Voilá! You have a cooked fish!
If you'd like to read the real recipe, you can do so here.