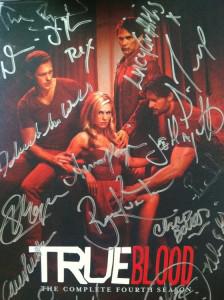 With less than 48 hours to go and over $57,000 raised, Kristin Bauer's Kickstarter fundraiser is coming to an end. There are still several wonderful items available for you to pick up and support Kristin's documentary Out for Africa. Kristin and Abri will leave for Africa on August 23rd, but the fundraising will continue with the auction of some very exciting True Blood items. Stay tuned for more info soon.
On Kickstarter you can still grab a True Blood season 4 DVD signed by most cast members, a pilot script signed by most with a splotch of blood from Alexander, a first edition Definitely Dead signed by Charlaine Harris, a phone call with True Blood's costume designer Audrey Fisher and much more. Check it out here: http://www.kickstarter.com/projects/90829120/kristin-bauers-out-for-africa-documentary
Pledges start at $2, so even if you don't have a lot you can still participate and help save the elephants and rhino's from a brutal and useless death by poachers.