I received this book for free from NetGalley in exchange for an honest review. This does not affect my opinion of the book or the content of my review.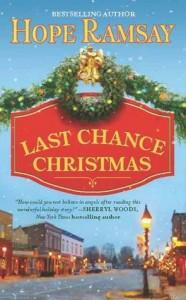 Last Chance Christmas
by Hope Ramsay
Series:
Last Chanc
Published by
Forever, Grand Central Publishing on Apr 25 2013
Genres:
Adult, Contemporary, Fiction, Romance
Pages:
332
Format:
eBook
Source:
NetGalley
Goodreads

"Last Chance captures the essence of Southern charm and quirkiness. I'm totally captivated!" --- Sherryl Woods, New York Times bestselling author
Dear Reader,
I've been wishing for a miracle for my oldest boy, Stone, and this Christmas my prayers might just be answered! 
Her name is Lark, and she's here in Last Chance, looking into her father's past-and stirring up a whole mess of trouble without meaning to. As the chief of police, Stone sure has his hands full trying to keep up with her. Ever since his wife died, Stone's put everything into raising his daughters and dodging the Christ Church Ladies' Auxiliary matchmakers. And it's clear Lark has been through some trouble and could use a place to finally call home. I only hope Stone can let go of the past soon enough to keep her . . .
Goodness, I need to stop talking and finish up Jane's highlights so we can make the town tree-lighting. You come back by because the Cut 'n' Curl's got hot rollers, free coffee, fresh-baked Christmas cookies-and the best gossip in town.
See you real soon, 
Ruby Rhodes
Initially I was expecting this story to be a mystery, after all there are two murders. But it is also a romance,  and a supernatural or paranormal story.
I really enjoyed the story, and it is the first of the Last Chance series that I have read. The story touches on many different values and morals, and is a great read during the holiday season.
I look forward to reading some more Last Chance books, and learning more about the other quirky characters from the town of Last Chance.