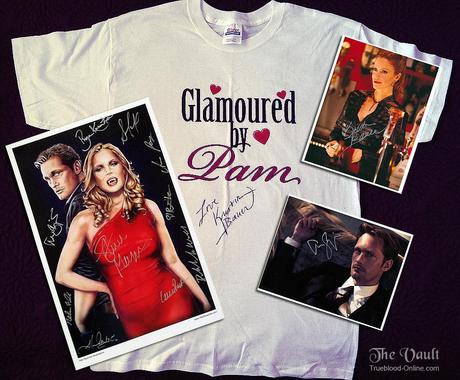 Our first auction for the Amanda Foundation ends today at 13:11:55 PDT. Don't miss out!
For The Amanda Foundation The Vault auctions off:
- Glamoured by Pam t-shirt signed by Kristin Bauer
 
- Print of original art work created by Alex Buechel for the True Blood comic book series.
The poster is signed by Alex Buechel, Alexander Skarsgård, Anna Paquin, Stephen Moyer, Sam Trammell, Ryan Kwanten, Deborah Ann Woll, Nelsan Ellis, Rutina Wesley and Carrie Preston.
Kristin Bauer will sign the poster personalized with the name of the auction winner.
 
- 2 Photos signed by Kristin Bauer and Alexander Skarsgård
 

Visit the auction listing and place your bid: http://r.ebay.com/hNnwDH
The auction ends on March 25.
ALL AUTHENTIC AUTOGRAPHS
100% of the sale price minus fees will be donated to the Amanda Foundation.
Learn more about our involvement and about the Foundation: