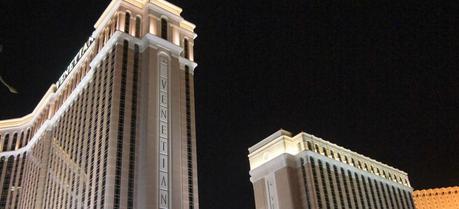 The Venetian | The Palazzo, in conjunction with the Sands Expo Center, is the first and only property on the Las Vegas Strip to receive U.S. Green Building Council LEED© Gold Certification for Existing Buildings. (Credit: Flickr @ Evo Flash http://www.flickr.com/photos/evoflash/)
While the Las Vegas is hardly known for its energy efficiency (in fact, it was even called an "energy consumption nightmare" in the past), now the things are changing for the better. An example of this is the recent move towards a more efficient lighting. For instance, the Las Vegas Sands Corp. is currently completing several major LED lighting upgrades at its iconic resorts, The Venetian|The Palazzo.
"At The Venetian and The Palazzo, the guest experience is the most important thing to us. And since we are a twenty-four hour operation, lighting plays a huge role," said Norbert Riezler, senior vice president and chief procurement and sustainability officer at Las Vegas Sands.
In conference spaces across both properties, the company hired GE to replace 120-watt halogen bulbs with 5,700 12-watt LEDs rated to last through 25,000 hours of operation. The switch is expected to reduce the Sands' annual electricity use by nearly 4.1 million kilowatt-hours, saving more than $400,000 in annual lighting costs. It will also mean less work to replace burnt-out bulbs. "The GE LED lighting installed in The Venetian Palazzo meeting rooms is crisper, has more lumens, has a better color rendering, but also is more energy efficient," said Katarina Tesarova, Las Vegas Sands' executive director of global sustainability. "It helps us save energy, but also provides a better customer experience for our clients."
Meanwhile, GE has already retrofitted more than 7,000 guest suites at both locations with 7-watt PAR20 LED lamps and 10- and 15-watt compact fluorescent lighting bulbs. The improvements in both meeting spaces and guest rooms have already reduced Las Vegas Sands Corp.'s annual lighting spend by about $2 million.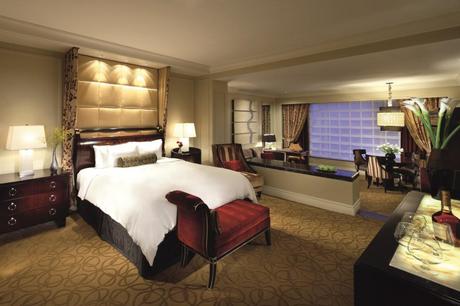 Including savings in guest suites and meeting rooms, Las Vegas Sands has reduced its annual lighting spend by about $2 million overall with GE's more energy-efficient solutions. (Credit: Las Vegas Sands Corp.)
"The team at GE Lighting impressed us with the range of products that help us conserve even more energy without sacrificing the high aesthetic standards that our meeting and convention customers expect of a five-diamond resort and meeting center," Riezler said.
But efforts aren't ending with these smaller rooms. Sands just doubled down on its commitment to saving energy—placing an initial order for 11,000 LED candelabra lamps for ballrooms and corridors. The fixtures' custom-designed lighting produces a lower color temperature with higher lumens to meet the resorts' needs in these more public spaces.
This entire suite of lighting upgrades is being executed as part of a program called Sands ECO 360o Global Sustainability, in which the company is working to save potable water, reduce waste and lower energy consumption across its properties.
Heather Wilson Coode, hospitality marketing manager for GE Lighting, said. Las Vegas Sands is at the forefront of the hospitality industry's rising corporate responsibility efforts. "Las Vegas Sands Corp. has demonstrated a measurable commitment to protecting the environment with energy-saving practices, and GE will help the company make an even bigger impact," she said.