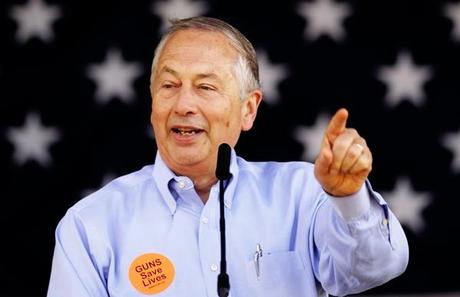 Larry Pratt
Rolling Stone


"The Second Amendment is not for hunting, it's not even for self-defense," Pratt explained in his Leadership Institute talk. Rather, it is "for restraining tyrannical tendencies in government. . .Especially those in the liberal, tyrannical end of the spectrum. There is some restraint, and even if the voters of Brooklyn don't hold them back, it may be there are other ways that their impulses are somewhat restrained. That's the whole idea of the Second Amendment." He reiterated the point this March during an interview with conservative talk show host Bill Cunningham. Speaking of a New York Congresswoman who had expressed fear that one of Pratt's members wanted to shoot her, Pratt said, "You know, I'm kind of glad that's in the back of their minds. Hopefully they'll behave."

And if they don't? When speaking before smaller, conservative audiences, Pratt explains that it is necessary to both generate an undercurrent of fear 

and

 muster the organization and will to defeat the dictator prophesized in the Book of Samuel. When asked during a 2010 Q&A session, "Do we have the will to stand up to the government when they trample our rights?" Pratt replied, "That is an exceptionally important point to raise. We can have all the guns in the world, and if we don't have the will to use them [against the government], then they are useless."