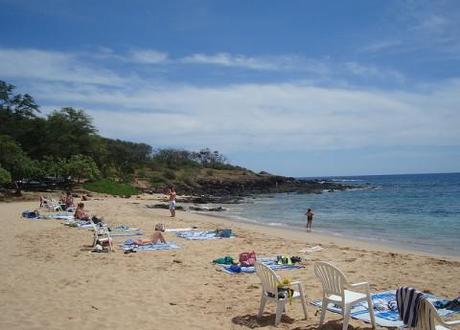 Lanai beach. Photocredit: rob.wiss
The background
Larry Ellison, the billionaire head of Oracle, the technology giant, will buy 98 per cent of the Hawaiian island of Lanai (known as Pineapple Island), reported the BBC, for something between $500 million and $600 million. It's 141 square miles, and is currently owned by David Murdock. Who is also a billionaire. He's bought a place with 3,200 residents, and some luxury resorts. Ellison is no 6 on the Forbes list of billionaires – worth a mere $36 billion.
Ellison joins a very select group of people with their own islands, including actors, billionaires, sex offenders and pirate DJs. Here's Periscope's Top 5.
1. Richard Branson
The uber-daddy of island owners, he bought Necker Island  for £180,000 in 1978. He invested a few millions to turn it into the haven for zillionaires that it currently is. It's now worth about £60 million. Branson even rescued Kate Winslet from a blaze on the island – he was naked, at the time.
2. Craig McGraw
If you've got some loose change, you might want to buy Craig McGraw's private island – though it is in Canada. It's yours for a paltry $75 billion. But you do get your own golf course – and village.
3. Johnny Depp
obviously enamoured with his role as Captain Jack Sparrow in The Pirates of the Caribbeans, splashed out to the tune of $3.6 million for his own slice of paradise. Apparently he calls it "F*ck off island" (without the asterisk, one imagines.)
4. Jeffrey Epstein
The financier and philanthropist – and convicted sex offender – has his own private island, in the US Virgin Islands.
5. The King of Sealand
OK, he's not a billionaire – but he does have his own island, the Principality of Sealand, which is off the eastern shore of Britain in an old military fort. It was founded in 1967 by a DJ called Roy Bates. You can still visit it – and buy a title, if you like.