Larry David Was Criticized For Making A Concentration Camp Joke On "SNL" Last Night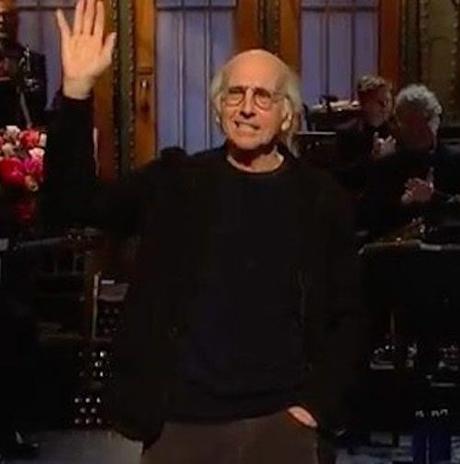 From rape, rape, rape to jokes about concentration camps – the news has felt like a walk through Willy Wonka's factory this week. A walk that took place after Augustus Gloop tainted the chocolate river and the smoke from Veruca Salt in the incinerator fouled up the building. Larry David hosted Saturday night Live last night and cracked wise about hitting on women in concentration camps. Do they remove a portion of these older Hollywood guys' frontal lobes when they reach a certain age?
Larry's monolog was slightly painful in a lower-tier episode of Seinfeld kind of way. But then he decided to worsen things by speculating what dating in a concentration camp would be like. via Entertainment Weekly
The Curb Your Enthusiasm star ended his opening words with a run of jokes that left a poor taste in many viewers' mouths: "I've always been obsessed with women, and I've often wondered: If I'd grown up in Poland when Hitler came to power and was sent to a concentration camp, would I still be checking out women in the camp?" he started before imagining what kind of conversation he'd have with another guy as they figured out how to flirt.
He then came up with some opening lines for wooing women. In a concentration camp.
"The problem is, there are no good opening lines in a concentration camp," he continued, then proposed some: "'How's it going? They treatin' you okay? You know, if we ever get out of here, I'd love to take you out for some latkes. You like latkes?'"
The hawklike watchguards of Twitter had some thoughts about Larry's "Dating in Dachau" bit.
Larry David went from making me laugh about his Jew jokes to making me cringe. #PleaseStopJokingAboutConcentrationCamps #SNL #LarryDavid

— David Solkowitz (@itz_Daveed) November 5, 2017
Just when you thought Larry David's #SNL monolog couldn't get worse, he joked about seducing women in concentration camps. Wow. #HeBombed

— Dan Riley (@ThreeColumnsArt) November 5, 2017
The Chrissy Teigen gif is the gif gift that keeps on gifting, er, giving.
Larry David making a joke about hitting on women in concentration camps #SNL #awkward pic.twitter.com/tmcWADk4n5

— Melissa S. (@omgitsmeli) November 5, 2017
He had some defenders, though.
Although many Twitter users were not fans of David's bit, some defended it: "Larry David may be the most important Jewish comedian ever," user Barret tweeted. "He's allowed to make concentration camp jokes."
In other, less controversial SNL business, last night's weekly political satire featured that asshole, that other asshole, yet another asshole, and wow – a fourth asshole showering together. You can fit that many assholes in a shower? (Couldn't Beck Beckham have played his uncomfortably attractive Vladimir Putin instead? Also, Kate McKinnon's Jeff Sessions is truly disturbing. And they gave it a tail. Ugh.)
Pic: YouTube
Source: Larry David Was Criticized For Making A Concentration Camp Joke On "SNL" Last Night
5 total views, 5 views today