For the 3rd day under "Traditional Dishes" theme for this week's
Blogging Marathon
, I made Lapsi. Lapsi is made with broken wheat, ghee (clarified butter), sugar and milk (or water). From what I gather lapsi is very common in Gujarat and Rajasthan.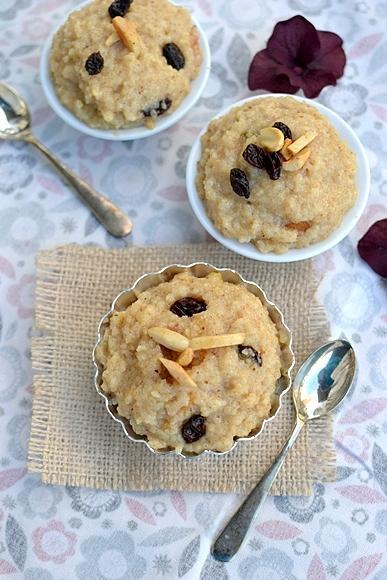 Traditionally broken wheat is sauteed in rather large quantities of ghee (clarified butter), but I used about 3tbsp of ghee for about ½cup of broken wheat. Broken wheat takes a little longer to cook and sugar should be added only after the wheat is thoroughly cooked.
All the recipes I've seen on the web have used broken wheat that is a little coarse, but I had fine wheat rawa in my pantry, so my lapsi looks a little smooth and not as grainy.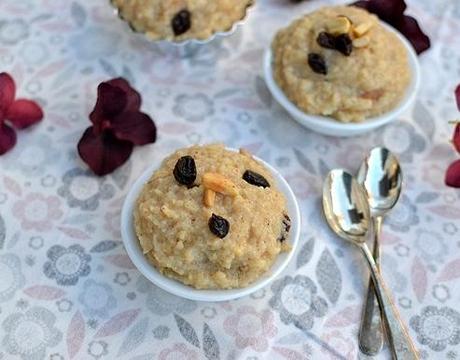 I used a combination of evaporated milk (left after making
carrot kheer
) and water, but using only water will also make delicious lapsi.
Ingredients
:
Broken Wheat - ½cup
Evaporated Milk - 1½cup (use regular milk or just water instead)
Sugar - 5tbsp (or more to taste)
Ghee (Clarified Butter) - 3tbsp
Ground Cardamom - a pinch
Cashews & Almonds - 2tbsp
Raisins - 1tbsp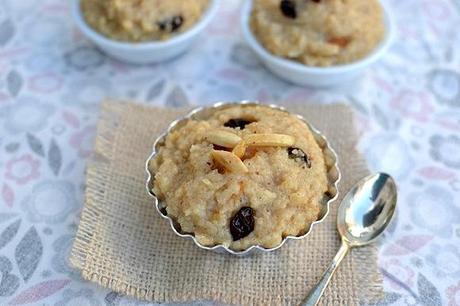 Method
:
Heat 1tbsp ghee in a small saute pan, fry the nuts and raisins until golden brown. Remove and set aside.
To the same pan, add 2tbsp ghee and add the broken wheat and cook until it starts to smell nutty and fragrant.
Add the milk and 1 cup water; bring the mixture to a boil; lower the heat and simmer the mixture until the broken wheat is cooked through, about 10-12 minutes.
Next add the sugar; mixture will become liquidy and slowly will start to thicken. Cook until the mixture thickens considerably, another 10 minutes.
Finally add the cardamom and fried nuts and raisins. Serve hot or cold or at room temperature.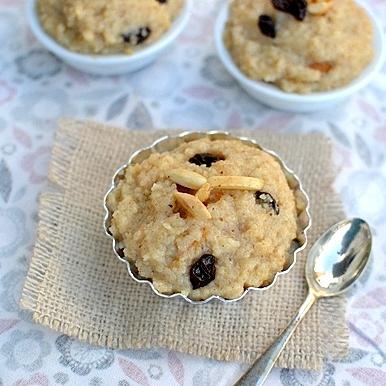 Here's fellow marathoner, Chef Mireille's version of Lapsi.
Lets check out what my fellow marathoners have cooked up today for
BM# 23
.