Orlando was invaded.
Invaded by zombies.
(Wake up the elderly snow birds! They will be the first to be eaten!)
The Walker Stalker Convention made it's way into Orlando…moaning and shuffling and searching for brains…and maybe even a few fan dollars.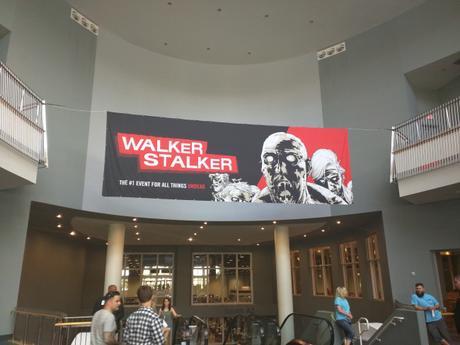 There are zombies behind those doors!
It's the premier convention for all things Walking Dead, plus a few bonus surprises in the form of TV shows like Gotham, Lost, Comic Book Men, and Breaking Bad.
(I have to admit, even though I am a big fan of Walking Dead and Breaking Bad….I was as giddy as a little school girl in pigtails to see Ming from Comic Book Men.)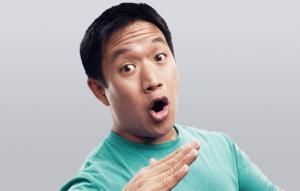 source: geekhardshow.com
It was a bright sunny Orlando day, not unlike any other bright sunny Orlando days, except this one felt slightly different…slightly foreboding…extremely sweaty…and slightly cosplayerish….
(Yes, I just made up a new word.)
I expected lots of zombies to be attending, but it was quite the opposite.
It was crystal clear who the man of the convention to emulate was, and his name was Norman.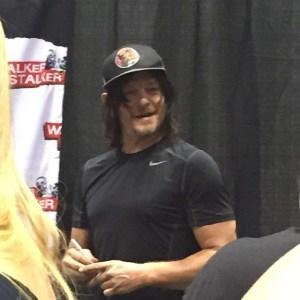 Credit goes to a friend that stood in line 4 hours to meet him.
Most of you know his look from The Walking Dead TV show as this: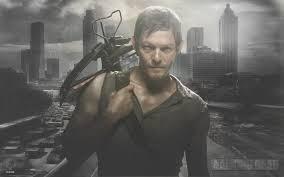 source: http://www.strefawalkingdead.pl
If there was ever a place to dress up like everyone's favorite redneck zombie killer, Walker Stalker is definitely it. In the show he wears a leather jacket with angel wings on the back. A sort of symbol of his bad boy trying to do good in this new world.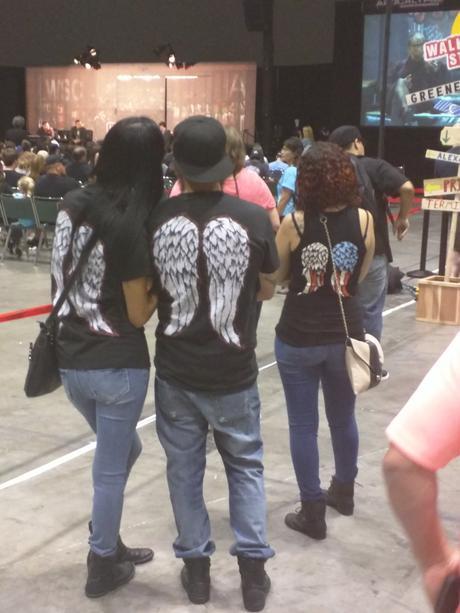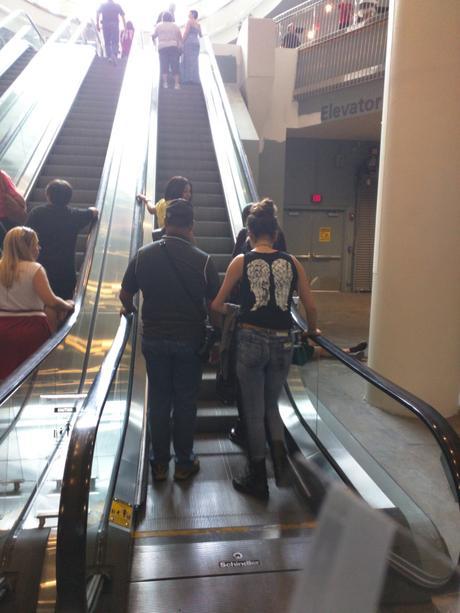 I have actually 200 pictures of various men, women, children, and dogs wearing the Darryl wings, but was not allowed to publish them all here due to our editor thinking that would be really, really boring. But I do have them on my phone if you want to take a look. Just shoot me a message.
Walker Stalker Convention Tip Number One: If you had not thought to purchase said Darryl wings, there are plenty of places to buy them on the convention floor.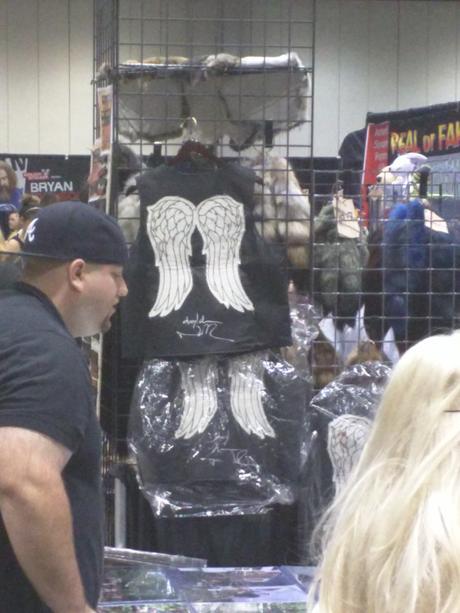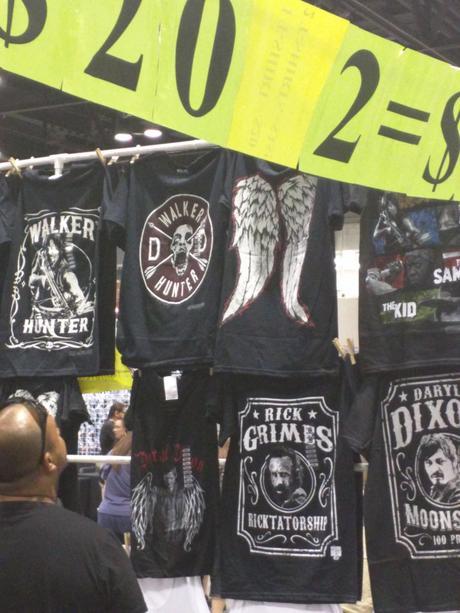 One nice thing about any convention where cosplay might come into effect, is that it's OK to have hundreds of people all dressed the same. It's kind of like the anti-prom. Sometimes it's even encouraged.
Some even try to think outside the box. This lady took her cue from Jurassic World: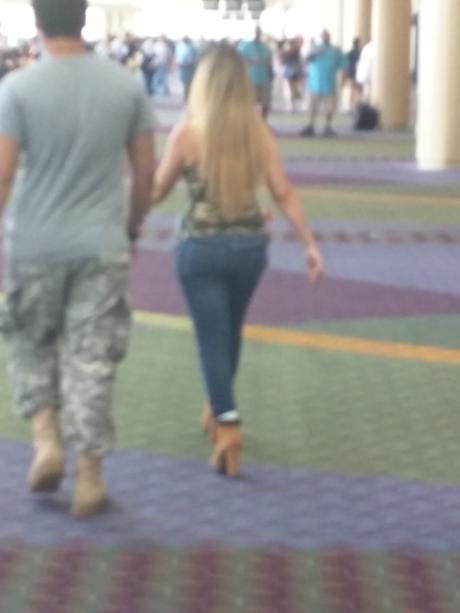 Fighting zombies in a camo tank top, orange gun strapped to the hip and… high heels!
Walker Stalker Convention Tip Number Two: Security confiscated her gun at the door. It was clearly a toy, but was still not allowed in. However, Nerf guns were.
Walker Stalker mirrors the big boys of conventions like MegaCon and ComicCon where you could pay to get someone's autograph, buy merchandise and artwork from vendors, attend discussion panels, and pay for over priced cold Papa John's pizza.
One unique aspect to the Walker Stalker Convention, was the interactive playgrounds: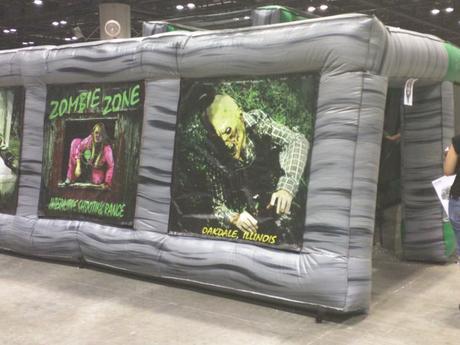 This was a zombie shooting range. You could even pick your zombie targets like zombie terrorist, zombie runner, zombie farmer, or Donald Trump.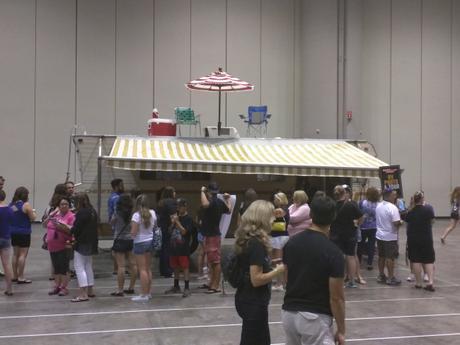 Here you could walk through Dale's RV and for an extra couple of bucks empty out the septic tank.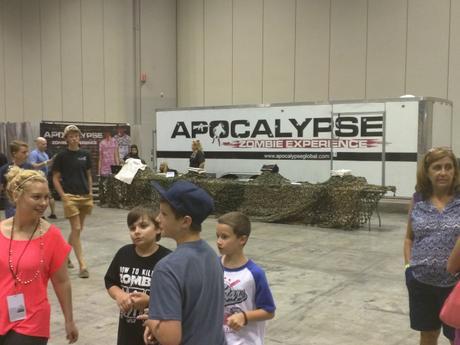 This one is a run and gun game where zombies jump out at you from dark corners and you try to shoot them and not your friends. Although, if your friend was whining about getting a hot dog all day and made you miss the Breaking Bad discussion panel, then they MIGHT DESERVE TO BE SHOT AND LEFT FOR ZOMBIE CHOW!
Of course, the very best part of any convention is to wander aimlessly through the Exhibitor's Booths and Artist Alley. You never know what you might see: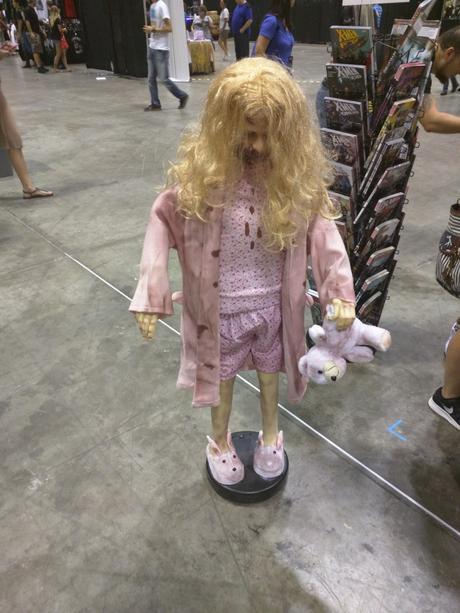 This was a motion controlled zombie child that would sneak up on you while you were looking for that perfect Walking Dead T Shirt, and make you screech like a howler monkey.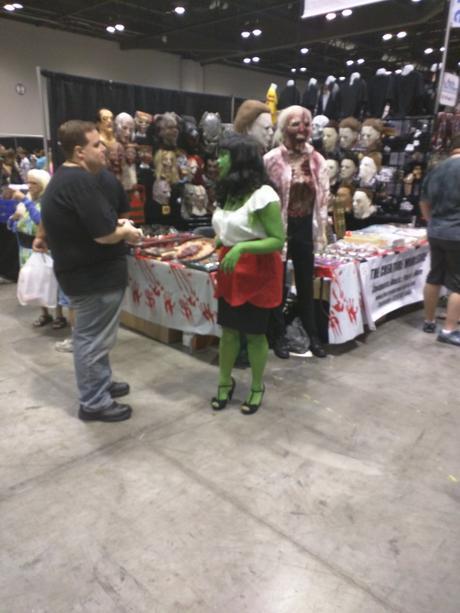 We are not sure what this green Hulk lady holding a cherry pie was suppose to be…but she was very helpful pointing this guy to the bathrooms…and then the Sushi Tent…and then told him what time the Breaking Bad panel was…and finally validated his parking pass.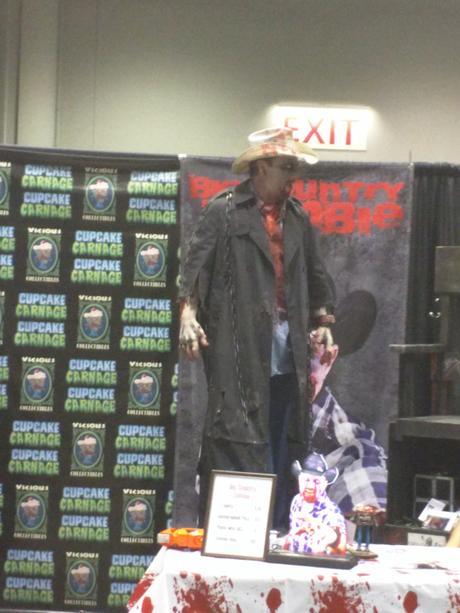 This guy was the Redneck Zombie. For a $1 you could take a picture with him…however he offered Zombie hugs for free!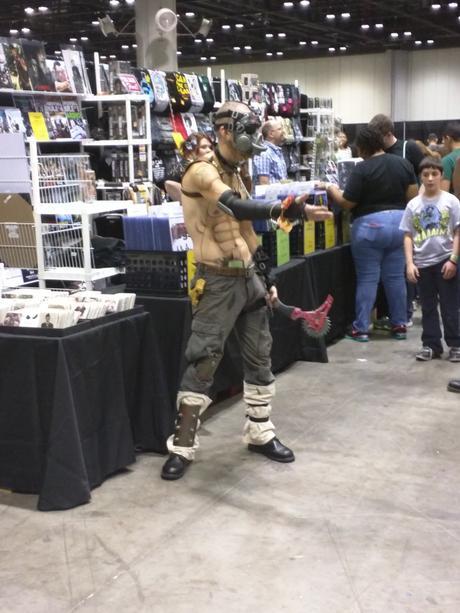 This Mad Max/Borderlands guy was hilarious. He was free to grab his chain and take a picture with….however to tweak his nipple was a $5.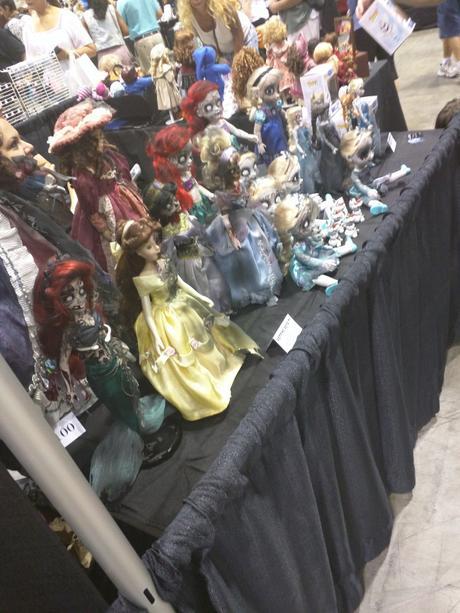 You could buy a Zombiefied Disney Princess Doll to put in your sweet, adorable, innocent little girl's room because paying for a lifetime of psychology sessions is fun.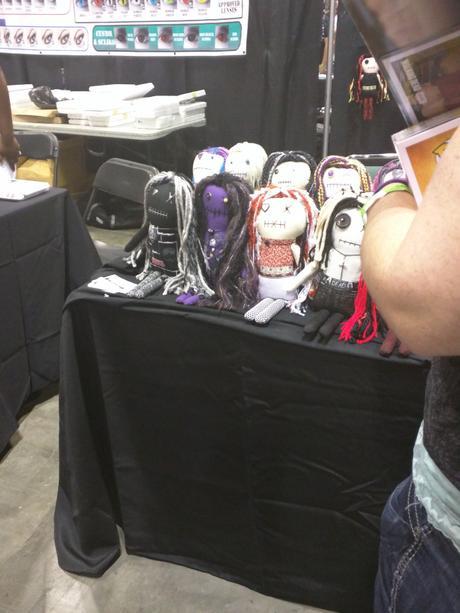 Zombie Voodoo dolls were a big hit this year. They are all handcrafted and will drop $50 out of your pocket. Push Pins not included.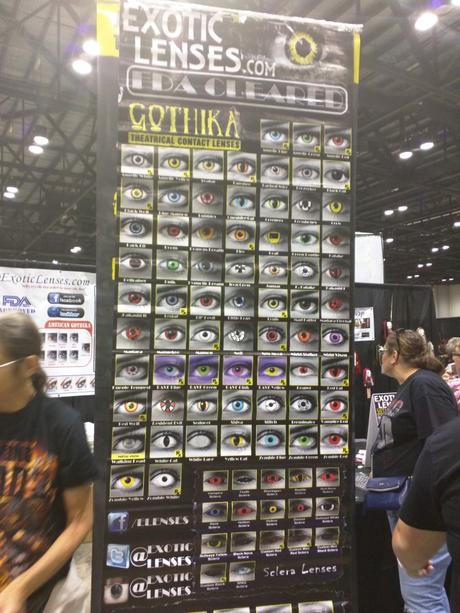 Hate your eye color? Want to have vampire, cat, or lizard eyes? Do you have stock in the Visine company? Change your eyeball holes with these cool contacts.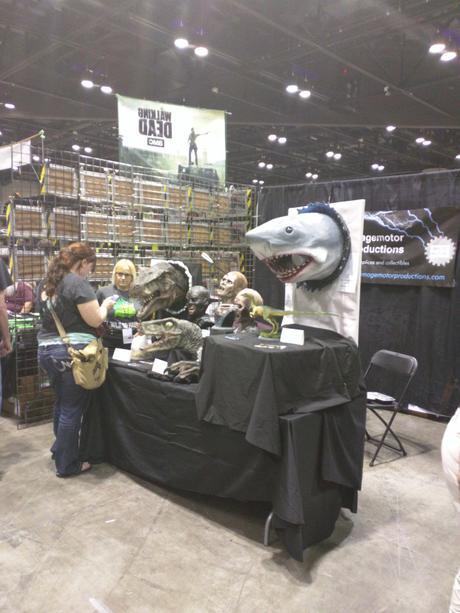 Looking for something to hang on that blank space on your wall? Shark head!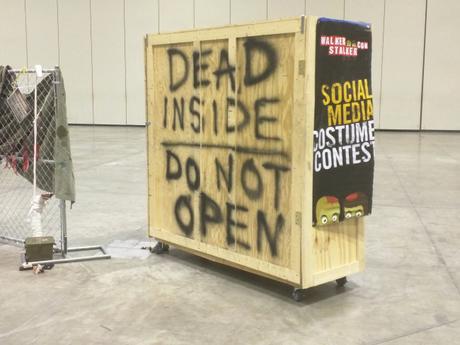 So was my third wife…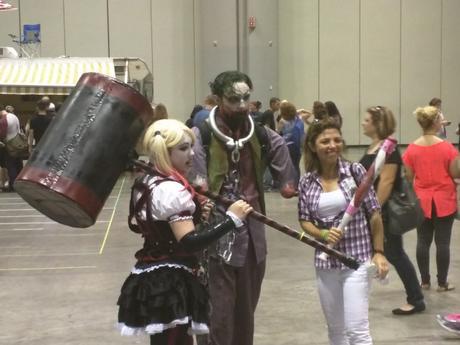 Zombie Joker and Zombie Harley Quinn make an appearance. We think the lady next to them is a zombie cricket player/princess.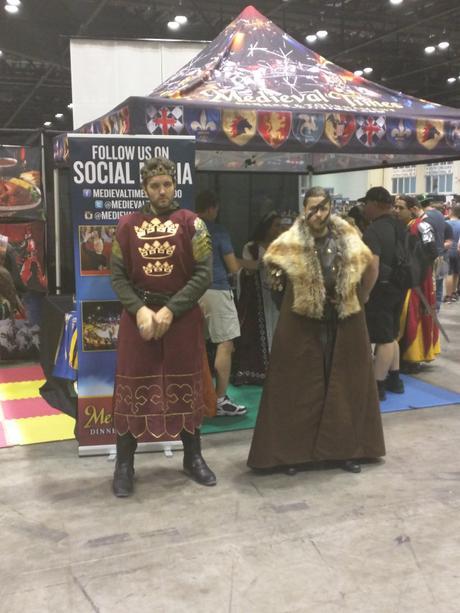 No, this is not a cheap production of Game of Thrones, but Medieval Times inviting all to make dinner reservations for after the convention. You get to eat with your hands and wear a paper crown.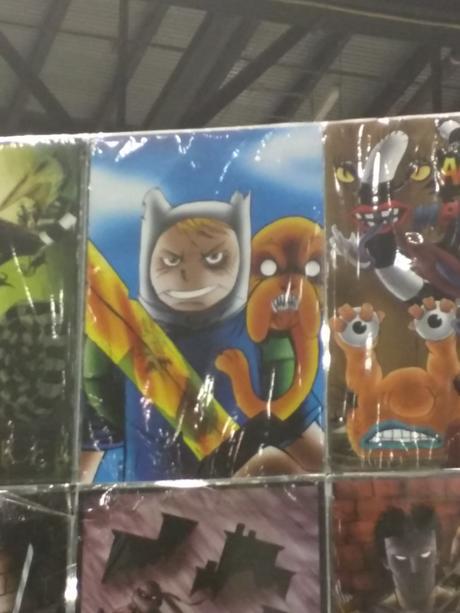 I had a friend ask me to find him something Adventure Time. I said, "Well it's a zombie convention…so I don't think they will have anything…" In the Artist Alley I stood corrected.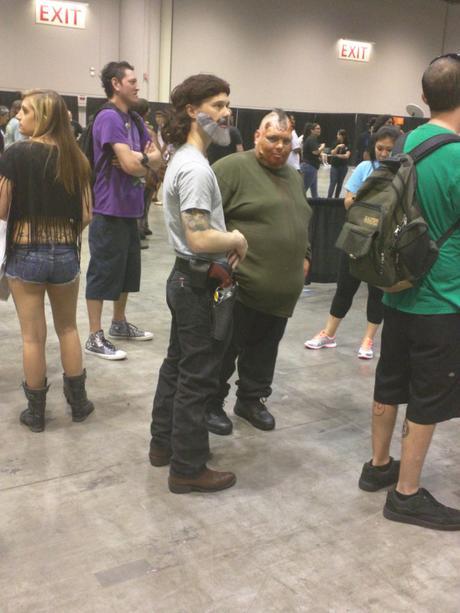 This guy was trying to pull off his inner Rick Grimes, the sheriff from the Walking Dead. His buddy was trying to pull off his….Punk Rock Jabba the Hut?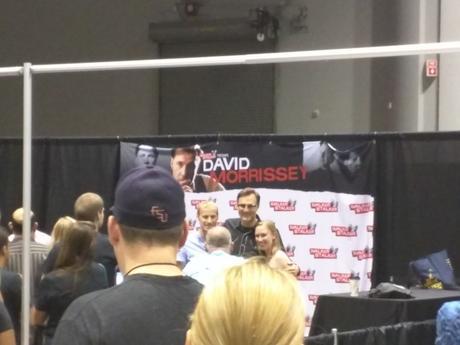 The Governor actually smiling!
Walker Stalker Convention Tip Number Three: The bigger the star, the longer the line. Get the autographs early.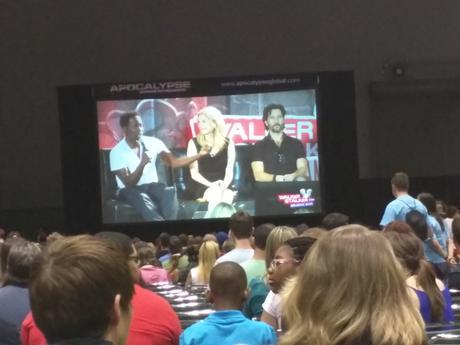 The Lost Panel was one of the biggest in attendance. The cast could not answer any of the questions about the ending either. Thus proving my theory that the series finale was written by several monkeys with typewriters and dartboards.
There is room for this convention to grow. The merchandise was a little too much Walking Dead. I do realize that it was a Walking Dead convention…but booth after booth of the same offerings got a little stale. I would suggest bringing in other zombie franchises like: Night Of The Living Dead, World War Z, From Dusk Til Dawn, and Planet Terror. Also, it needed some more panel offerings. You could bring in by non-TV related people and instead have zombie experts, podcastors, and authors…authors like Max Brooks…or even perhaps…me!
But bottom line…is it worth your money and your weekend?
Absolutely.
On a scale of 1 to 10 brains…we give it a 7.
On a scale of 1 to 1000 Crying Darryls…we give it a 778.
On a scale of 1 to 5 giant cans of chocolate pudding…we give it a 4.
On a scale of 1 to 1 million zombie heads in fish tanks…we give it an 8 hundred thousand.
On a scale of 1 to 2 good Governor eyeballs….well…let's just say we are out of Walking Dead references.
---
The Skinny:
Tickets range from $45 to $55 for individual days. $100 for both.
Kids 10 and under are free with a paying adult.
VIP Tickets range anywhere around $200 to $1200.
Meet and Greets range between $10 to $300 or more.
Panels are free.
You can check to see if the convention is coming near you here: walkerstalkercon.com
---
MORE PLACES TO FIND LONG AWKWARD PAUSE:
Facebook: Long Awkward Pause
Twitter: @LongAwkPause
Tumblr: Long Awkward Pause Mag
Podcast: iTunes or PodOmatic
LAP TV: YouTube
Would you like to see a topic discussed on LAP?  Click HERE.