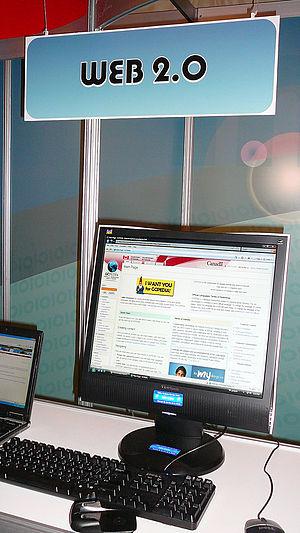 The GCpedia presentation at GTEC 2008 (Photo credit: Wikipedia)
To study in a foreign language school is great advantage to creditably learn the language you have yearning to. In the recent years, with an enormous influence of Social Media and WEB 2.0 tools, learning a foreign language is not detained within formal school settings. The development of the social media highlights an innovative way outside the recognized learning context.
What is WEB 2.0?
It is a free site defined the connection of web applications that make easy participatory information distribution, all systems to operate together successfully, user-centered design, and alliance on the Internet. The users capable to interact and work together with each other by means of social media conversation as the creators in a content of user-generated, quite the opposite to websites where passive screening of content is limited to the consumer users.
In the 21st century, language teachers emerge technologies upon teaching through WEB 2.0. Three of the main tools such as Blogs, Podcast, and videos are the chief tools they integrate to make a quicker system of coaching. These tools are transformative being taught in reference to ample of various fields.
With its virtual utilization, students can now use these tools at home that a lot of professionals employ it the same way. As an alternative to learn English at language school, or any definite language that a student want, each tool in the Web 2.0 represent a very useful device to open up the classroom wall mainly for a distance course.
Blogs – has been a functional way to keeping track what are the occurrences inside the classroom, through posting homework with all the relevant group of students. The learners may have a much wider audience for everything they write on their blogs, which is basically a good way to enhance their skills. Finally, blogs make the foreign language schools all over the world a smaller community.
Podcast and Video – are the realistic tools to connect each student through voice and visual around the world. It is such a nice way for students to download, where they able to listen and observe the language with them as they paying attention to the right pronunciation. They as well able to record their own project suchlike radio reporting with other students online.