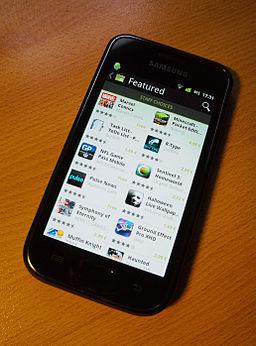 Android market, via Wikipedia
I quoted this from an article written Kit Eaton, one of the writers in New York Times to which, indeed, there are some learners who face intricate challenges to those who learn Spanish language.
Nevertheless, Spanish language learning has always been rewarding especially when the one who learned it avails the advantage. It is highly recommended to learn Spanish languages in language institutions, but it's been a great assistance to rely on media techniques, for some times. And speaking of technology, we have embraced a level where we don't really have to sit down to our computers and avail internet-connected lessons. Today, we are enjoying convenient ways of improving Spanish learning with our smartphones and tabs. It's not impossible to learn languages in the easiest way we know of.
Such are enjoyed due to the various apps we can use. Are you familiar with Babbel? This is one common but extremely helpful app where you can enjoy learning not just Spanish but including other 11 known languages as well. It is best with your Android and iOS phones since the software is free. And besides, you can get to enjoy its benefits by knowing its features. Everything is enlisted as detailed by Kit Eaton in his article:
It has 2,000 to 3,000 words split into topics from simple to complex ones.
It helps you memorize words
It has a speed recognizer that scores you on how well you say the text out loud
It has simple games like matching phrases in English, etc.
It helps you understand how the words fit into a more complex paragraph or statement
It has a vocabulary reminder
It remembers your progress and shares it with your profile online.
Very accessible; you can access it from your iPod, iPad, and from your PC
It's refreshingly clean and simple to look at.
We've always been recommending learners to go to language schools if they really want the excellent option to learn Spanish. But if you yourself find it helpful to go for language apps to enhance your learning, why not, right?