As far sub plots go in Mad Men, Lane Pryce's is one that I felt had some potential, but they keep shoving it to the side. There is one thing that keeps me coming back to Lane, ever since he and Don had that bonding new year's day I've been thinking about his office. The reason: The Torres-Garcia look alike on his wall. Looks to me like the brit is an enthusiast of Latin American Constructivism.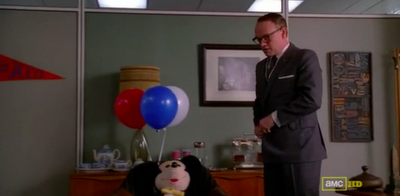 The realization came fairly recently, as I set myself to cure the winter day blues with a hearty Season 4 Mad Men marathon. The image of the Torres-Garcia pieces featured at the MFAH's exhibition of  Latin American art must've been so fresh in my mind that a quick pan of the wall, as Don served himself a drink, made me jump off the couch. Why hadn't I thought of it before?
As it goes, the piece is not exactly the same as any of the artist's originals but there is no way to deny the resemblance. The motif is uncanny, plus the fact that the piece in Lane Pryce's office is a wood carving only supports my suspicions of the origin of the piece.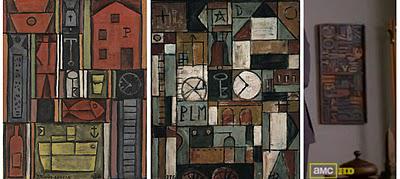 Arte Universal, 1943 and Constructivo Con Campana, 1932
Now, please tell me this piece looks familiar: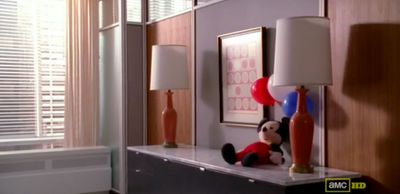 It appeared in Hands and Knees (S04—EP10). I have no idea to whom or what it owes it sresemblance, but I'm having that same sense of familiarity as I had with the above. ***please Contact me if you know more, or leave a comment below.*** 
[Earlier: Mad Men: Optical Illusions, The Mad Artful 60's,  Mad Men Namechecks Andy Warhol, Finally!, Bridget Riley Gets The Mad Men Treatment]
 Images via: dear dada and academic