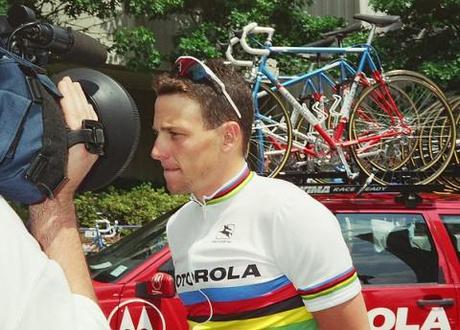 Lance Armstrong: doping charges. Photocredit: rex gillette
The background
Lance Armstrong, who won the Tour de France seven times after beating cancer, has announced that he won't be contesting charges that the United States Anti-Doping Agnecy have levelled against him. The cyclist, who is 40, has always denied claims that he used performance enhancing drugs. The chief executive of USADA, Travis T Tygart, said that Armstrong should face the same proceedings as other athletes charged with doping offences. Armstrong was charged in June, and he now faces being stripped of his titles and being banned from cycling for life. He insists he is innocent; he retired from cycling in 2005 after his last win of the Tour de France.
The USADA says that he used banned substances from as far back as 1996, reported the BBC, including a blood booster, eryhtropoietin, steroids and blood transfusions. The agency also says that ten of Armstrong's former team mates are prepared to testify against him. The Times said that Armstrong was "widely regarded as the greatest cyclist of all time," but that the continuous allegations of drug use had dogged him for years. BikeRadar reported that Armstrong's trainer, Michele Ferrari, and his doctor, Luis del Moral, had already been given lifetime bans. Armstrong maintains that USADA doesn't "have the right to bring these charges."
"There comes a point in every man's life when he has to say, 'Enough is enough'. For me, that time is now. I have been dealing with claims that I cheated and had an unfair advantage in winning my seven Tours since 1999," said Lance Armstrong.
What did the USADA say?
Travis Tygart said that Armstrong's fall was "heart-breaking," and an example of the " win-at-all costs approach."
What did Lance Armstrong say?
"If I thought for one moment that by participating in USADA's process, I could confront these allegations in a fair setting and – once and for all – put these charges to rest, I would jump at the chance. But I refuse to participate in a process that is so one-sided and unfair. Regardless of what Travis Tygart says, there is zero physical evidence to support his outlandish and heinous claims," said Armstrong.
Armstrong has admitted to doping by not challenging the claims
The president of the World Anti-Doping Agency, John Fahey, said that by not contesting the charges, Armstrong is admitting that he was doped. ""He had a right to contest the charges. He chose not to. The simple fact is that his refusal to examine the evidence means the charges had substance in them. Under the rules, penalties can now be imposed," Fahey said, quoted on The Telegraph.
We were all taken in by his phoniness
Matt Seaton in The Guardian said that "the jury was never out." Lance Armstrong has "all but conceded" that he won the Tour de France "by doping." He's "lost his status as the most remarkable serial winner" in the history of cycling. His statement is a "litany of disingenuous indignation," but he "no longer believes in the plausibility of his own denials." By quitting, he's avoided prosecution and conviction, "and the humiliation that would have gone along with that." And what about cycling as a whole? "Better to look forward and learn." Sure, people cheat, though "more are caught." The whole thing points up our "gullibillity and willing complicity." Armstrong was able to silence his critics, and "make people believe in him, despite there being, apparently, dozens of witnesses" to his "utter phoniness."