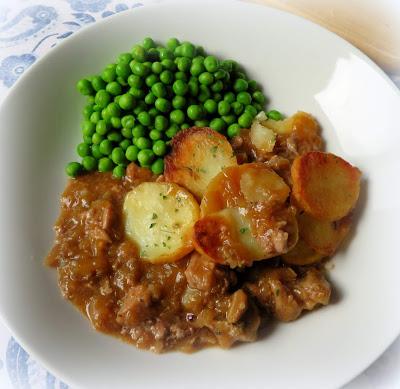 One of my favorite television shows, long before I even dreamt of moving over to the UK was a British soap opera called Coronation Street.  I started watching it when I was still at school and had no idea that I would one day be living in the North West of England in a brick terraced house.  Funny how life turns out!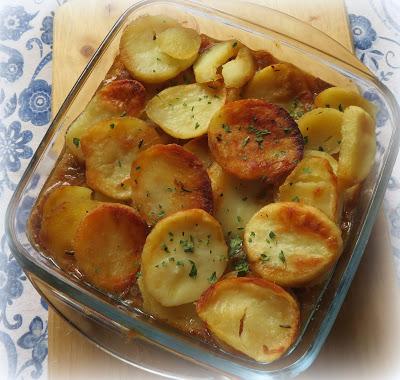 It was a show my Aunt Freda loved as well.  One of its charms for me was the gritty reality of it.  Not very many people on it were wealthy  . . . no were they drop dead gorgeous, like in the American soaps.  Plus they had jobs that they worked hard at . . .  for the most part they were ordinary working class folk.  I believe it is the longest running soap on television in the world.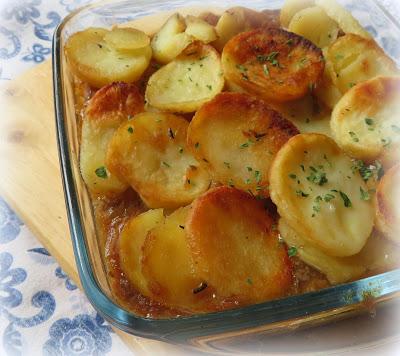 A lot of the social life in the show centred around the Rover's Return Pub, which also let out rooms as a B&B on occasion.  True to life there.  Most communities over here have their own "local" as a pub is lovingly known as, and they are truly gathering places and the heart of the community in most cases.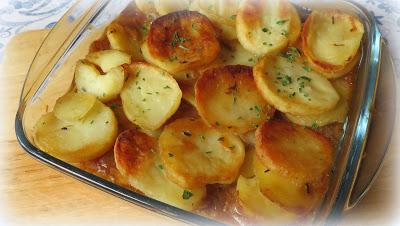 As a pub/local the Rovers Return also served some simple food.  Mostly sandwiches, potato chips, nuts and salty snacks,  in addition to the drinks  . . .  but also one of the most famous and popular things on their menu was Betty's Hot Pot.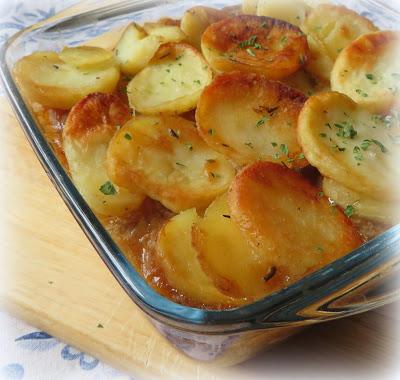 Betty Turpin was a barmaid in the Rover's Return and Betty's Hot Pot was her signature dish.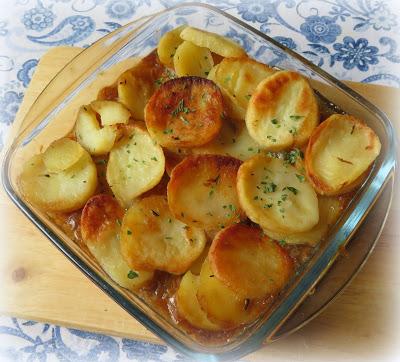 Hotpot is a very regional Lancashire dish consisting essentially of meat, onion and potatoes left to bake in the oven all day in a heavy pot and on a low heat. Originating in the days of heavy industrialisation in Lancashire in the north west of England, it requires a minimum of effort to prepare.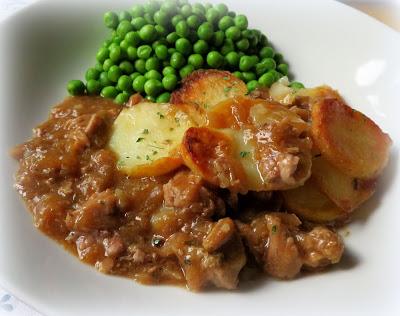 There are many regional variations, and it is frequently found listed amongst the usual pub grub dishes in various hostelries around Britain. The basic recipe consists of a mix made up of meat and vegetables (carrot, turnip, potatoes, onions or leek) which are then covered with a buttery thatch of sliced potato or pastry. Don't you just love the idea of a "thatched" roof of potato covering the top?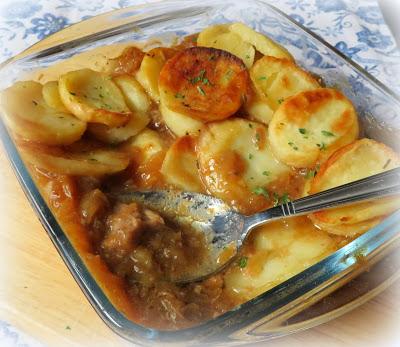 The type of meat to be used in a true Lancashire hotpot is a matter of some controversy, with many being of the opinion that it should be lamb (with optional lamb kidneys) and some thinking it should be beef. As much food can be added as will fit in the pot, so it is very easy to increase the quantities to serve more people as desired.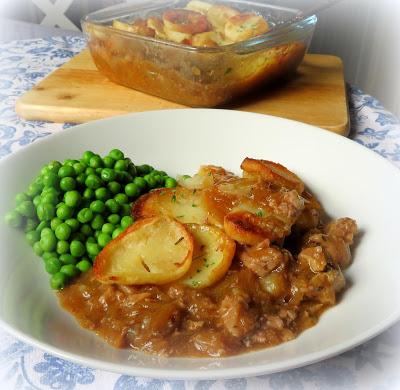 We like it with lamb, and today I actually decreased the amounts to create a dish perfectly sized for two people. It worked out very well.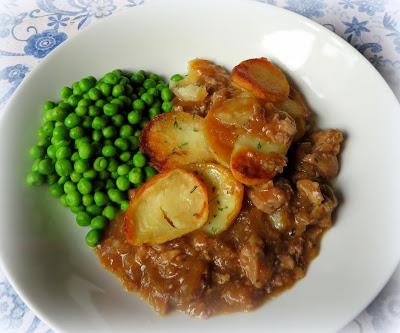 I had posted it originally
here
,  some ten years ago, but thought it would be a good idea to update the recipe with North American measurements, and with nicer photos.  I believe it was one of the first recipes I posted on here, so an update was long overdue!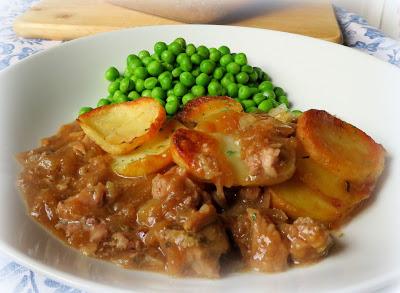 One thing remains true and constant about this dish and that is this . . .  it is simply delicious.  Humble, yet  . . . it almost tastes gourmet . . .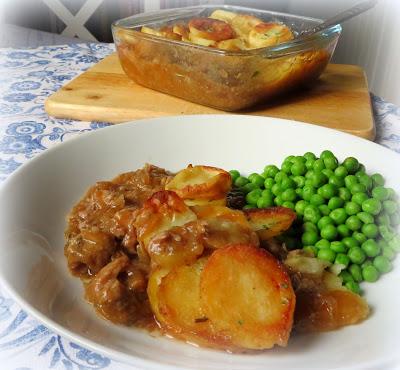 It is culinary proof and a testimony to the fact that it
really
is the simple things in life which bring us the most pleasure!
Yield: 2
Author: Marie Rayner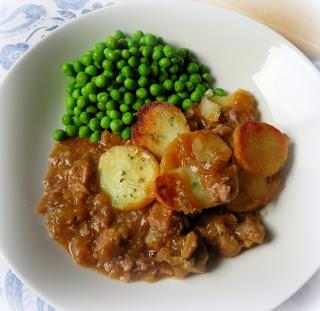 Lancashire Hot Pot
prep time: 15 mins
cook time: 2 hour and 30 mins
total time: 2 hours and 45 mins
A scaled down version of my original recipe.  A deliciously humble dish which originated in Lancashire. There is no way to rush a hot pot. Long and slow cooking is its secret to tender tastiness.
ingredients:
1/2 olive oil
350g diced lamb (3/4 pound)
1 onion, peeled and sliced
1 carrots, peeled and grated
1/4 medium swede (rutabaga) peeled and grated
3000ml lamb stock (1 1/4 cup) (can use chicken stock)
1/2 TBS Worcestershire sauce
1 sprigs of fresh thyme
350g of potatoes, peeled and cut into thin slices (3/4 pound)
softened butter
sea salt and freshly ground black pepper to taste
instructions:
Pre-heat the oven to 165*C/325*F/ gas mark 3. Heat the olive oil in a large skillet. Add the meat in batches and fry it until browned on all sides. Remove with a slotted spoon to a large casserole dish (one with a lid) as it browns. Set aside.
Once all the meat it browned and removed from the skillet add the vegetables to the pan. Cook for 3 to 4 minutes, stirring them occasionally. Return the lamb to the skillet and pour over the stock. Add the Worcestershire sauce and season to taste with salt and pepper. Mix it all in well and then carefully pour the mixture back into the casserole dish. Tuck the thyme into the mixture, burying it.
Cover the top of the mixture with a layer of half of the sliced potatoes. Season with salt and pepper and then dot with butter. Finish layering with the remaining potatoes and adding a final dusting of salt and pepper and dot once again with some butter. Put the lid on.
Bake in the heated oven for 1 1/2 hours. Remove the lid and bake for a further hour until the meat is very tender and the "thatch" is nicely browned in places and tender as well. Serve hot spooned out onto hot plates along with seasonal green vegetables on the side and plenty of crusty bread and butter to mop up the delicious juices.
Created using
The Recipes Generator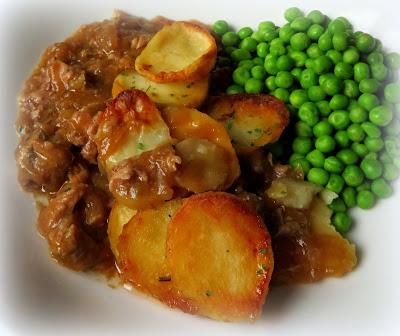 This is comfort food in it's most basic, purest form.  I like to serve it with a green vegetable on the side, but many serve it with red cabbage, which is quite traditional, as is some crusty bread to mop up all the juices!  Bon Appetit!