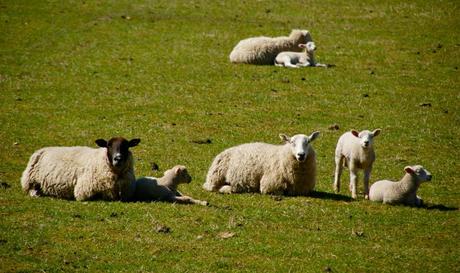 © Cairngorms National Park Authority
Every year the Cairngorms National Park Authority (CNPA) – as the Outdoor Access Authority for the Park – likes to gently remind residents and visitors to the area of their responsibilities while enjoying the great outdoors with four legged friends.
There's nothing more enjoyable than a good dog walk, however, the Scottish Outdoor Access Code is very clear when it comes to the responsibilities that dog owners have, especially at this time of year when the fields are full of pregnant ewes or young lambs.
Bruce McConachie, a Land Management Advisor at the CNPA and a farmer himself said: "Lambing time is upon us again and dog owners are being reminded they must be careful with their pets around sheep and other livestock. Pregnant ewes and newborn lambs are extremely vulnerable and nervous at this time of year and should not be worried by dogs that have been allowed to run loose. The consequences can be devastating from miscarriage to injuries as a direct result of chasing or attacks by dogs that are not in control. We would urge dog owners to please keep dogs on leads near farmland."
It was reported last year by NFU Scotland that there has been a rise in livestock worrying in Scotland and that the issue is probably being under-reported. The message from them is clear – keep your dogs under control, otherwise if dogs injure or worry sheep, the owners can be prosecuted.
Andrew McCornick, NFU Scotland's President said: "Spring is a pivotal time of year for farmers, with many farms seeing the arrival of new lambs and calves. The advice is clear, the public should not take dogs into fields where young livestock is present. We are aware that instances of livestock worrying have increased year on year, and we are disappointed to note that the number of reports continue to climb.
"We would ask the public to ensure that they are familiar with the Scottish Outdoor Access Code, and to ensure that where they do access fields with livestock they should ensure that dogs are under close control, they may also wish to consider taking an alternative route to avoid livestock altogether. We would remind the public that farmers are well within their rights to shoot a dog in the event that they witness it worrying livestock. Whilst we do urge our farmers to use this as a very last resort, unfortunately there have been a number of instances recently where this has been the only practicable solution to ending an attack."
David Clyne, the CNPA's Recreation & Access Manager added: "Our Active Cairngorms campaign is all about getting people out in the National Park for their health and wellbeing and for many people, having a dog encourages them to take a daily walk but we ask that people be considerate of the land management practices and wildlife trying to thrive."
The Scottish Outdoor Access Code provides comprehensive advice for dog walkers and all aspects of accessing the Scottish countryside in a safe manner for everyone.