I know that I've posted a lot of lamb photos over the years and quite recently too (see A Happy Ending), b .. b .. b .. but I had never witnessed the birth of a lamb.  I've seen dozens of newborn lambs (thanks to having a farming friend), but I'd never seen the actual flop-out moment.  Until, that is, the other day.  So, whilst I didn't plan on posting yet more pictures of baby sheep, I thought you might like to see this moment of arrival.  (Besides, what on earth would I do with all these photos otherwise).  But a word of warning: you might want to put aside that sandwich  – some of these shots are a little bloody and raw.
oooOOOooo
On Good Friday, Margaret (who owns the farm above the Priory) texted:  "I'm down in sheep yard.  Do you want to see a lamb born?  If so HURRY! "  I usually work on Bank Holidays (that's self-employment for you) and, busily weeding, didn't read her text immediately.  A couple of minutes later, I got another and fished out my phone:  "I can't tell her to put a cork in it.  Are you coming?!!"  How could I not?  I dropped my hand-fork, ran to my car and, in one long seamless blur, raced up the hill to the farm.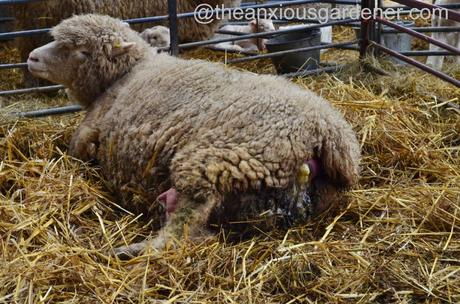 I arrived in time – the non-corked ewe was still struggling to deliver with just a pair of tiny hooves peeping out.  She didn't seem distressed; perhaps because of the Chopin floating through the lambing-pens.  (Margaret plays classical music to her lambing ewes.  I'd like to think that you or I would too).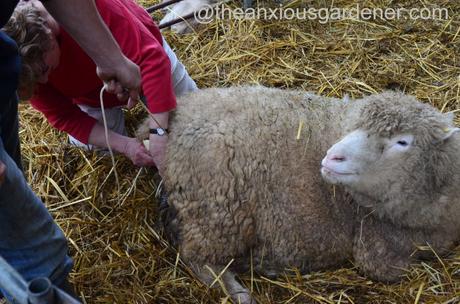 But when Margaret noticed a bluish tongue sticking out too, she acted quickly before the lamb suffocated.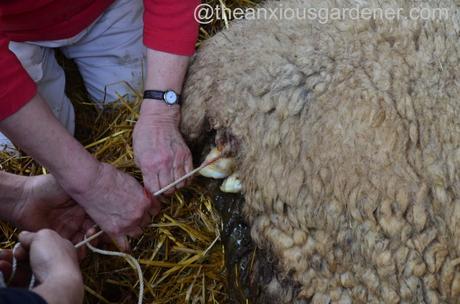 Tying a lambing rope around the feet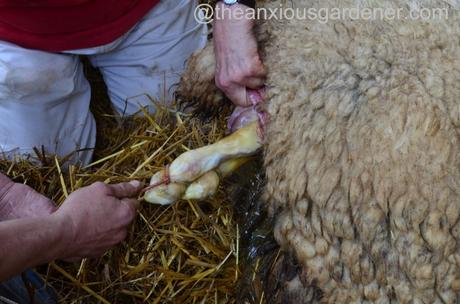 her glamorous assistant, Nick, began pulling.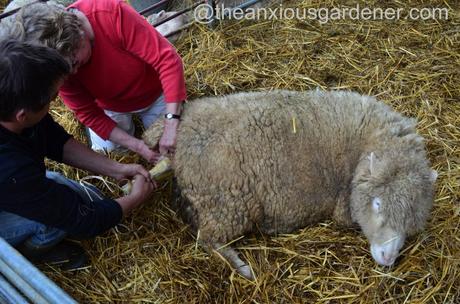 You might remember Nick: he lends me a hand with hedge cutting, runs his own gardening business and helps out on the farm too.  Versatile, useful, and all round clever dick is our Nick.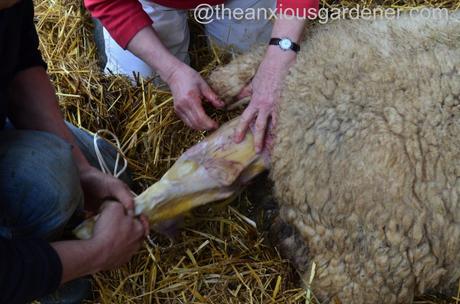 With steady pressure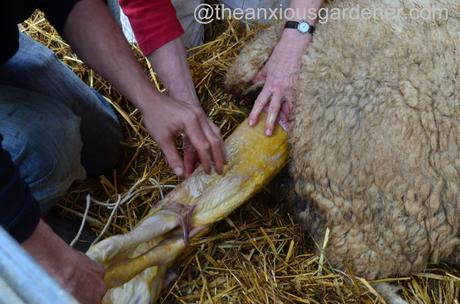 the lamb slid out.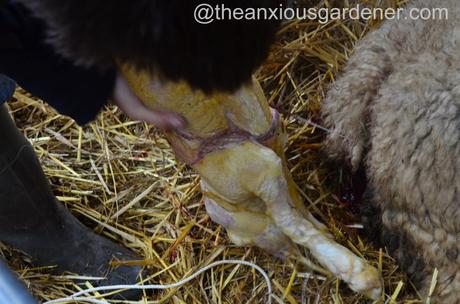 Nick swung the new-born to clear fluid from its lungs – a rude awakening to life's rich pleasures –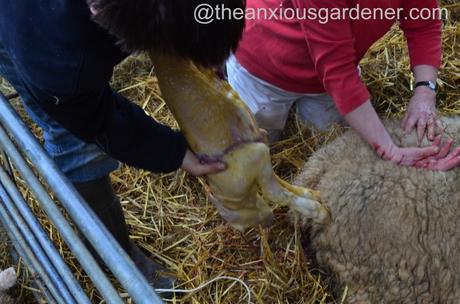 whilst Margaret wiped her hands on a convenient fleece.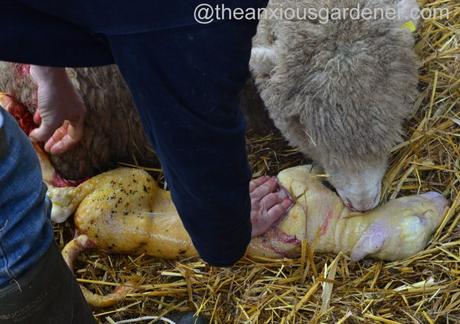 The whopping great boy-lamb met his mother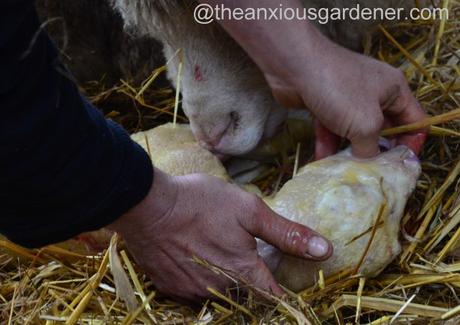 and, after Nick had cleared mouth and nostrils of membrane,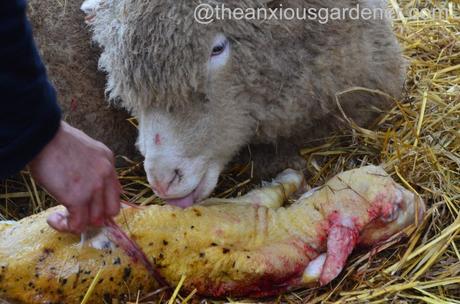 she cleaned up.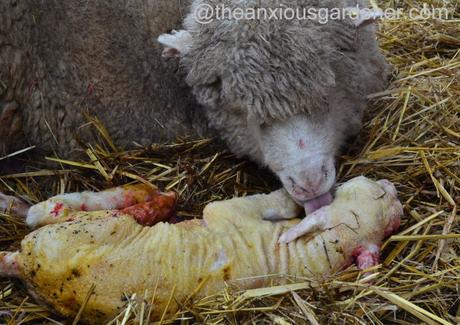 He was far bigger than older lambs in the surrounding pens and Margaret thought that he must be a single; a ewe with such a huge lamb couldn't possibly be bearing twins.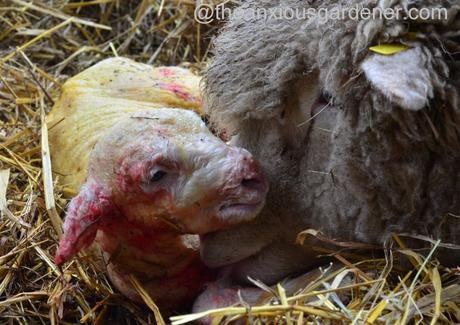 Before returning to work, I got in close (after carefully checking what I might be kneeling in)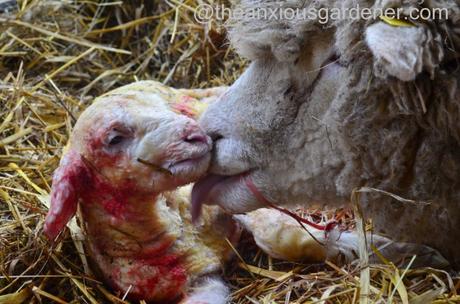 for these five,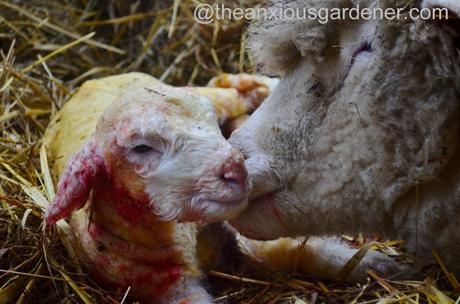 intimate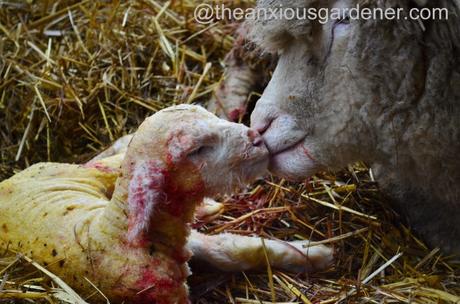 scenes of a ewe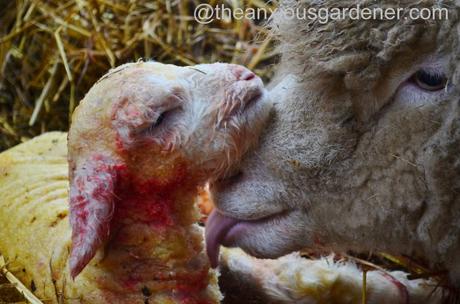 meeting her son.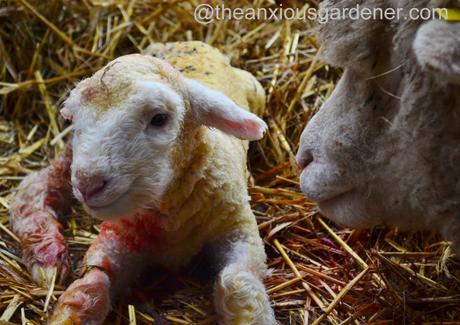 And then I took a sixth.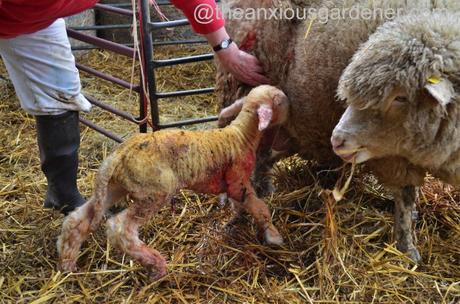 Within 15 minutes the youngster was up on his feet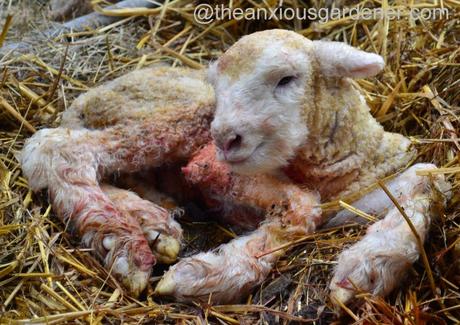 but not for long.  Being born is rather tiring.  Whilst I coo-ed and ahh-ed, Margaret had an exploratory feel inside the ewe; just to check all was normal and … felt another hoof!  There was a twin after all.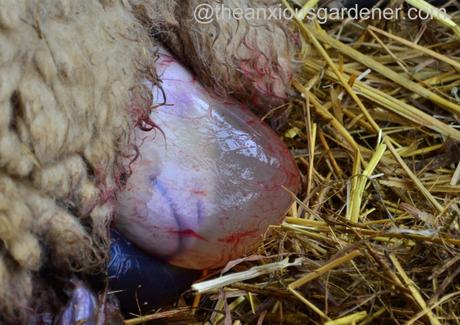 Less than half an hour after the first, a second head appeared – still encased within the amniotic sac.  (That lower, darker sac separates the lambs in the womb.  Just how much do you learn on this blog?).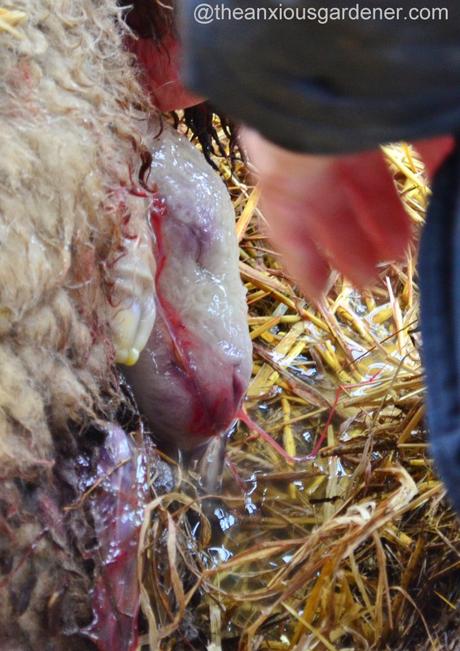 Margaret burst the waters,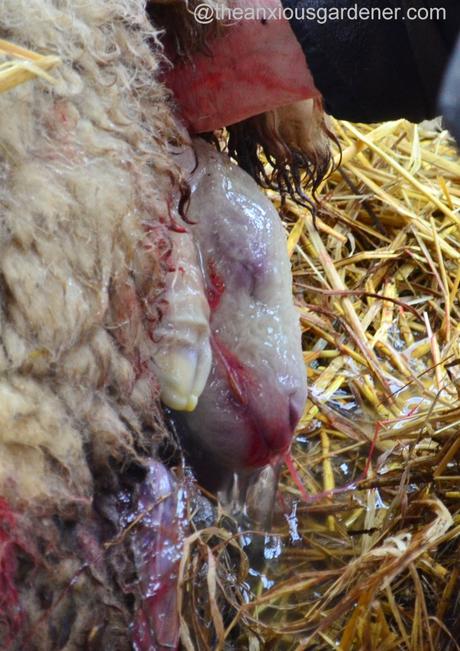 and had another feel.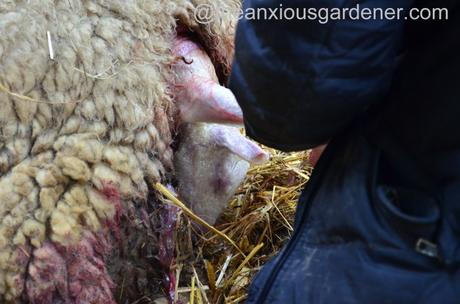 One of its legs was twisted and so once again … and very commonly … the ewe needed help.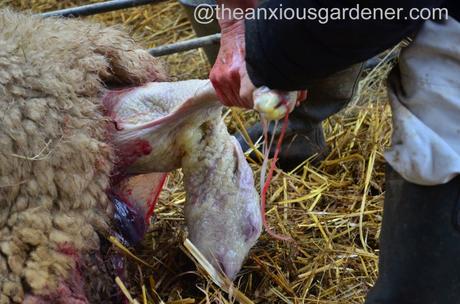 I winced.  It looked dead to me.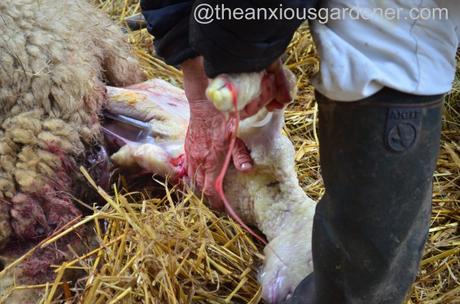 And also very big.  Little wonder the mother had needed help.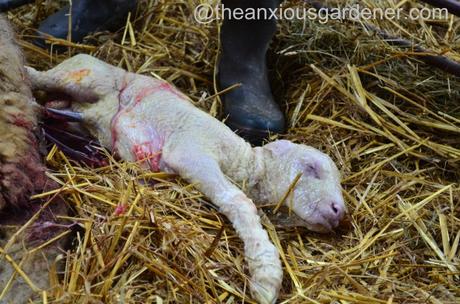 I grew uneasy, thinking, "when do I stop taking photographs of a dead lamb?"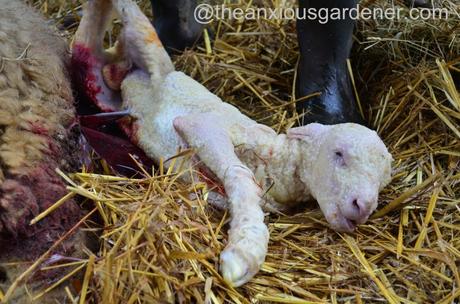 right up until the moment he took his first breath;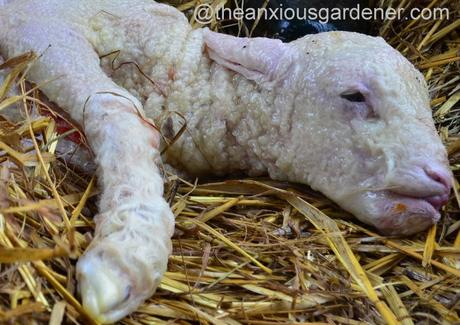 and licked his lips.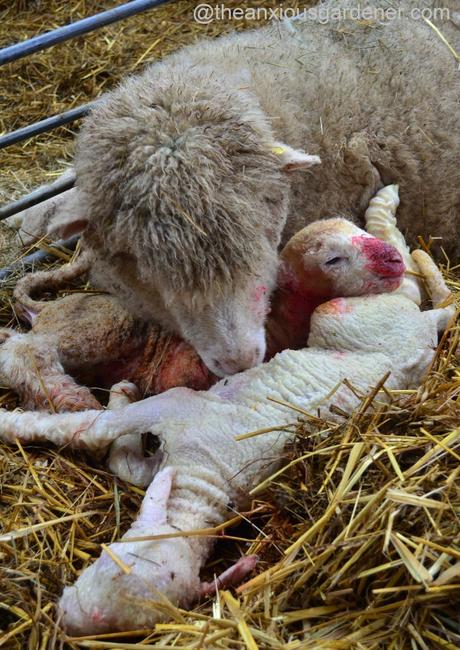 As Nick dragged the second lamb to his mother, blood smeared the face of the older one.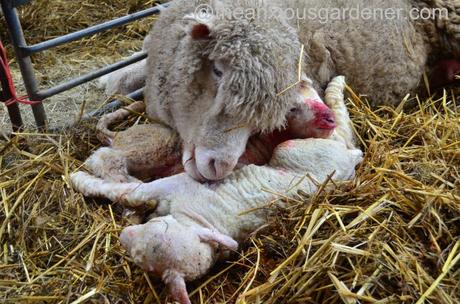 Still fancy that sandwich?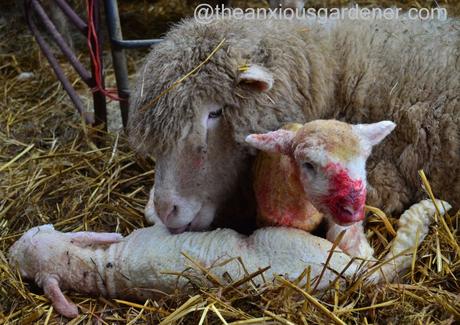 When Margaret met her husband to be, the first thing he said to her was, "My, what small hands you have.  They'll be perfect for lambing!"  Margaret (who wasn't then a farmer) was a little dumbfounded and not quite sure what to make of that comment.  But he wasn't wrong.