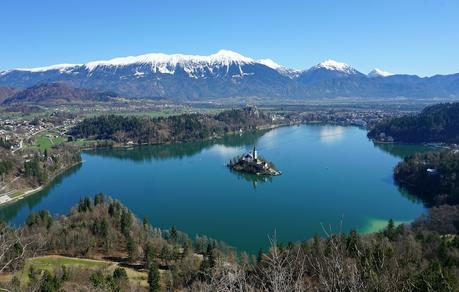 I'll admit, Slovenia wasn't high up my bucket list before our trip.I didn't really know much about it! I love a city break... and a beach break even more so, but mountains? Lakes? Not really on my agenda.
Fast forward to April 2018 and there we were; in an AirBnB overlooking Lake Bled with seven of our friends, wondering why I hadn't lusted after this view before. Because Slovenia really is something else. 
Some Slovenia facts for you!...
Over half of the country is protected land and covered in forest, making it one of the greenest countries on Earth - only Venezuela has more protected land. 
The Slovenians love wine. There is one vineyard or winery every 70 people. My kinda place. 
Whilst the country is almost entirely landlocked, there is 46km of coastline between Italy and Croatia.
One in twenty people keep bees. Bee-utiful (sorry).
It has one of the world's most beautiful lakes - Lake Bled. The water is warmed by mild thermal springs, making it perfect for swimming in the summer. 
And that's where we stayed during our five day trip - nestled in to the mountain overlooking Lake Bled. 
As I mentioned, we went away with a group of friends - to celebrate two special birthdays - so we needed a big apartment to house us all. We went with this AirBnB villa which was pretty much perfect. The view from our balcony was five stars alone! Check out my Insta Stories Highlights from our trip to see a video of the landscape; mountains to our left and the lake directly in front of us - it was breathtaking! The accommodation came to under £100 per person for the four nights which was a total bargain. 
The main reason we chose Lake Bled for our trip is because the boys wanted to fish there. They are total fishing obsessives and whilst Bled wasn't on my bucket list, it was firmly topping theirs! So they spent one full day and a couple of mornings fishing and had a lovely old time. 
But what else can you do when visiting Lake Bled?
Walk the circumference of the Lake - we did this every morning, and at just over 6km it is totally do-able. By the final morning I had to leave my camera at home because there were just so many beautiful scenes it was taking us forever! Stop for a coffee en route and take in the views. 
Catch a boat over to Bled Island - on a traditional pletna boat. The length of the boat journey depends on where you sail from, as the island in situated towards the west of the lake. We got a boat from the terminal below the Tourist Information / Casino, at the east of the lake. When you're on the island you can see the church and walk to the top of the tower. Or, just get a coffee and sit in the sunshine!
Trek up to a viewpoint - I think this was my favorite thing we did, but by no means an easy trek! You want to find signs for Osojnica / Ojstrica, marked with a number 6. It will just be a sign pointing in to trees... and up you go! It's near the campsite; I've linked a drop pin here. The view is just insane! But be sure to wear proper trainers or walking boots - it's not for the fainthearted!
See the castle - on the north east edge of the lake, you can check out the history of Bled and Slovenia, as well as get a great view over the lake and Bled Island. Apparently this is a good place to get Bled Cake and a coffee, although the cafe was shut when we visited in April. 
Take a day trip to Ljubljana - about an hour's drive from Lake Bled, the capital of Slovenia is a must see! On Friday's the city hosts a huge open food market called Open Kitchen. Such a great atmosphere and incredible food! More info here. We didn't get a chance to check out the castle, but should have done - pretty gutted about that one! 
Also check out Lake Bohinj - if you thought Lake Bled was stunning, wait until you see Bohinj! About thirty minutes by car from Bled, it's far less busy and has less going on but so worth a visit. 
Go white water rafting - I'll be honest and admit that I wimped out of this one, but those that went loved it. We booked at the tourist information and a van collected everyone from our accommodation for a half day rafting. It cost around 35 euros each, if I remember correctly. 
Vintgar Gorge - more gorgeous scenery! Just a few kilometres away from the lake, the 1.6km long gorge winds through vertical rocks and is completely other-worldly. There are cliff-side paths and bridges you can walk through, but some of these were shut when we visited in low season. There were crazy tourists jumping off the bridge on to rocks for that perfect picture, which filled me with fear! It is just so stunning though, I can kinda understand the madness! (#doingitforthegram)
Naturally, no trip - or blog post - would be complete without the important bit. The food. 
I actually had no idea what to expect with regards to Slovenian cuisine. For some reason I pictured lots of boiled potatoes and pickled fish. No idea where those stereotypes came from!...
But Slovenia is squeezed in between Italy, Croatia and Austria and sits nicely on the Adriatic sea and as such, the food was flippin' incredible. After we went to Croatia last year and relished in the incredible truffles, seafood and Italian influence, I should have known we were in for a treat!
Number one culinary memory? Bled Cake. Oh my word, Bled Cake. Puff pastry topped with a layer of vanilla custard, whipped cream and finally crowned with another thin layer of pastry - it is as indulgently delicious as it sounds! It would practically be sacrilegious to leave Bled without having tried Bled Cake so get stuck in. 
Otherwise, the food was all pretty outstanding. Yes, outstanding. 
Highlights include Restavracija Sova (info here) where we celebrated our final night in Slovenia with the most incredible squid, steak and truffles. We stumbled upon Ostarija-Restaurant Babji Zob (info here) on our first night and to be honest didn't have high hopes. It was in fact great and a total bargain! We had good pizza one night at Pizzeria Gallus (info here) and drank most evenings at Devil's Bar (info here) - better than in sounds, promise!
Would I go back to Slovenia? Yes. Simple! Going in to a holiday without any expectations is always a winner isn't it, but this time I really was blown away. Slovenia is just so exceptionally beautiful - like nothing I've seen before. I'd love to go back and check out the coastline as I've heard Piran and Portoroz are both stunning, and being so close to Italy and Croatia it would be easy to extend your trip!