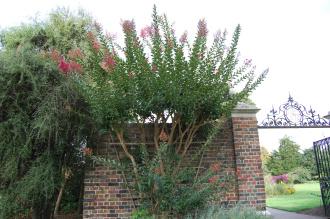 Lagerstroemia 'Tuscarora' (28/09/2014, Kew Gardens, London)
Position: Full sun
Flowering period: Late summer to early autumn
Soil: Moist, well drained
Eventual Height: 6m
Eventual Spread: 6m
Hardiness: 6b, 7a, 7b, 8a, 8b, 9a, 9b
Family: Lythraceae
Lagerstroemia 'Tuscarora' is a deciduous shrub or small tree with a bushy habit. Its dark green, glossy leaves are elliptic with entire margins, up to 7cm long and 3cm broad. Its leaves turn shades of yellow to red before they fall in autumn. Its gray bark is smooth and exfoliates with age. Its red/ pink flowers appear as 40cm long terminal clusters. Its brown fruit appear as round seed capsules, are up to 12mm across and persist into the winter.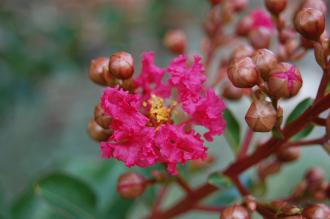 Lagerstroemia 'Tuscarora' Flower (28/09/2014, Kew Gardens, London)
Lagerstroemia 'Tuscarora', commonly known as Crape Myrtle, is a cross between Lagerstroemia faurei and Lagerstroemia indica.
The etymological root of the binomial name Lagerstroemia is named for Magnus von Lagerston of Goteborg (1696 – 1759), a friend of Linnaeus. Tuscarora is likely to be named after the Native American people of that name.
The landscape architect may find Lagerstroemia 'Tuscarora' useful as a large specimen shrub. Once established this shrub is drought tolerant. This shrub is tolerant of atmospheric pollution. It has a very good resistance to powdery mildew.
Ecologically, Lagerstroemia 'Tuscarora' flowers are attractive to pollinating insects.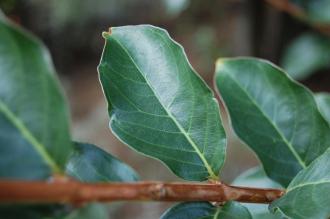 Lagerstroemia 'Tuscarora' Leaf (28/09/2014, Kew Gardens, London)
Lagerstroemia 'Tuscarora' prefers moist, fertile, well-drained soils. It prefers a neutral to acid pH of soil, although it will tolerate alkali pH of soil but its leaves may become chlorotic and the autumn leaf color may not be as dramatic.
Lagerstroemia 'Tuscarora' requires little maintenance. Pruning should be carried out in spring before growth begins.