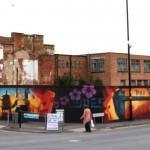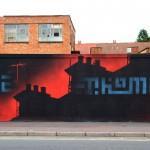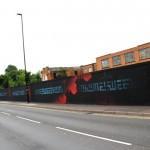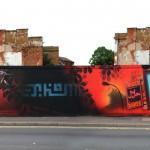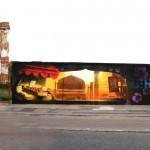 I have just completed  a mural in Birmingham on the Ladypool Road.  It has taken 2-3 weeks to complete and sits at the start of the road and acts as a kind of gateway to the area.  I was asked to create something that captures the essence of the area and the Ladypool Road business district.   Some may know that this area of the city is somewhere that I feel passionate about, it was somewhere where I was born and raised.  My recent live-art  theatrical show If Walls Could Speak  told the story of the area, and now it was time to tell the story through a street corner mural.
The imagery in the mural tells a story of the changing demographics of the area, of how South Asian migrants came and settled in the area, working in local factories.  The BSA factory was one of those factories that served many different communities.  It was livelihood for people of all ethnicities.   During the Second World War it was somewhere that was bombed by the Germans, as it was a major gun manufacturer – Birmingham Small Arms.  It was something that served my father and many of my relatives.  You ask anyone in the community about BSA and nearly everyone would tell you of a family member that once worked in this giant factory that was known for its gun production and subsequent motorcycle manufacture.  Now there stands just only a tiny part of the building on Armoury Road, and it's story is fading away.  During the Birmingham Blitz, many died on the night it was bombed as people took shelter in the basement.  The story is captured here in an article on the BBC Website.
My father worked at the factory in the 1960′s onwards, so I was always intrigued as how years went by this factory had served very different communities, as the area changed, and new communities came and settled and how a building, a physical space conjured up different memories for different people.
The story in the mural evolves into imagery of grocery stores, and the 'Balti Restaurant'.  After the manufacturing industry ended and many of these factories closed down, it left migrant labourers looking for new avenues.  My father went onto opening his first Fish & Chip Shop in Sparkbrook, when a bag of chips was just 6pence!  He then went onto opening his Balti restaurant like many others who saw an opportunity, as new migrants, that they had something exciting to sell to the English – their food.  This is what populates much of the area now and is what the area is famous for.  If you want a curry, you visit Ladypool Road.  Who would imagine that this very food would then become part of the British national cuisine!
However even much of that in the area, has evolved now, to fresh, funky 'juice and dessert parlours' and American Steak Houses.  As the offspring of these new migrants settled and integrated, they brought a new perspective and Balti Restaurants was not part of their story.   Second and Third generations had inherited some of the enterprising nature of their forefathers, but channelled it new ways.
I was one of those second generations and with this mural I wanted to create as a tribute to those who came before us.  It may appear to be a glossy promotion of the area, but underneath all of that, it tells a story of a struggling community that battled through racist Britain in the 70′s/80′s and used their initiative  coupled with a strong passion to succeed in business and education.
At the end of the mural, a very elderly asian man walked past the mural, stopped and asked me about what the art was about.  It turned out that he was an old friend of my late-father.  He became emotional as he shared with me stories of how they used to work together back in the day.  All of this takes place in front of a street-corner graffiti mural – who would have thought.  I have painted in cities across the globe, commissioned by foreign city authorities, but its not often i get to hear such stories so close to home, while i'm painting a mural.
We embraced each other and i promised i would visit his home to hear more stories that he enjoyed sharing with me.  I think he approved of the art.  It's not often stories like his are captured like this, especially not in the public on the corner of Ladypool Road.